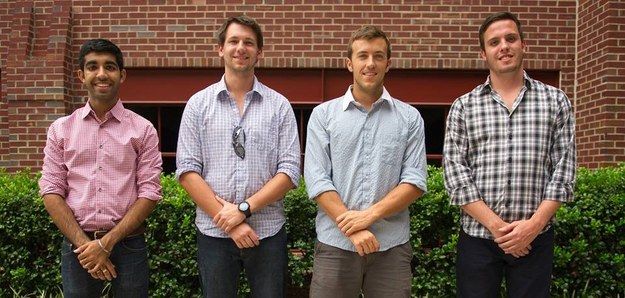 Four students from North Carolina State University have invented a nail varnish that detects common date rape drugs by changing colour.
The all-male group of undergraduates, Ankesh Madan, Stephen Gray, Tasso Von Windheim, and Tyler Confrey-Maloney, aim to combat sexual assault by combining modern chemistry with traditional cosmetics.
The nail varnish indicates the presence of date rape drugs, such as Rohypnol, Xanax and GHB, by changing colour after being dipped in the drink.
"While date rape drugs are often used to facilitate sexual assault, very little science exists for their detection," the team, known as Undercover Colors, wrote on their Facebook page. "Our goal is to invent technologies that empower women to protect themselves from this heinous and quietly pervasive crime."
However, Katie Russell from Rape Crisis England & Wales was critical of the idea, saying that the charity will not support the invention.
"Whilst Undercover Color's initiative is well meaning, on the whole," she said, "Rape Crisis does not endorse or promote such a product or anything similar. This is for three reasons: it implies that it's the woman's fault and assumes responsibility on her behalf, and detracts from the real issues that arise from sexual violence."
"For us, we work with victims to make them realise that they did nothing wrong," she added. "Among primary cases, some do ask if they could have done anything to stop it. Products like this suggest otherwise. The emphasis must be placed 100% on the perpetrator."
Guardian columnist Jessica Valenti has also criticised such products, writing in her column this week: "Prevention tips or products that focus on what women do or wear aren't just ineffective, they leave room for victim-blaming when those steps aren't taken."
However, Undercover Colors appear to view this as a positive. "We hope this future product will be able to shift the fear from the victims to the perpetrators, creating a risk that they might actually start to get caught," co-founder Tyler Confrey-Maloney explained on Wednesday in a Facebook post.
Earlier this year, ITV conducted a poll that found that as many as one in 10 people in the UK have had their drinks spiked.
In an interview with Higher Education Works, co-founder of Undercover Colors Ankesh Madan explained why the group decided to focus on date rape drugs. "As we were thinking about big problems in our society, the topic of drug-facilitated sexual assault came up," he said. "All of us have been close to someone who has been through the terrible experience, and we began to focus on finding a way to help prevent the crime."
"We wanted to focus on preventive solutions, especially those that could be integrated into products that women already use."
The team won a competition earlier this spring that challenges North Carolina students to design working solutions to real-world problems.
Undercover Colors announced that they are working with pd.id - a small gadget that detects date rape drugs immediately and are currently raising funds to refine its prototypes. Exactly when the product will be available to the public is dependent on the amount of funding they can raise.
Tyler Confrey-Maloney posted yesterday on Facebook stating the possibility of using Kickstarter: "we are definitely considering a crowdsourcing campaign, like Kickstarter."
Undercover Colors did not immediately respond to Newsweek's request for comment.