With Conventions, Anti-TPP Forces Send a Message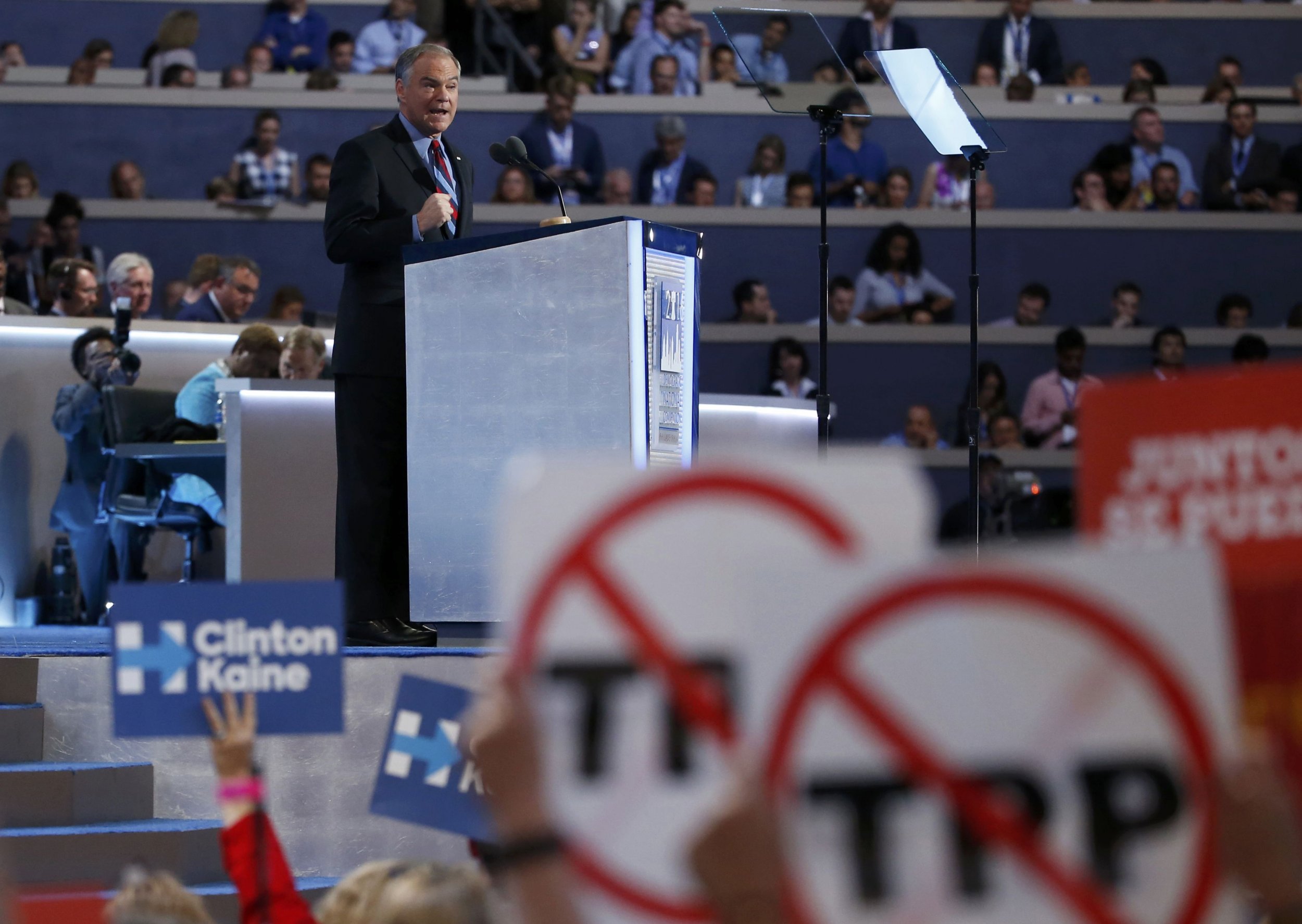 The focus of Bernie Sanders supporters who were protesting at last week's Democratic convention wasn't Wall Street reform, the Vermont senator's pet issue during the Democratic primary. And it wasn't climate change, even as the East Coast sizzled under a prolonged heat wave. No, the rallying cry most often heard around Philadelphia was: "No on TPP!" It was chanted on the skyscraper-lined streets of Center City and in the packed stands at the Wells Fargo Arena. Signs displaying the letters "T-P-P" with a red slash through them were also ubiquitous in the convention hall each night, despite the best efforts of some Hillary Clinton supporters to obscure them with "Clinton Kaine" placards.
For the uninitiated, TPP stands for Trans-Pacific Partnership, an expansive trade deal the United States inked last fall with 11 other countries that border the Pacific Ocean and together represent roughly 40 percent of world gross domestic product. Not only would TPP knock down tens of thousands of tariffs and other trade barriers between countries such as Chile, Canada and Japan, if ratified, the deal would also lay out ambitious new multinational regulations on everything from intellectual property to pharmaceuticals to the financial industry. At 30 chapters and more than 2,000 pages, its text is a jumble of legalese that is almost incomprehensible to the layperson.
That hasn't stopped TPP from exploding into America's public consciousness during the 2016 presidential campaign, drawing new scrutiny and creating a daunting challenge for President Barack Obama, who wants Congress to approve the deal during its "lame duck" session after the November election. The president is facing a tough sell, though, as all the focus on TPP represents much more than a trade debate. At a time when millions of Americans feel like they're losing ground economically, efforts to block TPP's ratification have become a proxy for the battle against America's "rigged" political system (to use a favorite adjective of both Sanders and the Republican presidential nominee, Donald Trump). The debate is shaping the race for the White House, and the outcome will determine the direction of U.S. trade policy for years to come.
Alicia Leinberger, a Wisconsin Assembly candidate who attended the Democratic convention as a Sanders delegate, believes the TPP deal promotes corporate interests and represents "a concentration of wealth in the hands of the 1 percent." Leinberger has been an activist against free trade deals going back to the 1990s, when she served in the Peace Corps in El Salvador and worked in Mexico. After the North American Free Trade Agreement—a trade pact involving the United States, Canada and Mexico—came into force in 1994, corn markets in Mexico "were being flooded by U.S. corn and depressing the prices for those farmers," she recalls. Back in Wisconsin, Leinberger watched textile jobs shift across the border to other countries, which she attributes to NAFTA, and expects similar results from TPP.
Other Sanders delegates who were in Philadelphia say that while they are not schooled on the minutiae of this deal, they share many of Leinberger's misgivings. "It's kind of impossible to become an expert on TPP unless you have access to information that people like me don't have access to," says Steve Wells, who was a Sanders campaign volunteer in his home state of Montana. Still, he's pleased protesters registered their discontent with the deal, sending a warning both to Clinton, whose position on free trade is far more nuanced than that of Sanders, and to the White House ahead of a potential fall vote.
"I can't pretend to know what the outcome of a trade deal like this is," echoes Andrew Werthmann, a member of the Eau Claire, Wisconsin, City Council and Sanders delegate, "except to say we've seen bad ones in the past."
The legacy of NAFTA and the wave of other free trade deals that followed are central to activists' push to stop TPP. The majority of economic research on the impact of recent U.S. free trade deals, however, has found neither the rosy economic predictions the deals' proponents promised nor the devastation critics describe. In reality, it's extremely difficult to isolate trade from other macro trends—technology, automation—driving wrenching shifts in the global economy. Americans certainly benefited in that some goods became more affordable and new jobs were created due to increased exports. But there's no denying certain industries were hit hard by foreign competition, particularly in the manufacturing sector. The economic upheaval of the past 25 years, trade-related and not, has produced plenty of visceral, personal stories of loss—not just of jobs but of ways of life.
"I think it's a very powerful narrative," says Representative Gerry Connolly, a Virginia Democrat who says he's "a likely yes" on the TPP deal. "And I think the advocates for trade continue to respond by this sort of analytical, rational, information-based advocacy," a response that "doesn't begin to touch the emotional wellspring fueling the opposition." While polls show a majority of voters still support free trade, the voices of opposition have become more powerful in the political arena. A large majority of Democrats in Congress are against the TPP and an increasing number of Republicans are now expressing doubts as well. In May, Senate Majority Leader Mitch McConnell called the outlook for ratification "bleak."
The anti-TPP movement has been bolstered by the rise of a coalition of progressive groups that includes labor unions, environmental groups, open-technology advocates and even the humanitarian group Doctors Without Borders—a testament to the scope of the TPP deal and range of industries affected. Those groups have been raising concerns about TPP at the grassroots level for several years now. Their contrast with the business interests that have lined up on the other side, such as the Chamber of Commerce and the National Association of Manufacturers, have made it easy to paint the deal as a corporate boondoggle, a PR win for TPP opponents in this year's populist-tinged presidential campaigns.
"People are less likely, given the Sanders campaign, to trust that Wall Street or whoever it is who are behind these big deals are actually making decisions that are helping people, that aren't just for themselves," says Werthmann. It's not just Sanders's supporters. Republican nominee Donald Trump has broken from his party's orthodoxy on trade, promising to renegotiate NAFTA and pull out of TPP. In a scrambled political year, Trump's anti-trade rhetoric has helped him make inroads with white working-class voters, including many union members, in one-time manufacturing hubs like Pennsylvania and Ohio. Those states are critical to his hopes of winning the White House. Clinton, meanwhile, has denounced the deal as she seeks to solidify support from the left wing, even though she was Obama's secretary of state while the TPP deal was being negotiated.
The way it was negotiated has also helped fuel populist angst. From the start, skeptics have protested the amount of influence business interests had in the process, as they outnumbered other stakeholders on the "advisory committees" the Obama administration consulted, The Washington Post reported in 2014. And opponents decried what they saw as secrecy surrounding those negotiations. "It was total stonewalling" of Congress, claims Connecticut Democrat Rosa DeLauro, who has led the TPP resistance effort in the House.
Linda Dempsey, vice president of international economic affairs at the National Association of Manufacturers, defends the process. "I frankly think the critics have made a lot more of [any lack of] transparency than is there," Dempsey says, noting that the Obama administration conducted more than 1,800 congressional briefings and solicited comments during the nine rounds of negotiations spread over seven years. Trade agreements, she argues, particularly ones with as many players as TPP, can't be "negotiated fully in the public's eyes because one of the ways you develop a compromise is by having ongoing discussions." Connolly, for his part, says access to information on the negotiations wasn't an issue.
But he does take issue with free trade supporters' failure to adjust to the new political terrain. Even as the president was lauding TPP's possible benefits to the American economy and its workers at a press conference on Tuesday, Connolly was worried. "I think the advocates have lost control of the narrative," he tells Newsweek. And "trying to get that back will be a huge uphill climb"—for Obama in 2016 or any future American leader.