A Conversation with Alessia Cara on Feminism, Donald Trump and Taylor Swift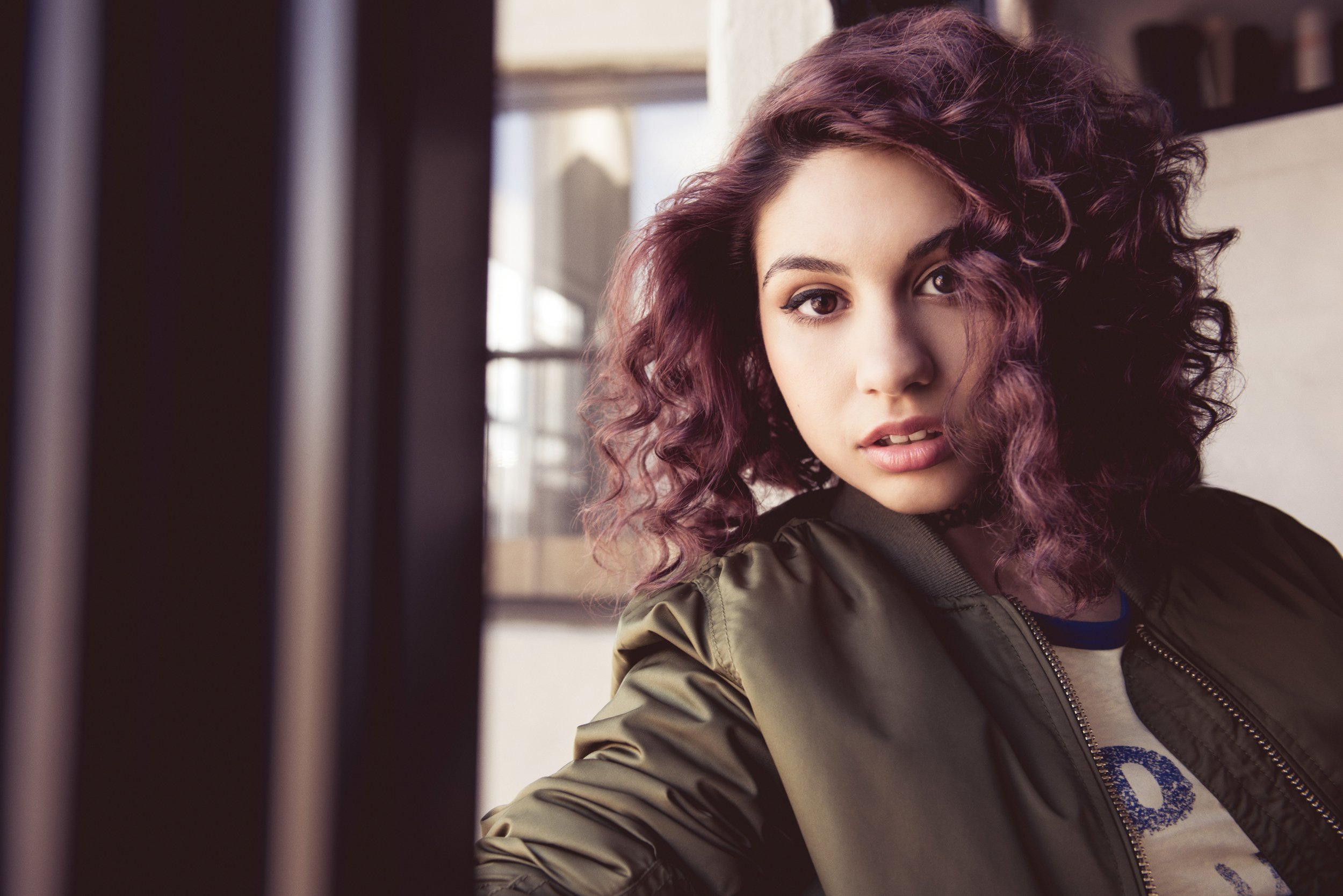 Alessia Cara strays from the prototypical pop star image. As I greet her in a dingy cafe on Brick Lane in east London on a rainy Wednesday morning, she is dressed casually in an oversized grey sweatshirt, her face bare of any noticeable makeup.
But Cara doesn't need the pageantry of designer clothing, nor a team of makeup artists reapplying her blusher every 10 minutes, to stand out: her words, both spoken and in song, do that for her. The singer/songwriter has a confidence that belies her age—she is just 20 but could be mistaken for being much younger—and, during the course of our conversation, she listens and looks intently, carefully considering each question directed at her, and then answers with wisdom, whether it be a topic as complex as the feminism that is so rooted in her identity, or as simple as declaring her love for the new Solange Knowles album, A Seat at the Table.
Cara's precocious, wise-beyond-her-years demeanor is the reason why "Here," her debut single, became a sleeper hit in the final months of 2015, eventually peaking at No.5 on the Billboard Hot 100 and ranking high on several year-end song of the year lists. Billboard succinctly summed up the song's appeal, describing "Here" as "the anthem for those fed up with the glut of pop songs about partying and drinking" and said, thanks to Cara, "being an introvert is finally cool again."
The Canadian musician's brand of cool "outsider pop," celebrating differences and championing individuality, makes for the perfect partnership with I Am That Girl, a campaign targeted to young girls—like those that listen to Cara's music—that encourages positive attitudes to body image, mental well-being and self-esteem. The campaign is punctuated by Cara's new song, "Scars to Your Beautiful," a midtempo ballad that espouses self-love to today's teenage generation in a way that Christina Aguilera's "Beautiful" did for the one before it.
On this dreary Wednesday morning, the message of the campaign and Cara's song couldn't be more prescient. Overnight, after an election campaign overshadowed in part by one candidate's objectification of women, the landscape of global politics changed when Donald Trump became president-elect of the United States. That event is so significant that instead of breaking the ice discussing the weather, today, like many across the world, myself, a Brit born to immigrant parents, and Cara, a Canadian with Italian heritage, are talking about its ramifications thousands of miles away in east London.
"Everybody does," Cara responds when I ask if she's had American friends ask if they can move in with her in Canada. "I heard the Canadian immigration website crashed. It's crazy. I've never felt happier, or luckier, to be a Canadian. Of course I care about America's fate, and it affects my country, too, but at the same time, I'm counting my blessings."
As well as her love of her native country, the songstress opened up to Newsweek in an honest conversation about feminism, her superstar fan Taylor Swift and just what it was like recording a song written by 11-time Tony Award-winning Hamilton creator Lin-Manuel Miranda.
Newsweek : What was on your mind when you wrote "Scars to Your Beautiful?"
Cara: I wrote it when I was 17 years old, it feels like forever ago… we were in a basement studio in New Jersey. There was a TV in the room playing a marathon of this show about botched plastic surgeries. I was just like: "Why do people do that?" They would rather hurt themselves and go through all of that just so they can be happy with themselves. I was like, "I want to make a song about this."
I channeled my own insecurities… I'd never do anything to that extreme, to alter my body, but some days I will look at myself in the mirror and feel so disappointed with what I see. I have this thing: "I need to start working out, I need to look like this person." It's a universal feeling, it's so sad. I wanted to speak out against the noise being thrown at us on a daily basis. It's about time the world changed its perspective rather than us having to change ourselves.
The music industry can be very shallow and you were introduced to it at such a young age. That can be quite a culture shock. What experiences did you have and did you channel those into the song?
For some reason, I'm constantly attacked on social media in terms of how I dress. I've never understood that. That's been very hard. As a female, and someone who's young, I'm still coming into my own and I still have struggles. I know how I look, I know what my flaws are—I don't need anybody to tell me that.
I'm coming into [the music business] very strong-willed… I think I'm way bigger than how I look or how I dress. I make it a point to show people that those things don't matter. I have had to have awkward talks in the industry: "Maybe you should change your hair, dress like this." Those talks are always uncomfortable. It's just about standing your ground. As much as they did break me down at times and make me feel less than what I was, I think I'm way bigger than that and I know what I'm capable of. I'm not here to be easy on your eyes—I'm here to say a lot more.
Why is an organization like I Am That Girl so important to you, and for young girls?
It's an organization created by women, for women. Its objective is to teach girls to be who they are, rather than who they are expected to be by the world—which is exactly what "Scars to Your Beautiful" says.
It's a safe place for girls to go and talk about anything. Nothing is taboo. In this day and age, things like periods, dating or sex is very taboo for girls and they don't feel they can talk about that. I Am That Girl is open to that.
The narrative of the U.S. presidential election race has been focused partly on Donald Trump's attitude to women. Do you feel like this campaign is needed now more than ever?
It's so important. At this point, we really need to lift each other up… we're living in a very scary time. We can't have any progress unless we just help each other, love each other, and it starts with us—it's a very democratic thing.
I think the world is very closed-minded sometimes and very dated. We need to start opening our minds. Beauty comes in all forms, it's not just external, it's internal as well.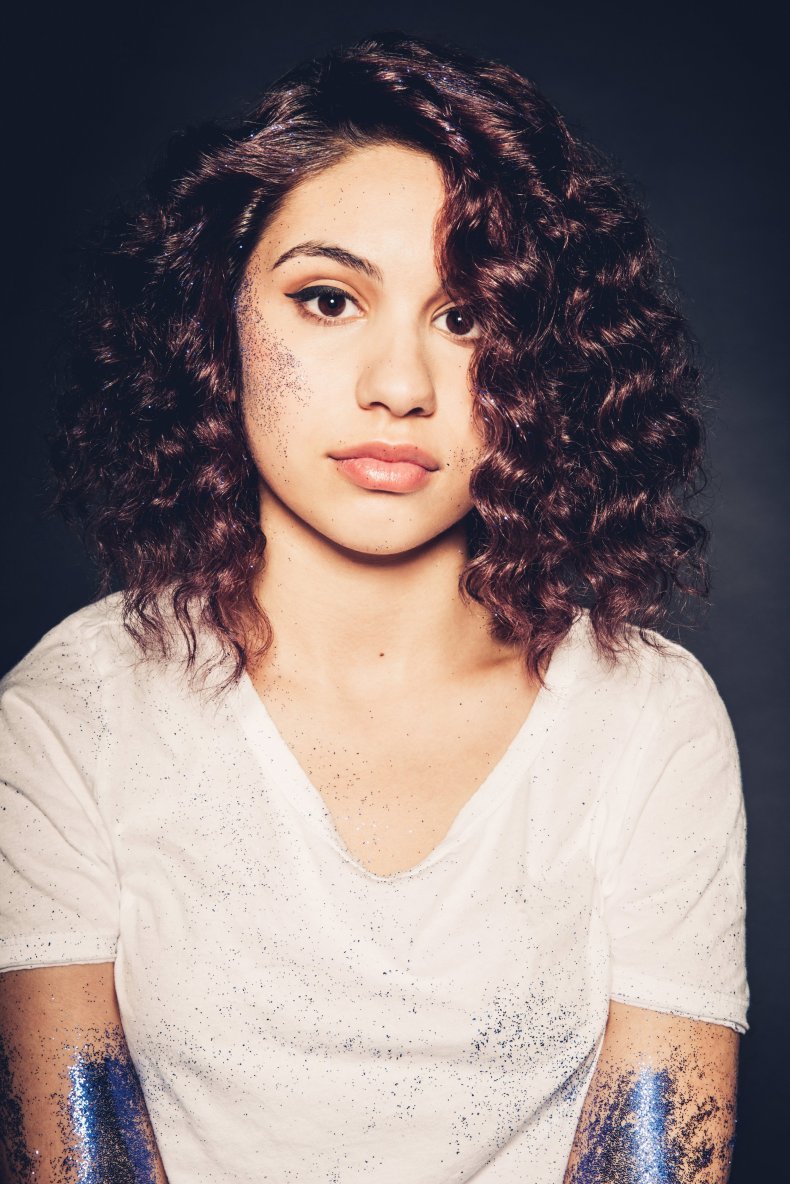 When you hear someone like Donald Trump saying he wants to grab women "by the p***y," and then be elected into office, how does that make you feel as a feminist?
It's very scary. You think we've made so much progress, the world has made such progress… and then you see something like that and it's such a big setback. You realize we still have so much work to do. Something as scary and awful as a man saying that and is now in a position of power, and that's supposed to be normal? The fact it was pushed aside as "locker room talk" is scary because it was seen as such a casual thing. Nobody's seeing the gravity of what it actually is. The fact it's brushed off is terrifying.
Do you worry about the effect this derogatory attitude will have on a younger generation of girls growing up in America over the next four years?
[Trump] not only represents himself, but he represents a generation of men that think that's okay. I don't want any girls to grow up thinking something like that is okay. I think a lot of us feel defeated—and that's a sad thing.
Just because now [Trump is president], I don't think it's our cue to stop talking about it. We need to fight for more rights because of this. I don't want anyone to feel defeated.
The word "feminist" has gotten a bad rap. Do you embrace it or feel it's problematic?
I definitely embrace that word. The definition of "feminism" is equality for all genders. It's not saying women are superior, it's not anti-men… it's equality for women. That word has become tainted for many reasons and I don't understand it. We need to fight for equality right now because of who was just elected… clearly it's not getting through to people and it's not an equal world. I am a feminist and if you're not at this point, you're dated and your mindset needs to change.
You have a huge fan in Taylor Swift (Swift interviewed Cara in 2015). She, too, is a feminist and champions up-and-coming female artists like yourself and Lorde. How has she influenced you?
She's such a boss. She's such a great influence as a new artist and as a female. It shows you can be the boss of your own world and career and you can still be humble. You don't have to be mean or arrogant about it… she's kind to everyone, but is still firm and knows what she wants, and that's a great thing to look up to in the industry.
Some have criticized Swift for her "flawed" brand of feminism, noting her "Bad Blood" music video allegedly aimed at fellow pop star Katy Perry. What do you think of that?
I don't know for sure if it was about that. A lot of us like to turn things into what we think they are. None of us really know the truth.
Feminism is such a broad thing and people like to pick and choose what they think is feminism. We're all flawed and we all make mistakes. [But] if you're showing other girls you can be in charge and should be empowered, then that's all that really matters.
Is Taylor welcome to come and live with you in Canada after the election?
She is definitely welcome. She welcomed me onto her stage, I welcome her into my home.
You recently recorded "How Far I'll Go," written by Hamilton creator Lin-Manuel Miranda for the Disney film Moana . Was it daunting to record his lyrics?
It kind of is. But it's also nice. I've never really sang a song that had nothing to do with me, I wasn't part of the creative process. He was really nice—he let me make it my own, interpret it. It was an honor to sing a song and be part of a collaborative effort with someone as successful [as him].
Alessia Cara's single "Scars to Your Beautiful" is out now. For more information on I Am That Girl visit the official website.