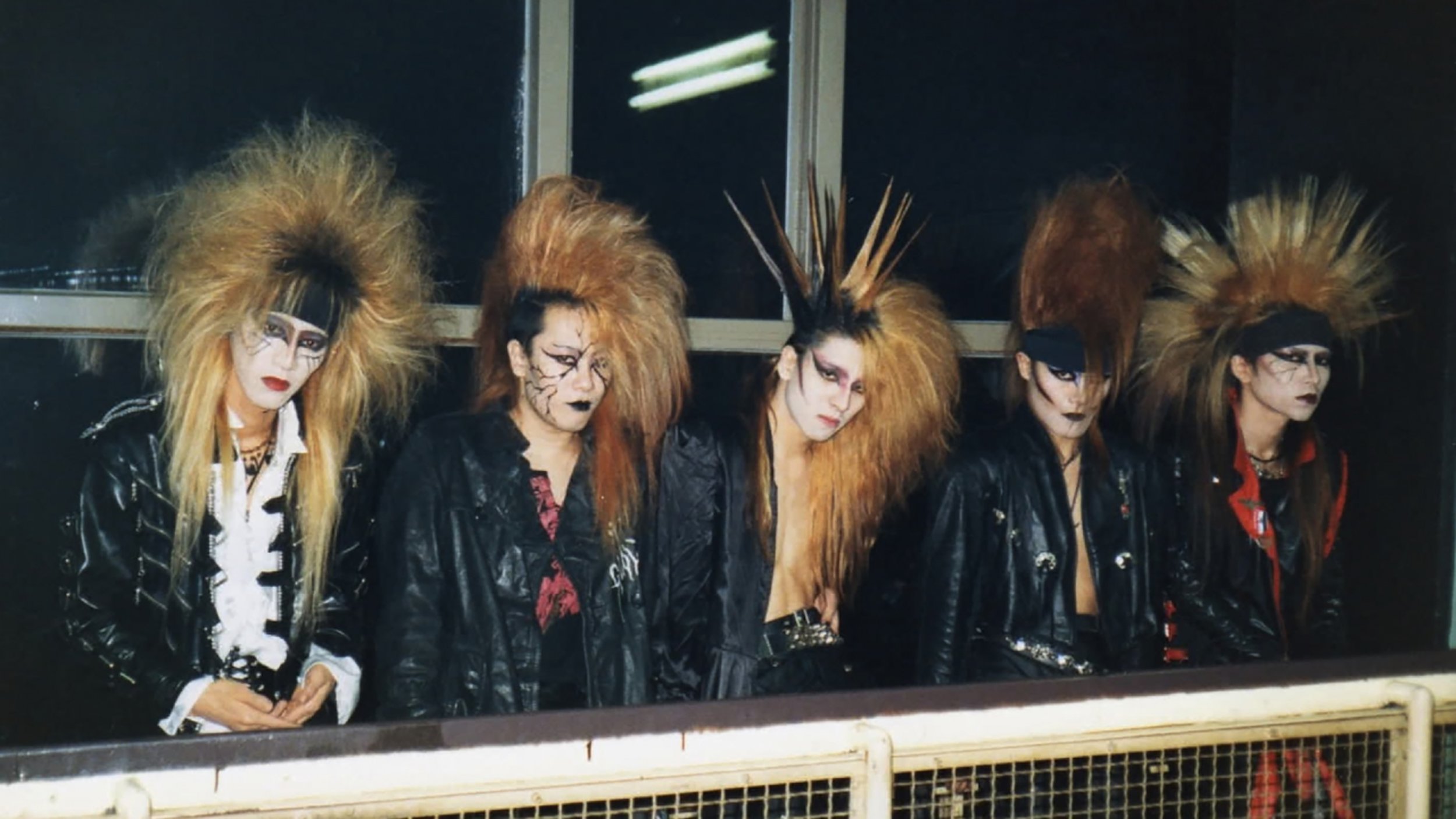 The harrowing tale of the extraordinary X Japan, one of the most defiant musical groups in Japan's history, resembles the stuff of soap operas. There's drama abounding, cult brainwashing, tragedy and, of course, passion—all doused with hair dye, safety pins and heavy metal for good measure.
After forming in 1982, the band had a fraught, dazzling life until the death of a band member, Hide, and the increasing paranoia of Toshi, who had joined a cult, effectively caused the band to break up in 1998.
Oddly, X Japan found a new life through the Internet, arguably becoming more popular when inactive than when active. That led vocalist Toshi, drummer and pianist Yoshiki, bassist Heath and the guitarists Pata and Sugizo to resurrect the band 10 years later, and they're currently wrapping up recording on their first album in 20 years.
Fans and industry folks lucky enough to catch the Sundance premiere of Stephen Kijak's moving new documentary about the bands, We Are X, got to relive the tale with the very people who helped spawn the "visual kei" movement in Japan. The documentary spans the time leading up to the band's inception in the early 1980s to its contemporary struggle to find recognition outside of Japan to preparing for a run of Madison Square Garden shows in October 2014. But it's much more than your prototypical documentary about music featuring concert footage and archival videos: It's a tale of survival, as told through the eyes of the charismatic Yoshiki, whose life has been documented behind the scenes for decades.
We caught up with Yoshiki and Kijak at Sundance to talk about the documentary, which just snagged a special jury award for editing.
How did this project catalyze? Were you a fan of X Japan before?
Kijak: I have a great relationship with Passion Pictures; we did Stones in Exile, and we did a film about Jaco Pastorius—well, at least we started one, long story. But we've always wanted to work together again. We have a great working relationship and they're great producers. But I'm the music guy, so every time a music story comes his way, they tend to call me. So that's how this happened. And sometimes it's a no, I don't have any interest.
But this one sparked my interest like nothing else has. I was compelled instantly when I started doing some research. It felt like a really great story to tell. There's a lot of potential, not just narratively but visually. If you see X in the early days, you cannot believe your eyes. It's so energetic and exciting, it was like discovering another world.
How did you two first meet?
Yoshiki: So my agent is Mark Geiger. We've been talking about X Japan's future and position outside of Japan. And he has been telling me we have a crazy history, so why don't you make a film? And I said it's too hard for me to open that door. But he convinced me, so then introduced us to the producer. And he strongly recommended Stephen. And as soon as I met Stephen, there was kind of like a chemistry.
Kijak: We're both children of David Bowie, in a way. And Toshi and I, the first albums we bought were KISS's Lovegun. So you find this common ground you'd never expect. So we liked a lot of the same music and were from the same generation. We had similar heroes in music. And that pulled me into their music.
Yoshiki: We get a lot of '80s hair metal rock but we have a lot of punk, so much Sex Pistols.
Kijak: Sometimes I look at Hide's looks and it's like Siouxsie and the Banshees. There's a goth and flamboyance that's different to hair metal and way cooler.
Yoshiki: Very different. We didn't know the hair metal thing actually. It was our own thing.
Something I loved in the movie is that you just posited these images and styles as such, instead of trying to make a finer point about masculinity and performance.
Kijak: Thank you. And it's interesting, because from a Western perspective you see these costumes and looks and you're going to have questions about androgyny, sexuality. Is it drag, is it costume? Culturally it's not that at all. It's something very different. It grew out of a love of punk and new wave. It was more of a social statement, right? It seemed to be a way to kick open a door to a new way of being in Japan.
Yoshiki: When I was 18, 19, I had hair dyed blonde. And I couldn't get a cab. Cabs wouldn't stop because they'd go, "Who are they?" Also very no-no to dye hair like that. Now, people have pink, purple and red hair all over Japan. And we kind of contributed to changing that culturally.
Kijak: It really was much more than that. To dye your hair blonde was to stick your middle finger up at society, because you just don't do that. But in the West, "Oh he's a punk, whatever, his parents might roll their eyes at him but in a few years he'll be normal again." Culturally it was a seismic shift.
Yoshiki, you said you were convinced to do this project? What reservations did you have before agreeing to it?
Yoshiki: Because the history's very sad. Painful. You know, I mean, I knew my father had committed suicide. And my band member died. But sometimes I don't even want to talk about it. But creating the film, it's going to be reminding me of it in a hard way. So it's going to hit me. During yesterday's premiere, I cried 10 times in 90 minutes. But the tears I shed were not that bad, actually. It was kind of cleansing.
Was it cathartic to revisit this?
Yoshiki: It's something like you don't want to touch, that subject. But I touched it, and can move forward even stronger. It's not a normal music documentary…
Kijak: I think one of the first things you said to me was that you wanted people to cry at the end. But it's more about catharsis.
Yoshiki: I wanted to grab people's hearts.
Kijak: Yes. So we had to try and get you there in the film.
Yoshiki: One more thing I asked Stephen was just because our history is very dark and sad, but to make it positive.
Kijak: And it's not a false sense of triumph like, "Yay they played Madison Square Garden!" It is like a story of rebirth and survival. Seeing how the fans react to the music, it's more than fandom. It's like salvation. It might sound cheesy but it's true: There's a lot of healing. The wounded will come, will reflect their own scars and pain in the music. It's saved lives, literally.
That's not cheesy at all. I don't know where I'd be without David Bowie, speaking of.
Kijak: He executive produced my Scott Walker movie. What's amazing is he would give props to the people he loved, and he was kind of the godfather of that.
Yoshiki: He's the reason I went overseas. I did an interview with him, and asked him, "Where do you draw the line between being you and being onstage?" He couldn't answer. At that time, I didn't speak English, so I asked him in Japanese with a translator.
How long was this project in the works?
Kijak: From shooting to finished product was a little under a year and a half. We started shooting at the preparations for MSG in October of 2014. And just went straight through.
Was the plan always to frame it around the MSG shows?
Kijak: Not always. It felt like a framing device, but you make a lot of those decisions in the edit. It was interesting because we had very little pre-production, we were just filming it. And ideas are starting to form, when we came away from those few days and rehearsal I thought, I could make a movie right now. There's so much subtext and beautiful behind the scenes kind of this world around Yoshiki and the band, and the performance itself, how's it built from the ground up.
There are moments when you think, he's never going to pull it off, he's late, they never finish a rehearsal. And then at the last minute it's perfect. So that alone is its own drama.
Anything you wish you'd made it into the film that didn't?
Kijak: Hmm. There is just so much stuff.
I was surprised to see that snippet of David Lynch in there with Yoshiki.
Kijak: Yeah! David Lynch directed the video for "Longing." And Yoshiki always has people filming behind the scenes, very well documented. And it was an accident. It wasn't listed on the log. I was just randomly going through tapes one day being like, "What's on here?" And I just put it in and there he was, on a megaphone, shouting at Yoshiki on a desert with fire. And he's nude. Like, what is this?
David Lynch is one of my heroes, so to be able to fold that in and that kind of influenced how we told the story. To layer subtle images and kind of...I was inspired by the use of doppelgangers and doubles in the movie to create these sorts of splits in the visual world of the film. So he kind of inspired that.
Yoshiki: When I was on the label with Sony, they thought I was going to die next week or tomorrow. So they said shoot anything Yoshiki's doing. So that's when the shooting started.
Kijak: I can think of a scene we can cut...I don't know. I think we got the goods in there. There are a few songs I love that I wished we could have maybe seen more performance. Maybe there's a companion piece that's just the film. I would have liked if Pata said more than two words to me (laughs). Some of the band members are very quiet.
Was anyone resistant to the idea of a documentary?
Kijak: No, everyone was pretty open.
Yoshiki: They don't talk during band meetings either! During meetings I'm talking like 90% and Toshi talks some. It was very organically made, we didn't really act or anything. It was very natural.
Kijak: I just went where the action is, really, and generally it's around Yoshiki.
Do you think the landscape is more open now for non-English-speaking bands that are trying to find mainstream success in the U.S.?
Yoshiki: The Internet changed everything. When we started, we never thought...actually X Japan became famous while we're not doing X Japan. After we disbanded. Ten years later, we were reunited and with fans all over the world. How did it happen? I think that's the beginning. I think it's a time when anything could happen.
Kijak: I don't think people's tastes are dictated by the charts, too. Kids are just diving in, finding connections I never would have as a kid. I was like, oh, it has to be all new wave, has to be this. And I think they're really eclectic now.
I believe recently it's been reported that older music is outselling new music for the first time in history? People are constantly going back and back and back, so hopefully all the X Japan will go back into the charts, and the new one will come up at number one! But I'm surprised with how varied young people's tastes are. They know old jazz artists and X Japan. It runs the gamut. It's a pluralism that has never existed before. People discovering new genres that have never existed. And it gives you the freedom to like things that you couldn't have before, because you were a punk or couldn't listen
Yoshiki: When I first came to America, we signed to Atlantic Records. They said you go heavy or soft. You can't do both. But X Japan is doing the heavy stuff, a ballad, catchy stuff. It's a mix of everything. But 20 years ago it was a no no. But we didn't listen to them. We made our own style.