To Convict Trump for Inciting an Insurrection, 17 GOP Senators Will Have to Join Democrats
President Donald Trump, just days before he is scheduled to leave office, is once again projected to make history—the first commander-in-chief in American history to be impeached twice by the U.S. House of Representatives.
House Democrats officially charged Trump with one article of impeachment on Monday for "incitement of insurrection" following the deadly attack on the U.S. Capitol last week by a mob of the president's supporters, teeing up a vote for Wednesday. Democrats are confident they'll have the support needed not only from the Democratic Caucus, but from some Republicans, too.
The nearly impossible feat lies in the Senate, where Republican lawmakers are almost certain to prevent Trump's conviction, despite some GOP members of the upper chamber signaling they would vote with Democrats to find the president guilty of provoking the violence that unfolded at the Capitol. Four civilians died and dozens of Capitol Hill Police officers were injured, along with the death of one officer that officials have ruled a homicide.
Seventeen Republican senators are needed to achieve the two-thirds majority required to convict, assuming all 100 senators are present and vote, and if all 50 members of the soon-to-be Democratic majority support the impeachment article. That number could decrease, should any Republicans decide to abstain from voting and avoid taking a stance on a politically difficult choice.
So far, it appears that just a handful of Republicans—at best—would likely back the endeavor if a vote were held today.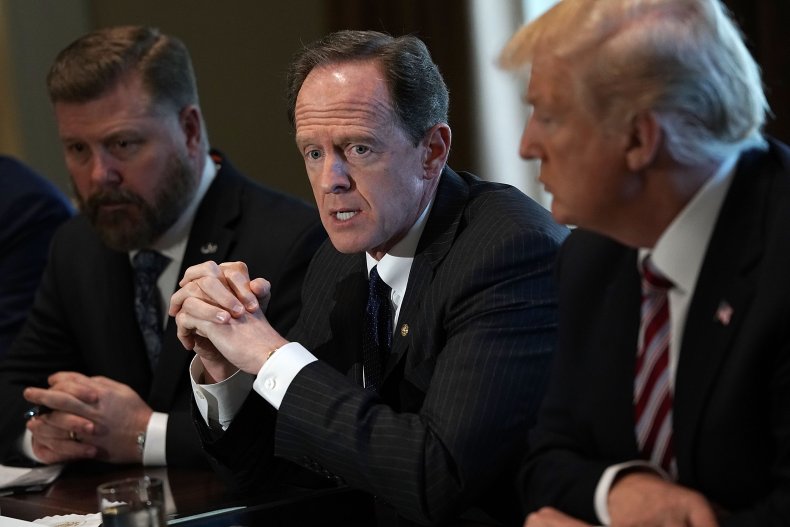 Sen. Pat Toomey (R-Pa.) has said the president "committed impeachable offenses" while Sen. Ben Sasse (R-Neb.) stated he would "definitely consider" impeachment. Sen. Lisa Murkowski (R-Alaska) has called on Trump to resign.
Sen. Mitt Romney (R-Utah), the only GOP senator to vote for convicting Trump the first time he was impeached, has publicly chastised Trump and the last-ditch effort by many in his party to overturn the results of the election based on conspiracies of fraud that have been debunked and rejected—including by GOP election officials and Trump-appointed judges—time and again.
Assuming those four lawmakers would vote to convict—which they have not explicitly stated—Democrats still need 13 of their GOP colleagues to follow suit. The prospect of finding those members appears nearly implausible.
Republicans condemned the Trump riot, but few chose to implicate the outgoing president as playing a role in the violence. Some even claimed it was Antifa and far-left actors—not Trump supporters—who orchestrated the event.
And while many Republicans on Capitol Hill have privately fumed as much as their Democratic colleagues about the way Trump handled the insurrection with his tepid calls for peace that placed their own lives at risk, there is no evidence that another 13 GOP senators believe the president has violated his oath of office.
Sen. Susan Collins (R-Maine), one of the most moderate members, wrote in an op-ed published Monday that Trump "incited" the rioters and took particular issue with his refusal to leave the building. She did not state her position on impeachment, but her sentiment toward the president's actions—or lack thereof—foreshadows what will be on senators' minds as they determine how to vote.
Democrats concede that a vote to convict would be focused on barring Trump from holding future federal office and less so on removing him, given the difficult timeline to complete the proceedings before President-elect Joe Biden is sworn in just nine days from now. Senate Majority Leader Mitch McConnell (R-Ky.) has suggested a trial would not begin until the last few days or hours of Trump's tenure.
Senate Minority Leader Chuck Schumer (D-N.Y.), who will not receive the reins of the majority until after Kamala Harris is sworn in as vice president, is exploring his procedural options to potentially force the chamber back sooner during times of emergency, according to a senior Democratic aide.
"Whether impeachment can pass the United States Senate is not the issue," House Majority Leader Steny Hoyer (D-Md.) told reporters. "The issue is we have a president who most of us believe participated in encouraging an insurrection, an act on this building and on democracy and trying to subvert the counting of the presidential ballot."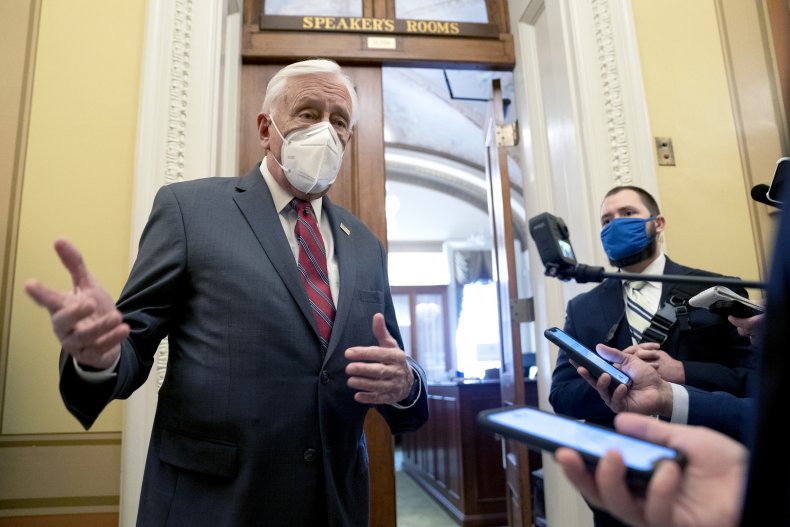 The prospect of delaying the act of sending the impeachment article to the Senate has been raised by some top House Democrats, given that the upper chamber must immediately turn its focus to a trial upon receiving an article. That would overshadow the beginning of Biden's presidency and delay the hearing and confirmation process for his nominees.
But other leadership members are pushing for Congress to address the matter expeditiously and reject the notion they should wait. Hoyer said his preference is to relay the article immediately.
Rep. David Cicilline (D-R.I.), one of the impeachment article architects, made his case for moving quickly.
"This is urgent. This president represents a real danger to our democracy," Cicilline said. "[The Senate] ought to come back immediately and respond to this. There are urgent circumstances we're confronting."
This story was updated to include information from Sen. Collins and Leader Schumer. It was further updated to note that the two-thirds threshold for conviction could decrease from 17 Republicans, if some lawmakers choose to not vote.