Convicted Al Jazeera Journalists Seek Pardon From Egypt's Sisi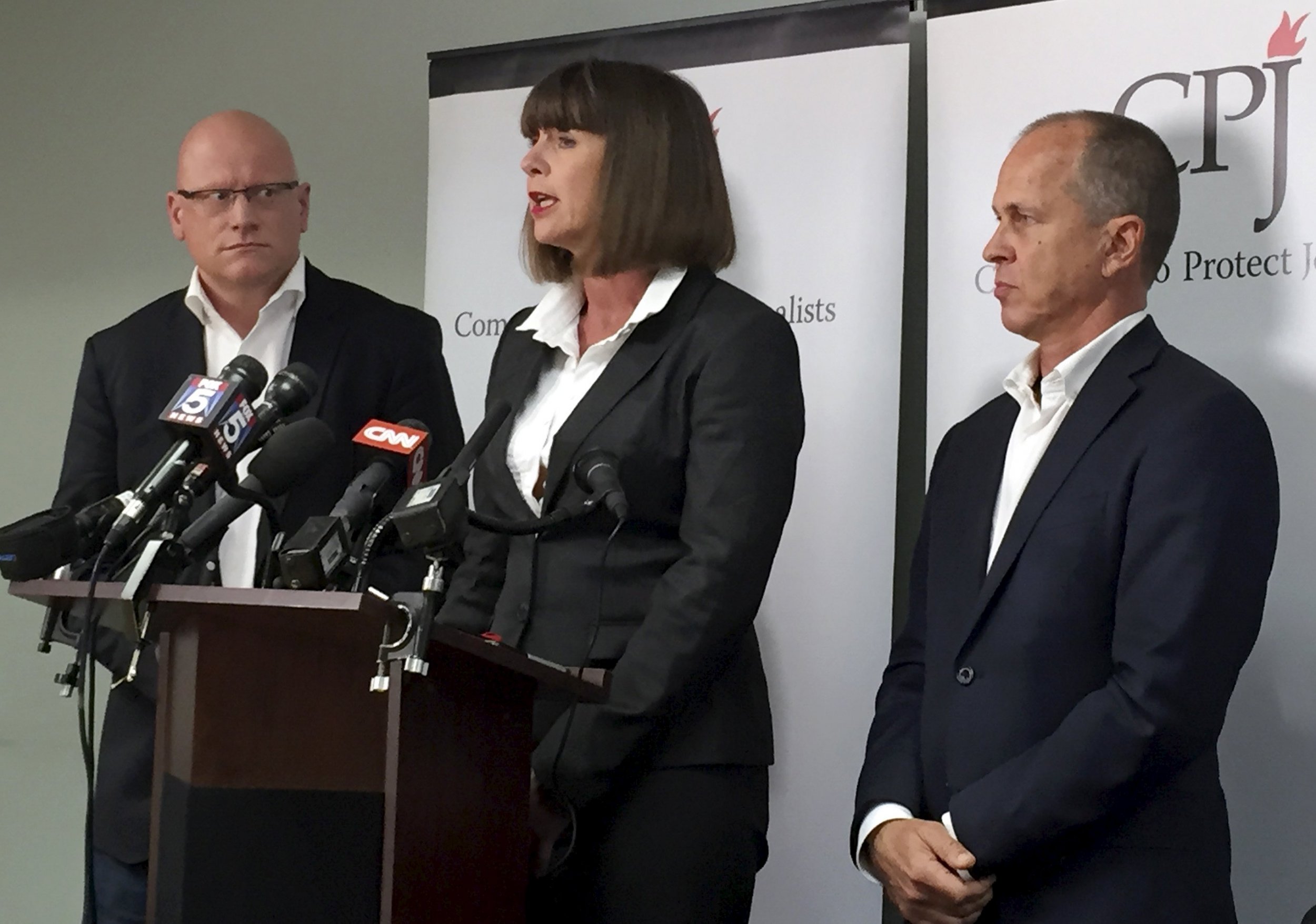 Nearly a year and a half after an Egyptian court convicted them of spreading false rumors and supporting the Muslim Brotherhood, a group of Al Jazeera journalists, including Peter Greste, asked Egyptian President Abdel-Fattah el-Sissi to pardon them on Tuesday.
Greste, who was released in February after being imprisoned for more than 400 days and deported back to his home country of Australia, cannot return to Egypt due to his conviction. At a press conference at the New York headquarters of the Committee to Protect Journalists, a group focused on press freedom, Greste said his freedom feels like "form of glorified house arrest, in a way, a form of detention."
Greste is among a dozen journalists convicted in absentia in Egypt, seven of whom work for Al Jazeera.
At the press conference on Tuesday, Sue Turton, a former Al Jazeera journalist, and Dominic Kane, who currently works for Al Jazeera, also spoke about the impact their convictions have had on their jobs as roving foreign correspondents. Certain countries in Africa and the Middle East, as well as some European nations, have treaties with Cairo that allow them to extradite terrorist suspects to Egypt. Kane said they've been living in a "fugitive limbo" for the past two years.
"This terrorism conviction is...unfair," said Turton, who left her job at Al Jazeera due to travel restrictions stemming from her conviction. "We should be given a pardon so we can carry on with our careers."
Days before Tuesday's press conference, the Egyptian government pardoned Mohamed Fahmy and Baher Mohamed, two Al Jazeera journalists who were jailed in 2013 on terrorism-related charges. Sisi also pardoned dozens of others, last week, mainly "youth who had received final court sentences, having been convicted on the grounds of violating the anti-protest law and assaulting police forces," according to a statement from Sisi's office released on Wednesday. Greste said he was grateful to Sisi for pardoning his colleagues last week.
"The press freedom crisis in Egypt has not abated," said Joel Simon, executive director of the Committee to Protect Journalists, during the press conference on Tuesday.
"The Egyptian government blames journalists for their country's bad image, but nothing has done more to tarnish Egypt's international image than the government's own actions. And this includes the ongoing media crackdown."
With 18 journalists imprisoned in Egypt, the country is the leading jailer of media in the Arab world, Simon said. Sisi addressed the United Nations General Assembly on Monday and spoke about the need for world leaders to create "brighter prospects" for youth across the globe.