Senior White House adviser Kellyanne Conway took private flights with former Health and Human Services Secretary Tom Price last year at the cost of thousands of dollars to taxpayers, according to a letter sent by a high-ranking Democrat Tuesday. He also accused the White House of denying the House Oversight and Government Reform Committee requested documentation of Conway's trips.
Conway and some members of her staff took four private flights with Price between May and September of last year, according to the letter. The total for two of the flights was nearly $60,000, ranking committee Democrat and U.S. Rep. Elijah Cummings of Maryland wrote, citing private documents the committee managed to obtain.
Cummings claimed he contacted Conway in October about the flights but did not receive a response.
The White House pushed back on Cummings's allegations, calling them a "partisan attack" on Conway, and saying it's not unusual for cabinet members to invite White House staff for work-related trips.
"This partisan attack on Kellyanne is ridiculous. Members of the president's Cabinet invite relevant White House staff for official travel to events advancing the president's agenda. When White House staff accompany Cabinet members their travel plans are arranged, secured and financed by the inviting agency," Deputy White House Press Secretary Hogan Gidley told Newsweek in a statement.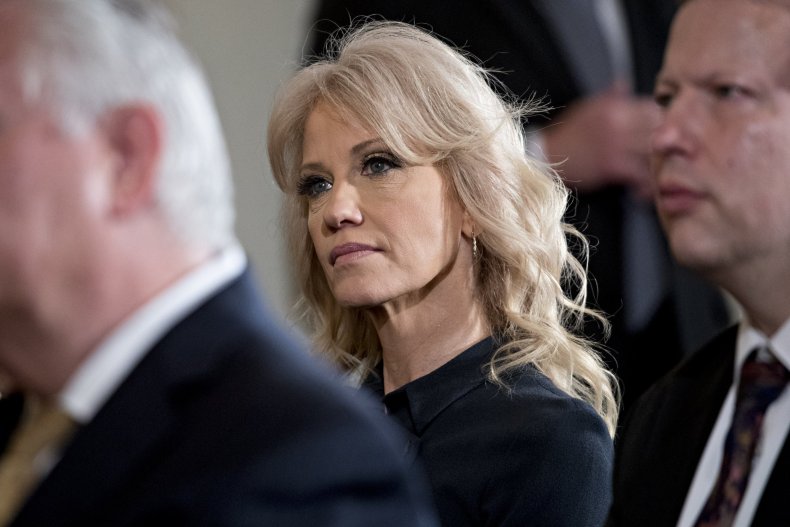 In a letter to Rep. Trey Gowdy of South Carolina, a Republican who chairs the House Oversight and Government Reform Committee, Cummings accused the White House of stonewalling requests for documents, and queries as to whether or not Conway intended to pay back the cost of the flights.
Cummings also called for Gowdy to issue a subpoena within the next two weeks for information regarding Conway and Price's flights, policies concerning government and private travel, and the cost of the trips.
"Under your chairmanship, the Committee has launched three investigations of the White House – into private jets, private email, and security clearances – but the White House has completely stonewalled our requests for documents in all three," the letter read. "If you do not issue a subpoena at this point, it will be obvious to the White House and the American people that the Committee has no intention of serving as a true check on the Executive Branch."
Price resigned in September amid accusations of using government funds to fly privately at the cost of at least $400,000. Price's flights followed scrutiny of government plane use requests by Treasury Secretary Steve Mnuchin.
Cummings accusations follow others made by the U.S. special counsel's office against Conway. She was accused last week of violating a law prohibiting high-ranking officials from speaking about or endorsing a certain political candidate prior to Alabama's special election last year.
The White House claimed Conway was expressing President Trump's preference, and that Conway was not stating her own.
A previous version of this story identified Cummings as a representative from Georgia. In fact, he represents a Maryland district.