Kellyanne Conway Says Trump Team Keeps Talking About Hillary Clinton Because She 'Won't Go Away'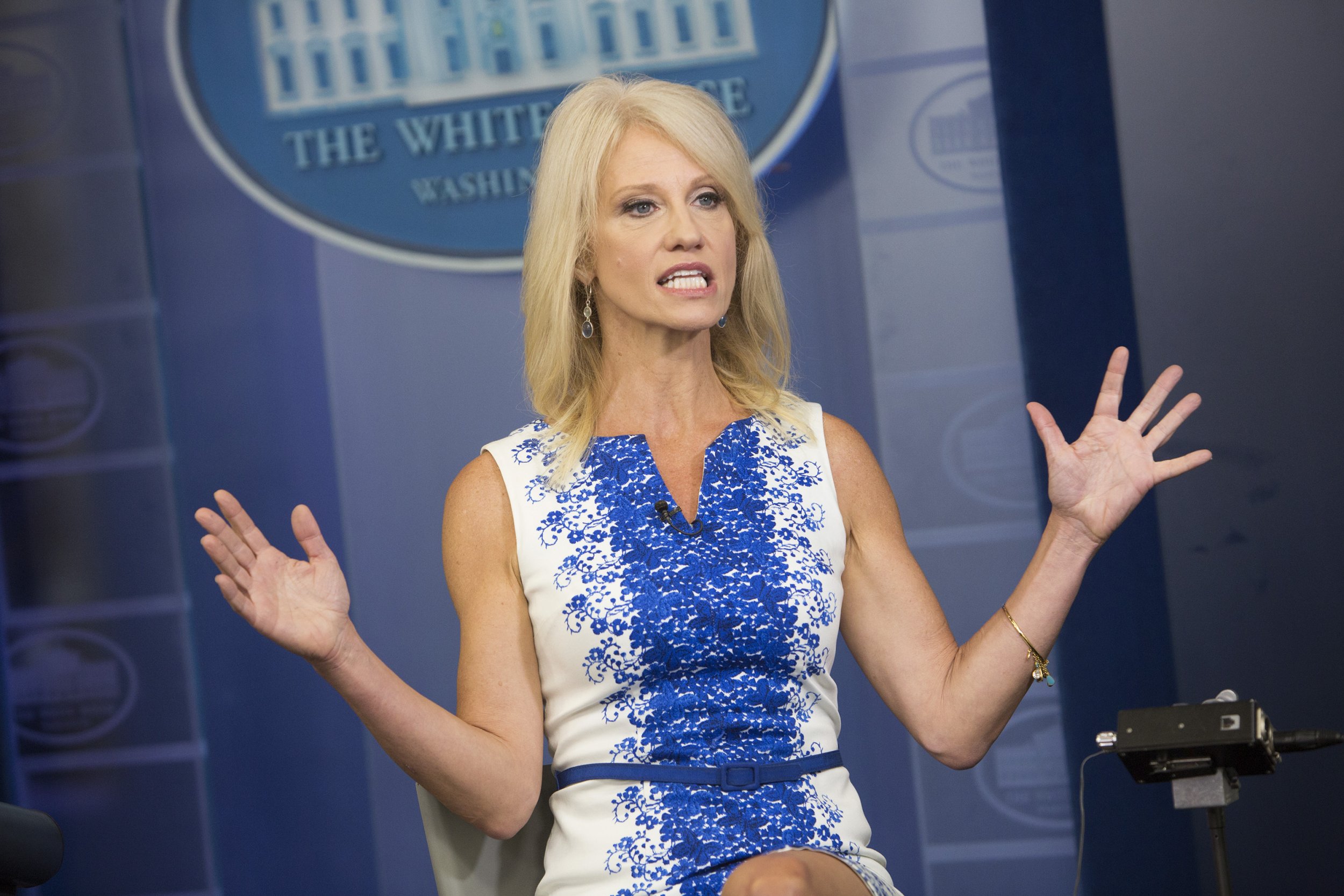 Hillary Clinton is still around—and that's enough to explain the Trump administration's never-ending fixation on her, Kellyanne Conway said Monday.
The White House counselor blamed Clinton for inciting Republican by choosing not to "go away" in the year since Donald Trump trounced her in the election.
"Look, we would be happy to stop talking about Hillary Clinton in the campaign," Conway told Fox & Friends. "We dispensed with her a year ago, but she just won't go away."
Conway also blamed unspecified "people" because "they keep talking about what happened a year ago in these campaigns," and she dismissed Clinton's memoir about her defeat, What Happened.
But Donald Trump needed little goading to bring up Clinton the same morning.
After special counsel Robert Mueller issued his indictment Monday against former Trump campaign manager Paul Manafort, the president once again rushed to Twitter to claim Clinton is the real issue.
"Sorry, but this is years ago, before Paul Manafort was part of the Trump campaign. But why aren't Crooked Hillary & the Dems the focus?????" Trump wrote.
His claim about Manafort's work is inaccurate, since the indictment says Manafort ran his alleged foreign financial schemes during the time he worked on Trump's campaign last year.
At the same time, conservative media outlets such as Fox News were covering Clinton's potential involvement in a Russian uranium deal rather than focusing on the Manafort news.
Clinton has remained an active public figure since her surprise defeat, speaking critically of Trump on several occasions and touring the country to promote What Happened. She continues to claim that factors such as the Russian hacking and former FBI Director James Comey's announced decision to reopen the email investigation cost her the election at the last minute.
Trump, meanwhile, seems unable to let the election go. His tweets about "Crooked Hillary" have continued regularly during his presidency, and he has repeatedly suggested investigators should focus on Clinton's scandals rather than his.
Conway has also been a constant Clinton critic. Last month she blasted the former presidential candidate for her ties to Harvey Weinstein, the movie mogul accused of long-running sexual harassment and assault.
Conway said on Fox that Clinton is "a hypocrite about women's empowerment and what it means to be pro-woman" because of her relationship to Weinstein, who donated to her and other liberal politicians.
Clinton, through a spokesman, said she was "shocked and appalled" by the allegations against Weinstein. But the Clinton Foundation said it would not return Weinstein's donations, which ranged from $100,000 to $250,000.