Kellyanne Conway Hated Being Sexually Harassed but Defends Trump Despite Complaints of Misconduct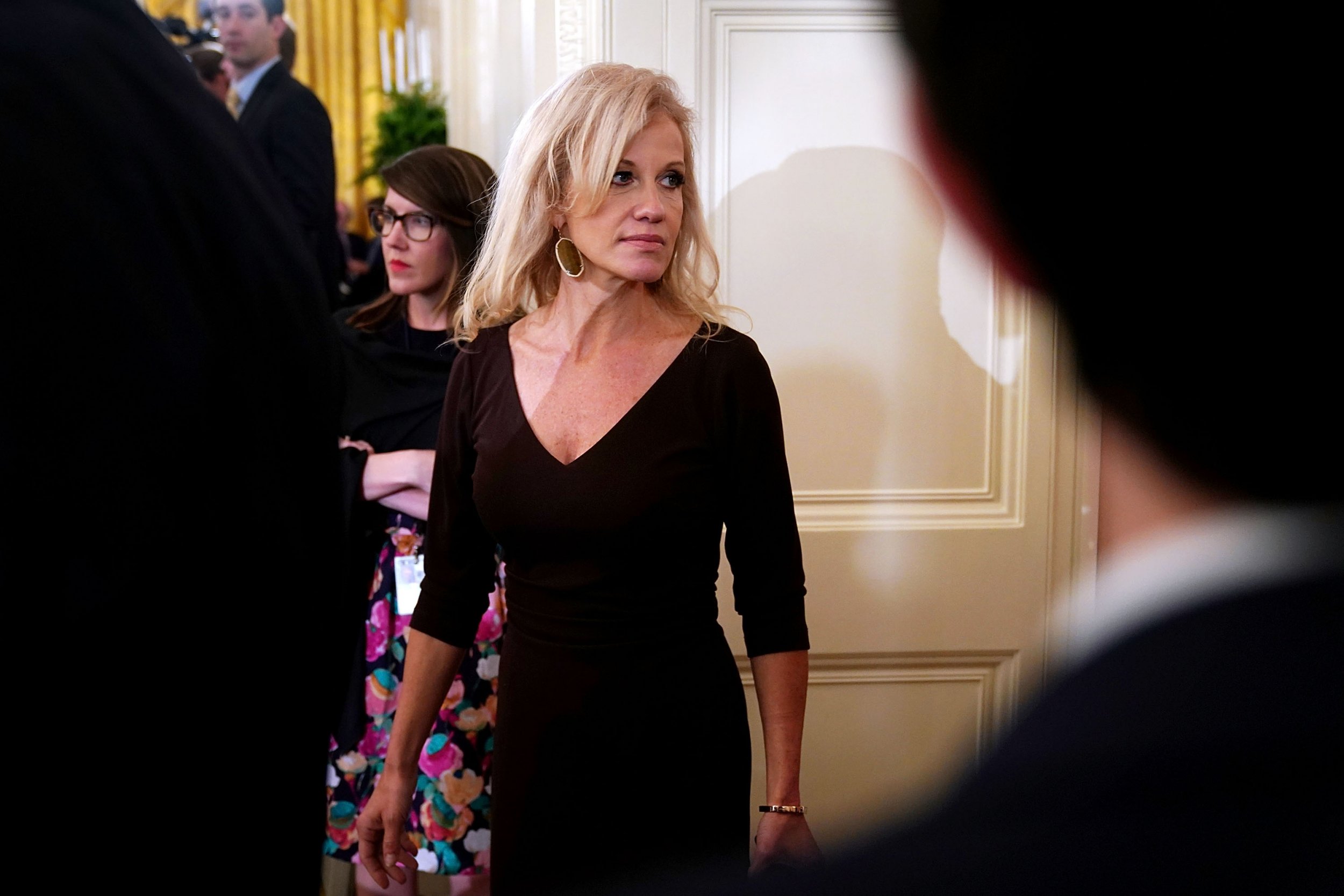 White House senior adviser Kellyanne Conway said this week that when she shared her #MeToo story "nobody cared about it."
Conway was defensive at Politico's Women Rule Summit on Tuesday, saying her story was ignored because she was a Republican managing Donald Trump's presidential campaign.
Conway said she shared her moment on MSNBC in October 2016.
"I would talk to some of the members of Congress out there ...When I was younger and prettier, them rubbing up against girls, sticking their tongues down women's throats, uninvited, who didn't like it," she said on MSNBC last year.
Conway restated her story on Tuesday during a discussion with Politico's Anna Palmer, but said she was ignored because of who she was working for.
"If we're going to have an honest conversation, you can't pick and choose depending on somebody's politics," Conway told Politico.
Conway shared her 2016 story in defense of then-presidential candidate Trump when he appeared on MSNBC on October 9 to discuss theAccess Hollywood hot-mic conversation. In the tape released on October 5, 2016, Trump can be heard telling Billy Bush that fame allows him to get away with grabbing women "by the pussy."
Conway continued to defend Trump even when 16 women accused the president of sexual harassment or sexual misconduct during his campaign. The White House continues to deny those claims.
A fellow member of the Trump administration, Transportation Secretary Elaine Chao told a crowd at the Women Rule Summit that she also has had a #MeToo moment, but "you gotta let it go. Because otherwise it's too corrosive, it's too negative and it does you a double injury because it holds you back."
"Things change, times change and it's not worth my while to go back and revisit those negative moments," said Chao.
The #MeToo hashtag recognizes victims of sexual harassment and grew out of harassment claims against the now-disgraced Hollywood producer Harvey Weinstein. On Wednesday morning, Time named the "Silence Breakers," such as Tarana Burke and Rose McGowan, of the #MeToo movement as its Person of the Year.