No, Cool Math Games Isn't Shutting Down: Company Confirms Adobe Flash 2020 Shutdown Won't Kill The Site
A rumor that Cool Math Games, a go-to site for entertainment by school-aged kids across the United States, is shutting down spread like wildfire this week. The site has long been a favorite among elementary students as it provides a safe place where they can access educational games and entertainment both in and out of school. With millions of users from around the world, fans are distraught at the idea of the website shutting down. The concern is so intense, in fact, that a petition has been started on Change.org in hopes of stopping the shutdown. So far the petition has gathered more than 600,000 signatures and is gaining more every minute.
So how exactly did the rumor get started? Is Cool Math Games really in danger of shutting down?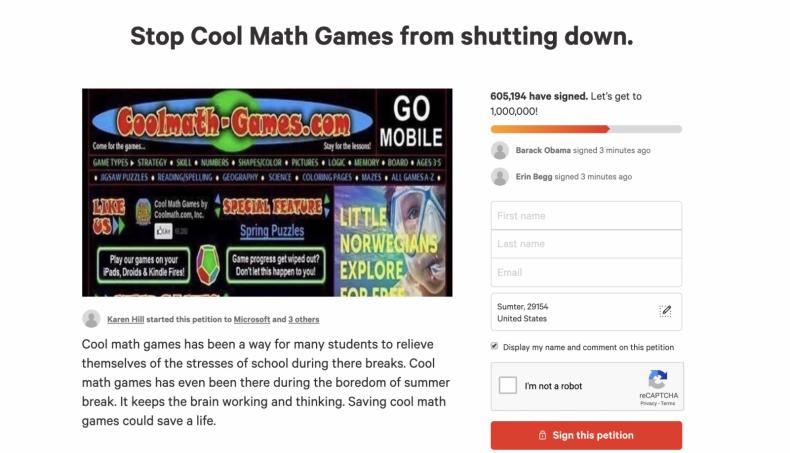 It is unclear when the rumor got started, though the first discussions on Reddit and around the web appeared around June 1. Posters have cited February 16, 2020 as the date the site will allegedly shut down. The reason given for the shut down is that Adobe will be discontinuing support for Flash in 2020. Adobe has encouraged those who use Flash on their websites to begin converting to other newer formats such as HTML5. Many popular browsers such as Chrome, Microsoft Edge and Safari have already been blocking Flash by default, but in 2020 all support will officially end.
Though some of Cool Math Games' offerings are still using Flash, there are a number of games that have already been converted to HTML 5. Additionally, the site has made no mention of a future shutdown or discontinuing support for its library of games.
Newsweek reached out to CoolMathGames.com regarding the future of the site. A spokesperson for the company confirmed that the site is not shutting down.
"We've seen that rumor flying around recently, but there's no truth to it," said Chief Product Officer, Miles Kronby. "We've been totally focused on HTML5 games for years now. We've also converted a large number of our older Flash games to HTML5, so people can keep playing them."
Cool Math Games started in 1997 and has expanded its offering across a variety of webpages including: CoolMath.com, CoolMath4Kids.com and CoolMathGames.com. Each site focuses on offering different educational resources such as brain training, logic puzzles and facts review games as well as tutorials and guides for learning advanced math topics in algebra, pre-calculus and more.