A Tennessee police officer has resigned after being arrested in a road rage incident in which he pointed a gun at a motorist while he was off-duty, police said.
Decherd Officer Matthew Ward has been charged with aggravated assault after he reportedly pointed his department-issued handgun at a driver and ordered him to get on the ground in Rutherford County.
The altercation between the two men was caught on video by onlookers who can be heard calling 911 for help in the background. Ward is heard telling Kovalchuk that he is on duty "24/7."
"He's put his gun in his holster but he's not even from this county. He's pulling his gun on this guy over road rage. He said he was tailgating the guy," the woman filming the video is heard telling the dispatcher.
Rutherford County Sheriff's Office Patrol Captain William Travis, the arresting officer, said the incident began on Interstate 24 on Sunday evening when Ward saw a man, identified by deputies as Ilya Kovalchuk, speeding on the highway.
Ward, who was off-duty at the time, flashed his police badge and signaled for the driver to slow down. The two men "exchanged words" before Ward pursued the driver at 120 mph until they both exited onto Medical Center Parkway and turned onto Silohill Lane, according to a police report.
Investigators said that after both men got out of their vehicles, Ward pulled out his gun.
"Ward drew his Decherd-issued handgun and pointed it at Mr. Kovalchuk while ordering him to lay on the ground," Travis said.
The warrant described the incident as a case of "road rage."
Following an investigation, Ward was arrested and booked into Rutherford County Adult Detention Center and released on a $5,000 bond. A hearing has been set for October 27 in General Sessions Court.
Ward was initially suspended without pay after the incident, but a Decherd police official told WKRN that he resigned Tuesday morning. Ward had been employed by the department for a few months.
Newsweek reached out to the Decherd Police Department for further comment but did not hear back before publication.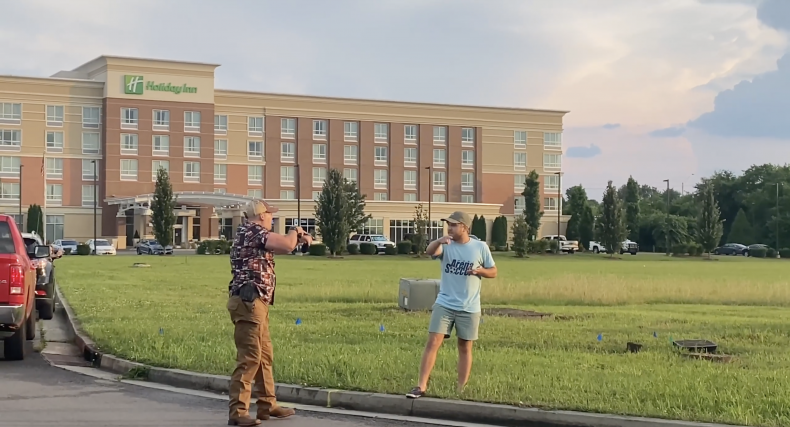 Last month, another police department in Tennessee urged drivers to practice patience after several road rage incidents were reported.
Three incidents were reported to Murfreesboro police in May over the duration of four days. Authorities said two of the incidents involved firearms and the third resulted in a car trying to force another vehicle off the roadway.
"All of these road rage incidents occurred in high-traffic areas where drivers where attempting to merge or change lanes," Murfreesboro Traffic Sergeant Greg Walker said. "Drivers need to be patient; it's not worth risking harm or possibly your life. You don't know if the aggressive driver has a firearm or not."
In a 2019 study from the American Automobile Association, nearly 80 percent of drivers admitted to experiencing significant anger behind the wheel. Eight million drivers said they engaged in extreme versions of road rage, such as ramming another car or forcing another driver off the road.
Data gathered by the AAA Foundation for Traffic Safety found that men are more likely to drive dangerously, but that regardless of gender, younger drivers are more likely to behave in aggressive behaviors.