Cop Caught on Video Allegedly Causing Intentional Damage to Suspect's Car
After a police officer was caught on video allegedly damaging a suspect's vehicle, his department has placed him on leave without pay.
According to a report from 7 News, the Massena, NY officer, identified as Brandon Huckle, was suspended from the force after footage was obtained in which he appears to cause intentional damage in a private home while executing a search warrant.
While the footage was captured in mid-March, it only made its way to social media this week. Defense attorney Brian P. Barrett posted the home security video on his Facebook page on May 4, slamming the work of the "#badboys" who caused the private property damage.
"A Massena cop did this to my client's car when they were executing a search warrant at his house on March 16, 2021," he captioned the post.
In the video, Huckle enters a garage and hits the parked car with the garage door, seemingly by accident at first. He looks around to see if anyone saw what happened.
While looking away from the car, he then reaches for the door once again and slams it into the car, this time seemingly with intentional force. He hits the car for a third time even harder, and the video ends with Huckle inspecting the damage and walking away.
Barrett told North Country Now News that he only learned of the footage this week when it was sent to him by the St. Lawrence County District Attorney's office as part of the felony drug case against his anonymous client. He told the outlet that he then posted it to social media because he "thought this was a matter of public interest."
Shortly after Barrett posted the video on Facebook, it made its way to Reddit to the horror of viewers on the r/Public Freakout page.
"The door was clearly resisting, the cop showed great restraint by not shooting it. Then again the door was white ..." one Redditor wrote. "That cop has no respect for others and in return receives ZERO respect from the public," another added.
One user felt particularly enraged by the incident, going so far as to call their local police unit "legit thugs with badges."
Another claimed actions like this "[send] a message."
"[Cops] can come into your home under legal pretense and get away with doing illegal s**t to you that f***s up your life," they claimed. "It lets people know their possessions are not secure, even in their own homes."
Massena Police Chief Jason Olson declined to comment on the matter as the internal investigation is ongoing. Huckle has also not released a statement on the situation.
Barrett expressed his frustration with Huckle in a report with 7 News, claiming that the Massena Police Department has had to reprimand him in other misconduct situations before.
"What's scary to me is that the Massena Police Department can't get rid of this guy and that it sounds like there's a pattern of misconduct with this officer," Barrett said.
The outlet reported that Huckle was suspended in September 2019 "during a misconduct investigation" that lasted until approximately March 2020.
"If the police department can't get rid of them themselves, then the public should know about the conduct of this police officer," Barrett told 7 News.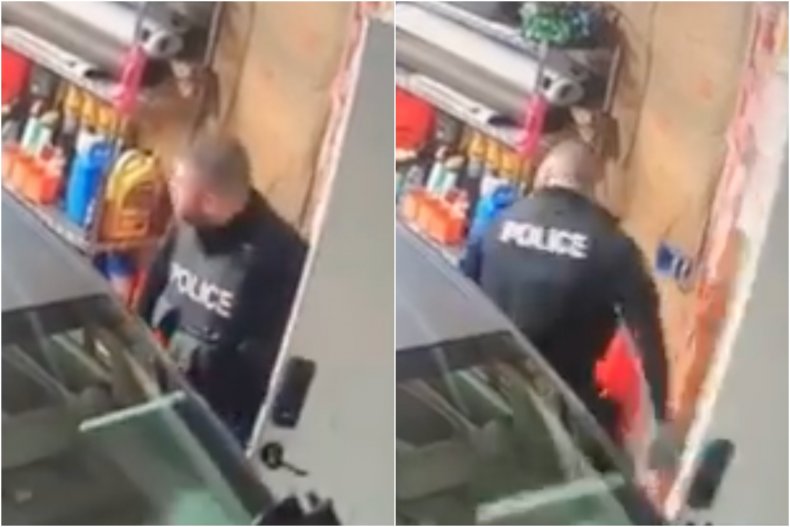 Barrett also expressed concerns to North County News over an apparent discrepancy in items seized from his client's house in the search and what was logged into the police report.
"I would say that we have reason to believe the money that was seized as part of the search warrant was not all returned as evidence," Barrett told the outlet. "We think there's about a $2,000 disparity."
He noted that he will now take clients more seriously if they allege officers acted inappropriately during home and private property searches.
Huckle's on-camera incident is the latest of civilian-police interactions caught on tape. In late April, footage was released of a California police officer slamming a woman to the ground and rending her unconscious while detaining her. Around the same time, another California officer was seen on video repeatedly punching an autistic teen.