Cop Involved in George Floyd Case Intends to Plead Not Guilty, Claim Self-Defense
One of the four former Minneapolis police officers in the George Floyd case intends to plead not guilty, according to court filings.
J. Alexander Keung, who is being charged with aiding and abetting Floyd's death, is planning to cite self-defense, reasonable force and authorized used of force. He is currently out on bail after posting a $750,000 bond.
A video of Floyd's arrest went viral after he died in police custody on May 25. In the video, another former officer Derek Chauvin is seen kneeling on Floyd's neck for nearly nine minutes as Keung and two other officers standby watching. Floyd is heard telling the officers "I can't breathe" during the incident.
For over a month across, Floyd's death has incited mass protests the country, demanding justice for Floyd and an end to police brutality. All four officers have been fired from the Minnesota Police Department.
Keung, along with Chauvin, Thomas Lane and Tou Thao, have been charged in the killing of Floyd. Lane and Thao are facing the same charges of aiding and abetting, while Chauvin is facing charges of second-degree murder, third-degree murder and second-degree manslaughter. The officers could face up to 40 years in prison if convicted.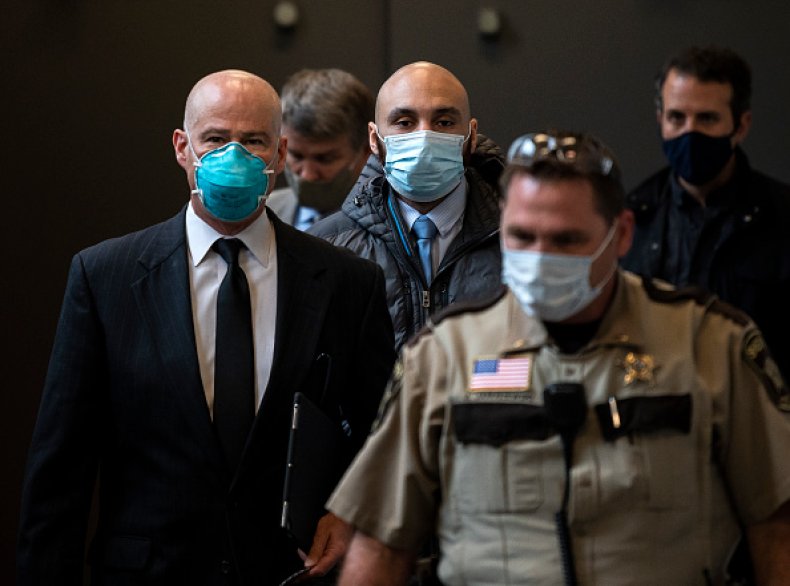 Judge Peter Cahill has set a tentative trial date of March 8, 2021. At a hearing at Hennepin County on Monday, Cahill advised the officers to avoid speaking publicly about the case and threatened to issue a gag order if statements continued.
Cahill also rejected a request from Keung's attorney, Thomas Plunkett, to reconsider his earlier decision to allow cameras in the courtroom during pretrial proceedings.
Plunkett said allowing coverage of pretrial proceedings would "educate the public that there may be more to the cases than what has been told to them by the state" and make it easier to select a fair jury.
Newsweek reached out to Plunkett for comment but did not hear back before publication.
Attorney General Keith Ellison was brought in to lead the prosecution by Minnesota Governor Tim Waltz on May 31. In response to the civil unrest, Ellison brought charges against Keung, Lane and Thao and upped Chauvin's charge of third-degree murder to second-degree, a move applauded by protesters and activists.
At a press conference earlier last month, Ellison said that while trying Floyd's case "will not be an easy thing" and "winning a conviction will be hard," his team is "going to bring to bear all the resources necessary to achieve justice in this case."
On Monday, prosecutors said they've gathered more than 8,000 pieces of evidence at this time.
Newsweek reached out to Ellison for comment but did not hear back before publication.
The officers' next hearing is scheduled for September 11.