Two former New York City Police Department (NYPD) officers were caught in a sting operation after they reportedly transported prostitutes to meet clients in exchange for cash payoffs.
NYPD's Thomas Diorio and Michael Sardone, who both worked for the 106th Precinct in Ozone Park, a neighborhood in Queens, were busted earlier this year by two undercover cops who were posing as sex workers, according to a police disciplinary proceeding report.
Sardone, who was granted the precinct's "Cop of the Month" in 2015, has retired. Diorio, who worked as an officer for 20 years, filed his retirement paperwork in July, the New York Daily News reported. Diorio didn't show up for an NYPD department trial on August 9 and was fired around a week later.
The NYPD told Newsweek on Thursday that Sardone's vested retirement began in August, while Diorio was dismissed the same month.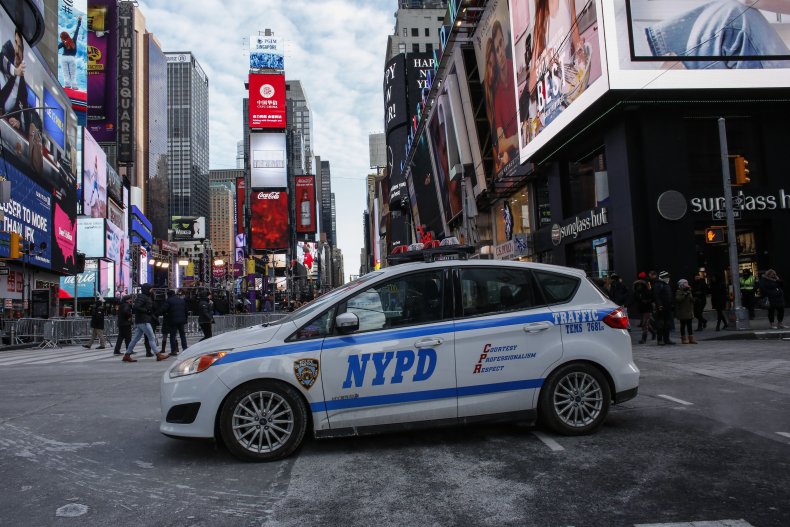 "With his blatant disregard of the law that he is sworn to uphold, [Diorio] betrayed the public trust," the police report read. "His recent pattern of illegal behavior indicated respondent is no longer fit to be a member of this department."
Diorio did not have previous disciplinary records and was frequently honored for his work. He received three medals in his time on the force, and was rated as "exceptional" in 2020, the NYPD said, according to the Daily News.
The report stated that the undercover cops who posed as prostitutes called Sardone in April to ask if he was interested in driving them to clients because their regular driver was unavailable.
"We're not street girls, you know. We're like high-end," one of the undercover cops told Sardone at the time. Sardone and Diorio were caught on video and audio surveillance on April 9 sealing a $4,000 deal to drive three prostitutes whom they met at a diner in Queens to a hotel in Manhattan.
The client, an undercover officer, tipped $100 to Diorio and Sardone, who waited for the women to drive them back to the Queens diner, according to the report.
Both officers made that same trip again on April 23 where they were paid $2,000, and again on May 14.
In one instance, Diorio was involved in convincing the client, also an undercover cop, to pay the women who pretended in front of the two officers that they were not paid a full amount of money for sex.
"Can we square this up so we can get out of here? I mean it was talked about before so let's just pay them their money," Diorio allegedly said, according to the report.
Update 10/15/21, 9:55 a.m ET: This article was updated to include comments from the NYPD.