Cop Retiring on Full Pension After Fatally Shooting Black Man Sparks Anger
The Columbus police officer who killed an unarmed Black man last August has "retired in bad standing," according to his former employer.
Donovan Lewis, 20, was shot during a police raid in the 3200 block of Sullivant Avenue in Columbus, Ohio, on August 30, 2022 by Officer Ricky Anderson. He was taken to the Grant Medical Center in a critical condition, and he was pronounced dead later that day.
During 2022, police killed at least 274 Black people across the United States, 35 of whom were unarmed, according to figures compiled by website Mapping Police Violence. Police brutality has become a major political issue in the U.S. over the past few years, especially after the murder of George Floyd in May 2020. In January, 29-year-old Tyre Nichols died after being beaten by officers during a traffic stop in Memphis, Tennessee.
Speaking to Newsweek, a representative of the Columbus Division of Police said: "Officer Ricky Anderson retired Friday in bad standing with the Columbus Division of Police. We have no other comment on the issue."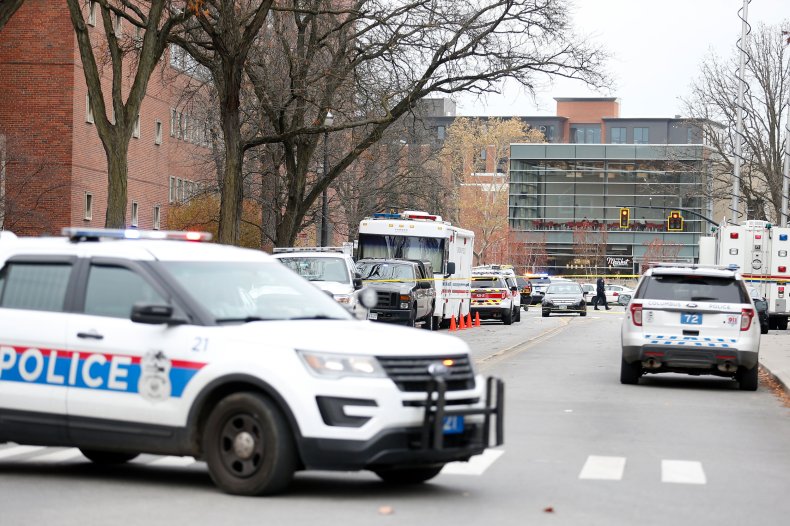 A Columbus Police spokesperson earlier told reporters this means Anderson will still be entitled to a pension. However, he won't be allowed to retain his police gun or badge. Anderson had been placed on paid leave immediately after the shooting.
The police announcement sparked anger from the attorneys for Lewis's family, who had been pushing for the officer to be fired.
Branding the retirement "cowardly," the legal team vowed to be "steadfast in our pursuit of justice," adding: "This family deserves so much better."
On August 30, police arrived to arrest Lewis on several warrants, including assault, domestic violence and the improper handling of a firearm.
Lewis was shot in bed almost immediately after officers entered the room. He was found to be unarmed, holding only a vape pen.
Following a state investigation, two special prosecutors were appointed by Franklin County in December, to further examine the incident.
A civil lawsuit has been filed against the five officers who arrived to serve the warrants, along with the city of Columbus, by Lewis's family.
Paying tribute to her son following his death, Rebecca Duran told The Columbus Dispatch: "He loved to sing. He loved sports. He wanted to be loved and he loved people unconditionally. He had so many friends from so many different walks of life."
His father, Daryl Lewis, added: "He was so sweet and so kind, even when someone disrespected him and there was a situation. He was so forgiving, he would forget about it and still come to you and show you love."
Update 03/08/23 3:00 a.m. ET: This story has been updated with comment from the Columbus Division of Police.