Cop Shoots Dead Chimpanzee That Attacked Owner's Daughter in Shocking Video
Bodycam footage captured the moment a sheriff's deputy fatally shoot a chimpanzee in the head after the animal, which was being kept as a pet, escaped its cage and attacked its owner's daughter.
The deputy arrived at the home in Pendleton, Oregon, on Sunday after reports the chimpanzee had attacked the 50-year-old woman.
Police video, seen above, showed the Umatilla County Sheriff's Office deputy entering through a gate at the home while carrying a rifle, before taking aim at the animal.
During the clip, the primate could be heard screeching from somewhere near the house. The deputy could be heard saying: "I'm going to try and get in for a shot."
While holding his rifle through wire fencing, pulled his rifle away when he heard a woman nearby. After asking whether the woman was safe, the deputy once again put the rifle through the fence, before firing a single shot.
Moments later, he confirmed the kill to other officers and said: "He's down." The deputy then requested an ambulance for the woman who had been injured.
The woman, who was not named by police, was taken to nearby St. Anthony's Hospital, where she was treated for bites to her arms, legs and torso, according to The Oregonian.
The newspaper reported that the primate's owner, 68-year-old Tamara Brogoitti, alerted police at 8 p.m. on Sunday that the animal had escaped from its cage and attacked her daughter, who had been trapped in a bedroom inside the basement.
Brogoitti had owned the chimpanzee, named "Buck", for around 17 years, sheriff's Lt. Sterrin Ward.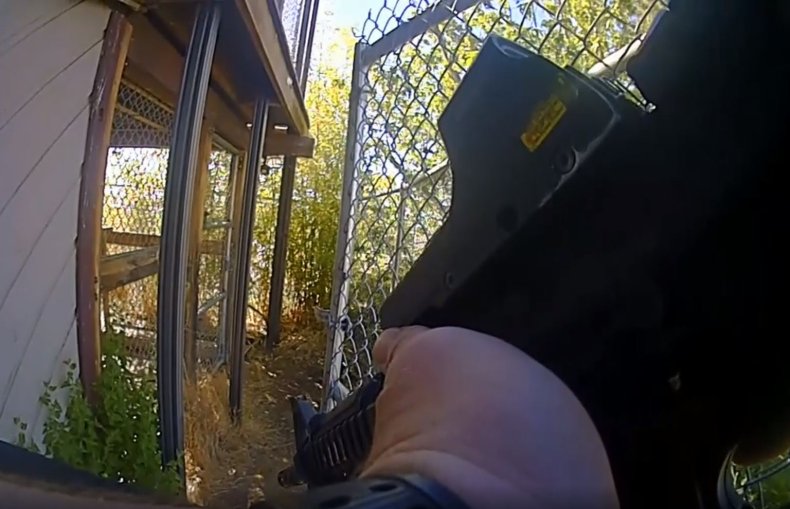 In Oregon, owning chimpanzees, gorillas and other primates was banned more than a decade ago over health and safety concerns.
The state banned the private ownership of apes in 2010, but "certain individuals" were allowed to keep existing primate pets, as long as they held an Oregon Department of Agriculture exotic animal permit, according to Michigan State University.
It is also illegal to privately breed any species of ape within the state.
Erika Fleury, a program director at the North American Primate Sanctuary Alliance, said the attack was not unexpected.
She told OregonLive: "Attacks from any privately-owner primate in captivity should be expected because these animals are not living healthy lives where they can express their natural urges and engage in natural behaviors."
Newsweek has contacted the Umatilla County Sheriff's Office and the North American Primate Sanctuary Alliance for comment.