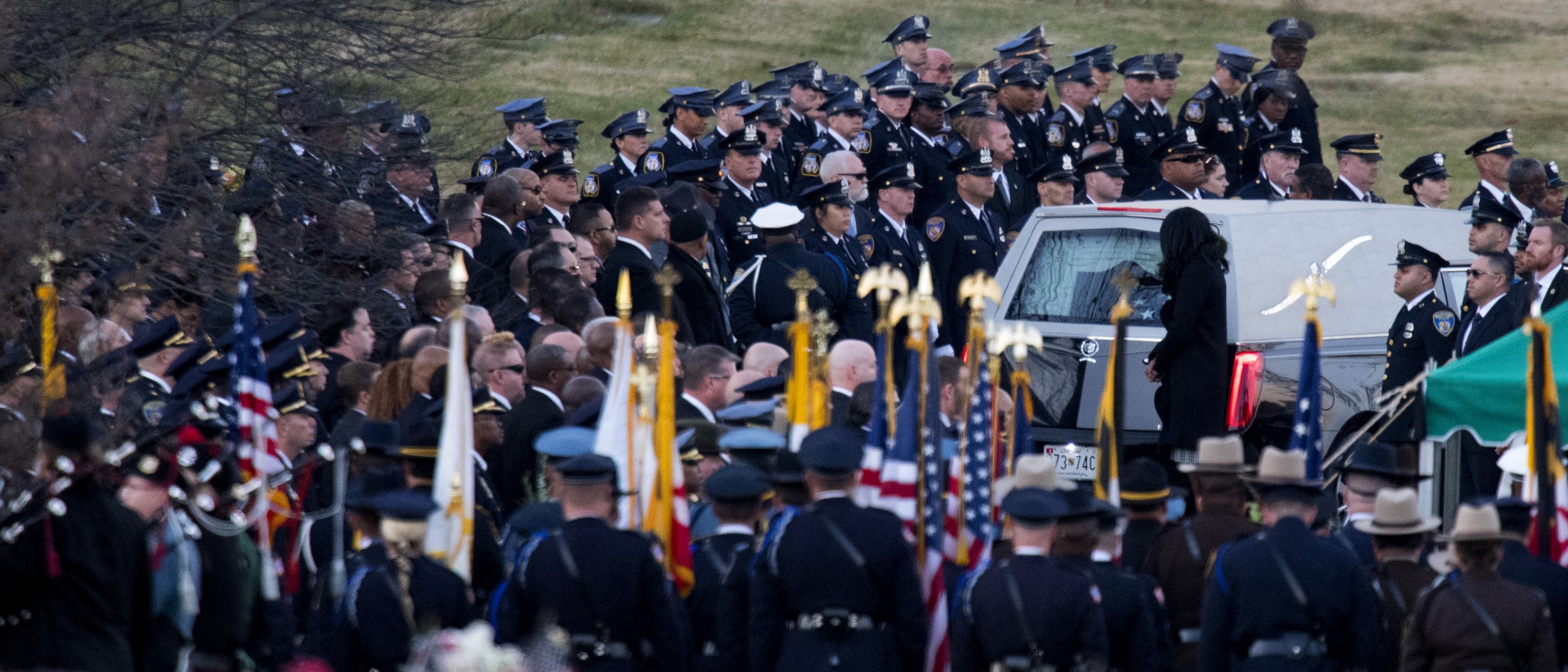 The FBI's refusal to take over the Baltimore Police Department's investigation into the death of one of its officers a day before he was set to testify against his fellow cops shows that he probably wasn't killed by another member of the force, the head of the department said on Wednesday.
Baltimore Police Commissioner Kevin Davis announced that the federal law enforcement agency had written him an undated letter in response to his request to take the lead in probing the death of Detective Sean Suiter more than three weeks ago. In the letter, an FBI official wrote that his agency did not believe that evidence showed Suiter's death was "directly connected" to its police corruption investigation, for which Suiter was supposed to testify. In a news conference, Davis repeatedly said that the FBI's decision refutes the theory he had been killed by other cops.
"I suspected all along that if the FBI thought the death of Sean Suiter was related to an ongoing corruption investigation that they would not only take this case in a heartbeat, they would come to Baltimore with unprecedented resources to get to the bottom of a murder of a cop, particularly if the murder of a cop had to do with pending witness testimony," Davis told reporters.
Davis did not know that Suiter was scheduled to testify in a federal corruption case against another cop until he died, and told reporters he asked the FBI to get involved because he wanted to make sure no information about what may have caused the death was being withheld from the department. Suiter was supposed to stand the stand to testify about being unknowingly used in a drug planting scheme.
Suiter was found shot in the head with his own gun in a vacant parking lot in the middle of the day in a notoriously violent West Baltimore neighborhood on Nov. 15. At the time, he was investigating a triple homicide.
Since then, police have gathered "no real physical evidence" to connect anyone to the crime, while three theories have swirled around how Suiter died. Some allege that the 18-year veteran officer was killed by other cops ahead of his testimony. Others say that he was attacked by an unknown assailant. And a third theory contends that Suiter killed himself, although Davis noted he has not found any evidence supporting that belief.
He said he had been holding back on releasing evidence to the public while awaiting an answer from the FBI, but now is considering revealing a radio transmission by Suiter before his death that he said was "clearly made by someone in distress."
The FBI would have brought significant resources to the case, but officials told Davis it will continue to lend its analytical, forensic and investigative support. Davis said he is now thinking about bringing in national experts to investigate the married father's death and is hoping he will soon be awoken in the middle of the night by news that the case has been broken open.
"I'm waiting for that 3 a.m. phone call in the middle of the night that says we just got a break in this thing," he said.