Cop Who Applied For Search Warrant That Led To Breonna Taylor's Death Reassigned Amid Investigation
A Louisville police detective whose request for a no-knock warrant led to the shooting death of an unarmed black woman in her home in March has been reassigned.
Acting Louisville Police Chief Robert Schroeder announced at a press conference on Wednesday that Detective Joshua Jaynes is now on administrative reassignment, pending the outcome of an FBI investigation.
"This is all part of the process of getting to the truth of what happened that night, and leading up to that night," Schroeder said. "I recognize that the process takes longer than we all want, but this is what must be done to ensure a thorough and fair investigation."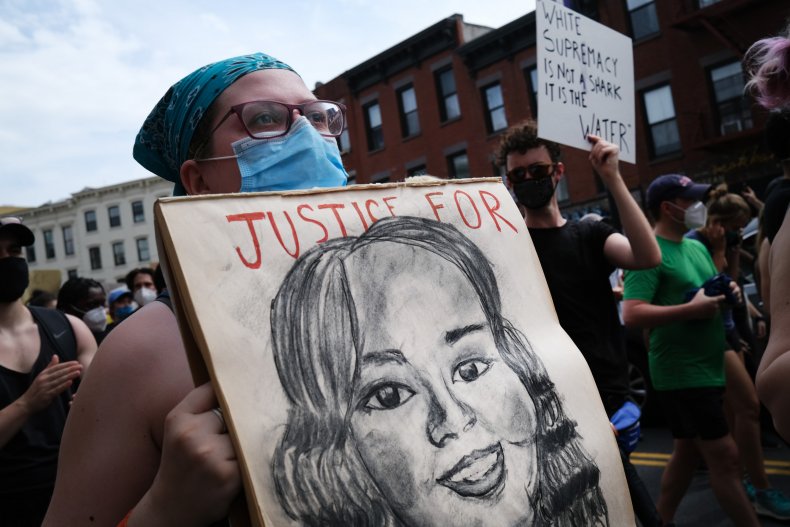 Breonna Taylor, 26, was shot multiple times when officers from the Louisville Police Department executed a no-knock search warrant at her home in the early morning hours of March 13.
The police were confronted by Taylor's boyfriend, Kenneth Walker, who believed a home invasion was taking place, pulled his gun and exchanged gunfire with the plainclothes officers.
He was wounded in the exchange with police, but Taylor was shot eight times and later pronounced dead.
Investigators said the plainclothes officers, who were identified as Sgt. Jonathan Mattingly, who was wounded in the shooting, Detectives Brett Hankison, and Myles Cosgrove, were not wearing body cameras during the botched raid, according to the ABC affiliate in Louisville.
Taylor, an EMT, was not a suspect in the case, but her name was listed on the search warrant. Jaynes alleged in his affidavit that two suspected drug dealers, identified in the affidavit as Jamarcus Glover and Adrian Walker, were using Taylor's address to receive packages.
Jaynes alleged Glover and Adrian had been seen at Taylor's home and were selling narcotics from a house nearby, and he believed evidence was being hidden in Taylor's home.
According to the affidavit, Jaynes requested a no-knock warrant because he feared any evidence in Taylor's home would be destroyed.
The warrant indicated police were looking for any evidence that could be tied to Glover or Adrian inside Taylor's home, but none was recovered after the shooting.
Taylor's shooting sparked outrage in Louisville's black community which fueled protests against police brutality, and demand for justice for the young woman. In the weeks that followed, protesters added the names of Ahmaud Arbery and George Floyd to their demands for justice.
Jaynes joins Hankison, Mattingly, and Cosgrove who were all placed on administrative reassignment for their role in the shooting.