Cop Who Shot Amir Locke Has Body Cam Footage Released After Dodging Charges
Authorities on Monday released new body camera footage from the officer who fatally shot Amir Locke.
The footage is the first to come from the perspective of Minneapolis Officer Mark Hanneman, who has avoided criminal charges in the death of Locke in February.
Locke, a 22-year-old Black man, was fatally shot by police executing a "no-knock" warrant in downtown Minneapolis February 2. The shooting sparked more protests surrounding racial injustices in the criminal justice system and raised more questions about the use of no-knock warrants.
The video shows several officers opening the door of the apartment Locke was in at the time of the shooting, pointing a gun and demanding for him to show them his hands. They encountered Locke sleeping on a couch underneath a blanket.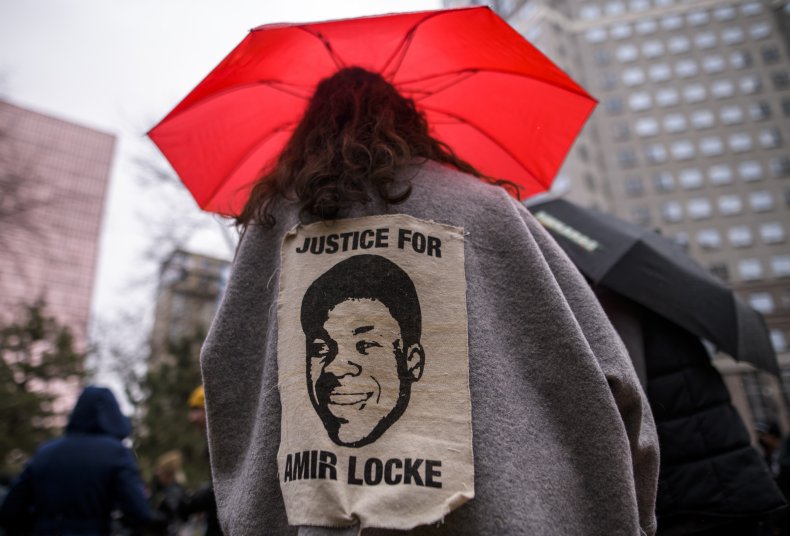 He then got up, which is when police say he lifted up a handgun. Officers in the video can be heard yelling "he's got a gun" and telling him to "drop the f****** gun," while Hanneman shot at Locke. He died only minutes later.
In total, only about 10 seconds passed from the moment police opened the door to when Locke was fatally shot.
The release of the body camera footage comes less than one week after officials said charges would not be filed against Hanneman.
Hennepin County Attorney Michael Freeman and Minnesota Attorney General Keith Ellison announced last week that charges would not be filed because "there is insufficient admissible evidence to file criminal charges in this case."
"Specifically, the State would be unable to disprove beyond a reasonable doubt any of the elements of Minnesota's use-of-deadly-force statute that authorizes the use of force by Officer Hanneman," the announcement said. "Nor would the State be able to prove beyond a reasonable doubt a criminal charge against any other officer involved in the decision-making that led to the death of Amir Locke."
They added that Locke is a "victim," adding that the "tragedy may not have occurred absent the no-knock warrant used in this case."
Attorneys Ben Crump, Jeff Storms and Antonio Romanucci previously told Newsweek that Locke's family is "deeply disappointed by the decision" to not charge Hanneman.
"The threat to my life and the lives of my teammates was imminent and terrifying," Hanneman said, according to other documents obtained by local news station WCCO-TV. "I feared for my life and the lives of my teammates ... I felt in this moment that if I did not use deadly force myself, I would be killed."
There have been several police killings of Black people in the Minneapolis area in recent years, including George Floyd—whose death sparked massive nationwide protests in 2020—and Daunte Wright, who was shot in nearby Brooklyn Center.
Newsweek reached out to the Minneapolis Police Department for comment.