COP26 Live Updates: Draft Agreement Published as Boris Johnson Returns to Summit for Crunch Talks
Graph reveals how climate plans still fall short of 1.5C target
A new Statista/Newsweek graph shows how pledges from nations at COP26 will likely fail to meet the critical 1.5C target agreed in Paris in 2015.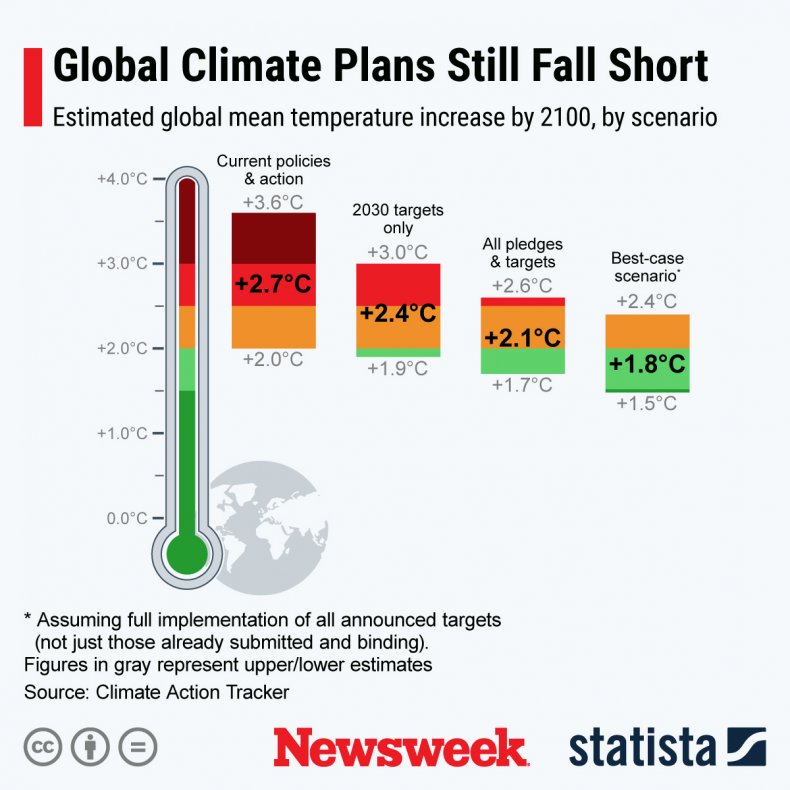 Coal-reliant countries creating 'significant dispute' over targets
Dr. Liana Semchuk, Lead Europe and Eurasia Analyst at Sibylline, has told Newsweek that countries including Russia and China "remain insistent that the original timeframe is maintained" - rejecting calls for more radical net-zero targets to keep global warming below 1.5C - but said that "revisions to the draft will be necessary to achieve a global consensus".
Considering a projection published by Climate Action Tracker earlier this week, predicting global heating will rise to 2.4C above pre-industrial levels under current 2030 climate goals, any further watering down of commitments will significantly jeopardize the likelihood of keeping global temperatures to the 1.5C aim of the Paris agreement.
'Petrol cars will be as rare as three-wheelers by the 2040 emissions vehicle pledge'
A pledge from 13 countries and several major companies to switch to emissions-free cars by 2040 has been labeled as "too lax" by electric vehicle charge point management firm DevicePilot.
CEO Pilgrim Beart told Newsweek the plans were "more ambitious in theory than in practice" and that the industry will have adapted largely away from petrol cars by 2040 anyway.
2040 is a long way away and the remarkable growth of the EV industry in recent years has made it easy for countries to support this date. By 2030, petrol and diesel vehicles will feel very outdated. By 2035 or 2040, they will be relics. It will be akin to seeing a three-wheeler on the road today. A 2040 timeline should be an absolute worst-case scenario. It's vitally important that more countries sign up to the pledge and take significant steps to support a universal emissions-free vehicle future by 2030.
Climate group finds 'credibility gap' as pledges mean 2.4C in 2100
Climate Action Tracker has found that 2030 pledges by countries at COP26 would still result in a hugely destructive 2.4C temperature rise.
Greenpeace: Negotiators 'shouldn't leave Glasgow' until better climate deal agreed
The campaign group's CEO Jennifer Morgan said the draft agreement published earlier "is not a plan to solve the climate crisis" and called on countries to do better as the clock ticks down on negotiations.
Boris Johnson to tell countries to 'put aside differences'
The British PM will use a meeting with United Nations Secretary-General Antonio Guterres, government officials, and negotiators later today to attempt to push pledges further after a report showed disappointing progress in talks.
Ahead of his return to Glasgow, Johnson said that countries must "pull out all the stops" from now until Friday.
Climate is bigger than any one country and it is time for nations to put aside differences and come together for our planet and our people. We need to pull out all the stops if we're going to keep 1.5C within our grasp.
Greta Thunberg and others climate activists file 'system-wide climate emergency' petition
The legal petition to the United Nations will be filed later today calling on General Secretary António Guterres to declare a "global level 3 emergency" – the organization's highest category.
Thunberg has been protesting for several days outside the COP26 venue in Glasgow after accusing attendees of "greenwashing" while walking out of an event last week.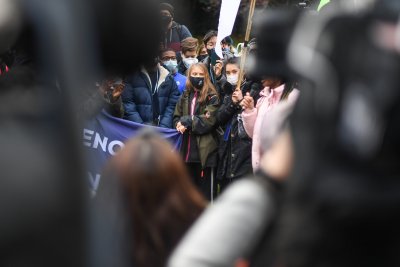 China's negotiators pushing against 'empty targets'
The country's special climate envoy Xie Zhenhua has urged "concrete action" - despite President Xi Jinping's failure to join world leaders or sign up to the most radical proposals.
'Climate action is not just a moral imperative'
President Biden has been tweeting his support for negotiators at COP26 but is yet to comment on the draft report which was released this morning.
Climate business group urges countries to 'align with 1.5C'
We Mean Business, a non-profit which works with major global businesses and climate change organizations, has welcomed the draft agreement but said it does not go far enough.
CEO María Mendiluce told Newsweek that she wants governments to "hear the call of hundreds of companies" pushing for measures to tackle global warming.
Business welcomes that, for the first time at COP26, countries have included the need to accelerate the phase out of coal and fossil fuel subsidies in the latest draft text. However, we now urge countries to align with limiting global temperature rises to 1.5C. We encourage parties to hear the call of hundreds of companies to phase out coal by 2030 in advanced economies and 2040 for other countries, and remove all fossil fuel subsidies by 2040. Business needs these specifics to go all in for scaling up renewable power.
'Alarm and concern' at 1.1C temperature rise
The draft agreement between countries at COP26 has warned that the planet is only 0.4C away from reaching the critical global warming target.
The seven-page document focuses on the "urgency of action" needed to get richer countries to support poorer nations to ditch fossil fuels in the next decade with $100 billion - something countries have so far failed to agree on.