Cop26 Live Updates: End of Coal Power 'In Sight' as Over 40 Countries Agree to Quit
Over 40 countries have pledged to quit mining and burning coal before 2050 but major users of the fossil fuel - including the U.S. and China - have so far refused to commit to the plans.
Participants have promised to "end all investment in new coal power generation domestically and internationally" as well as rapidly scale up clean power, with a view to phasing out coal in the 2030s for major economies and the 2040s for developing countries.
The British government hailed the agreement as a "milestone moment in our global efforts to tackle climate change" but campaigners argue that the critical 1.5C global warming target will be missed so long as the biggest polluters refuse to sign up.
The live updates for this blog have ended.
Greta Thunberg says necessary changes will not come from inside the COP26 summit
Greta Thunberg joined Emma Watson, Amanda Gorman, Vanessa Nakate and other youth climate activists on a panel for the New York Times Climate Hub in Glasgow.
Thunberg continued her criticism of the COP26 conference.
"To be honest, we probably all know that the changes that are necessary will not come from inside these conferences," she said. "This is the harsh reality."
She said without "massive pressure from the outside," leaders will continue to "get away with not doing anything" and not being held accountable.
When asked by Watson what it would take for this COP26 to be a success, Thunberg said, "what would be considered a success would be if people realize what a failure this COP is."
She also accused CEOs of using the summit for "greenwashing."
Leaders discuss role of nuclear energy in meeting emissions goals
The theme of the fourth day of the COP26 summit is energy.
International Atomic Energy Agency Director-General Rafael Mariano Grossi is meeting with world leaders to discuss the role of nuclear energy in achieving net-zero emissions goals.
Grossi met with U.S. Climate Envoy and former Secretary of State John Kerry to discuss new technologies, like small modular reactors, that can be used to fight climate change.
LA Mayor isolating in hotel after testing positive for COVID at COP
Eric Garcetti has been isolating since yesterday afternoon after testing positive for the virus, fuelling fears of a COVID outbreak in Glasgow following the summit.
Revealed: 46 countries agreeing to phase out coal by 2050
The U.S., China, and Australia are still missing from the list agreed this morning but it is understood talks are underway to reach a compromise.
Greta Thunberg walks out of COP26 meeting
A video has emerged of the climate activist walking out of a discussion on carbon offsetting yesterday, telling delegates to "stop greenwashing" as she left the room.
Top U.S. and China negotiators talking at COP26
John Kerry has been seen sitting down with Xie Zhenhua, according to the Guardian.
Speculation is mounting that the pair could make a deal to either end or significantly reduce coal mining and burning in the coming decades.
'We desperately need a more positive change'
Aston University's Dr. Katie Chong has told Newsweek that failing to meet the 1.5C "will mean change for every living species on this planet".
We will have to dramatically change our lifestyles to reduce carbon emissions in developed countries, sacrificing those things that many of us enjoy. Those in developing countries will feel the impact the hardest, with a negative change to their living situations and essential human requirements such as food, water and a home. For our wildlife, the change will see many of them become extinct or struggling to survive with diminished or destroyed habitats. We desperately need a more positive change from the discussions this week at COP26; otherwise, the change that we will all feel will only be negative.
Extinction Rebellion activists to continue 'anti-greenwashing' protests in Glasgow
Lead Europe and Eurasia Analyst at Sibylline, Dr Liana Semchuk, said activists plan to continue targeting major financial institutions such as JP Morgan, with further action against "greenwashing" expected throughout the summit.
With the financial sector already high on activists' radar, businesses in the sector will very likely be brought under an even closer scrutiny, with pressure to support the pledge and divest from polluting sectors set to only increase. Stricter regulatory policies, particularly in the E.U. and U.S., for banks and insurers, to impose financing limits to polluting industries are likely, though swift and radical policy action is unlikely to emerge imminently amid political divisions and powerful industry lobbying groups.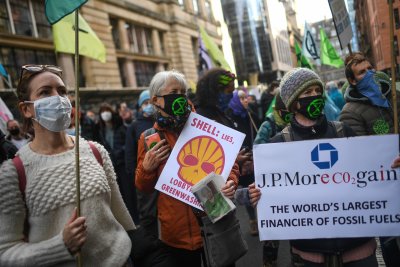 Climate pledges 'would limit global warming to 1.8C' - think tank
The Institute for Economic Affairs estimates that current agreements between nations at COP26 would get close to the Paris target of 1.5C - but "much more" is needed.
The British think tank, which rarely reveals its sources of funding, receives significant annual donations from oil company BP.
Powering Past Coal group gains 28 new members
A total of 165 countries (48), subnational governments (48), and organizations (69) have signed up to the group, which aims to accelerate the transition from coal to cleaner energy sources.
Summit President Alok Sharma announced the good news to COP26 delegates just moments ago - but talks over the U.S., China, and Australia continue to stall.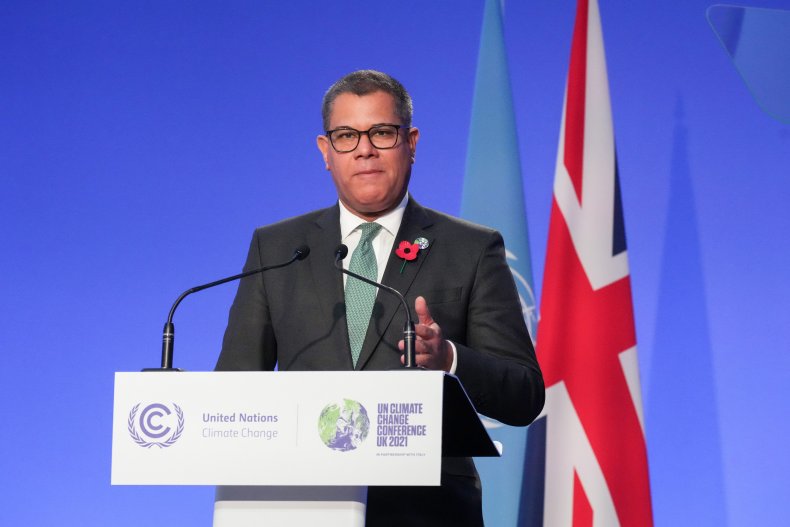 Global CO2 emissions almost return to pre-pandemic levels
Emissions reached their highest ever levels in 2019, before COVID quarantine mandates saw them drop by over 5 percent. But since the virus retreated in many of the most polluting countries, fossil fuel burning has made a major comeback and has grown much faster than expected this year.
'Zombie coal power stations' being fired up again in China - reports
Old power stations that primarily rely on coal for its production have restarted operations in the lead up to the COP26 summit, reports Sky News.
The outlet headed to Shanxi province - known as China's 'coal country' - where Mao-era infrastructure is being ramped up despite orders from 2017 to ramp down production.