Copa America 2019: Expert Picks and Predictions, Schedule and Odds
The 46th edition of the Copa America gets underway on Friday surrounded amid more doubts than certainties.
Brazil hosts the tournament for the first time in 30 years but lost star player Neymar to a serious ankle injury before a ball was even kicked in anger. The Selecao has won the tournament in each of the four times it has staged it but has not lifted the trophy since 2007.
Argentina's drought stretches back a lot longer than that. La Albiceleste last won the tournament in 1993 and Lionel Messi will again be under pressure to deliver on the international stage.
The two teams are the bookmakers' favorite, with Brazil at 11/10 and Argentina at 7/2.
Two-time defending champions Chile have gone through a major transition period and the tournament could be the swansong for a number of its stars, such as Alexis Sanchez, Arturo Vidal and Gary Medel.
Uruguay, as ever, enters the tournament as the dark horse. The role fits Oscar Tabarez's team to perfection but the 15-time winners faces an anxious wait over the fitness of Luis Suarez.
Colombia's hopes of flying under the radar could be tested in its game against Argentina, while Peru will be hoping to squeeze one last run out of veteran striker Paolo Guerrero.
The two teams are 6/1 and 8/1, respectively, while Chile is a 10/1 outsider.
Meanwhile, Paraguay is in a state of flux after appointing Eduardo Berizzo in February as Juan Carlos Osorio's tenure ended after just five months.
Here's what some experts expect from the tournament.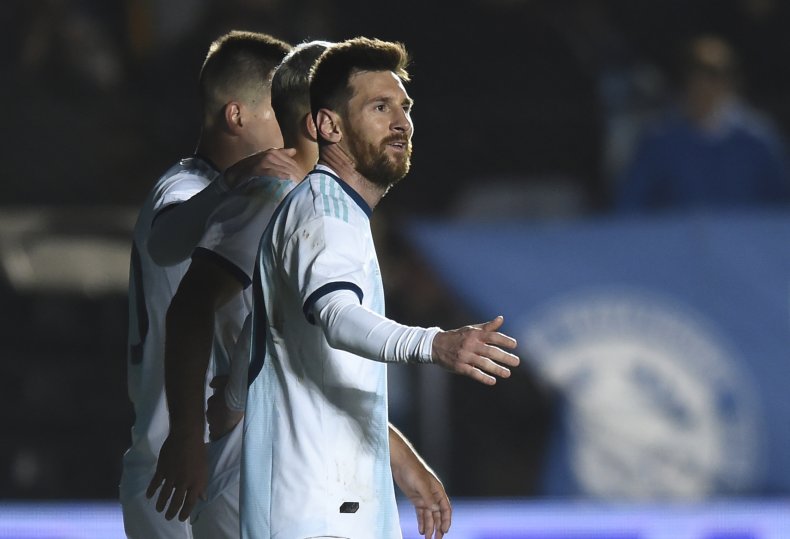 Andy Edwards—NBC Sports
Predicting the outcome of the Copa America is a difficult task at the best of times and this year it appears harder than usual.
"For the first time in a long time, there is no clear-cut favorite," Edwards wrote.
"The best team in South America is anybody's guess.
"All of the attention that will inevitably be paid to Brazil could turn out to be a blessing in disguise for some of the tournament's other heavy hitters, particularly the two-defending champions from Chile."
Jonathan Wilson—The Guardian
The Copa America promises to be very open and Wilson suggests home advantage might help Brazil.
"The favourites are probably Brazil, who have won all four of the previous Copas América they've hosted," he wrote.
"They've won nine and drawn one of their 10 games since their World Cup quarter-final exit against Belgium but it would be misleading to say there's any great sense of confidence or serenity about the squad."
Luis Miguel Echegaray—Sports Illustrated
Unlike Wilson, Echegaray believes playing at home could do Brazil more harm than good.
"Brazil, with or without Neymar, enters Copa America on thin ice, carrying massive expectations under a backdrop of controversy," he wrote.
"Regardless of who takes Neymar's place on the field, the Seleção's supporters expect nothing less than a title."
Tim Vickery—ESPN
Argentina have not won an international tournament since 1993 and the squad has undergone a major overhaul, which Vickery believes could provide a psychological boost.
"This raw squad lacks the muscle memory of back-to-back defeats in the Copa final, both times to Chile. It might breed a sense of fearlessness that spurs them forward. Plenty of scrutiny will fall on interim boss Lionel Scaloni in what amounts to his first full-time management role.
Roger Gonzalez—CBS Sports
Like Vickery, Gonzalez believes Argentina's decision to veer away from veterans in favor of younger players could prove to be a successful decision.
"Argentina will be improved when it comes to the quality on the field, and part of that is not having some of the past-their-prime veterans on the roster [...] This jolt of energy with some faces having bigger roles will result in a better product and an increased expectation."