Copenhagen Suspect Allegedly Posted Video Saying Medication 'Does Not Work'
The suspected gunman who killed three shoppers and wounded four more at a Danish shopping mall on Sunday had posted a statement online before the attack saying anti-psychotic medication "does not work," according to local media reports.
Officials confirmed the 22-year-old Danish man has mental health problems on Monday morning, releasing a statement saying his deadly attack was not linked to terrorism.
The suspect, who has not been named by officials but who was described as an "ethnic Dane," opened fire at 5:35 p.m. in Field's mall in Copenhagen in an almost 15-minute rampage before he was arrested. He is due in court later on Monday.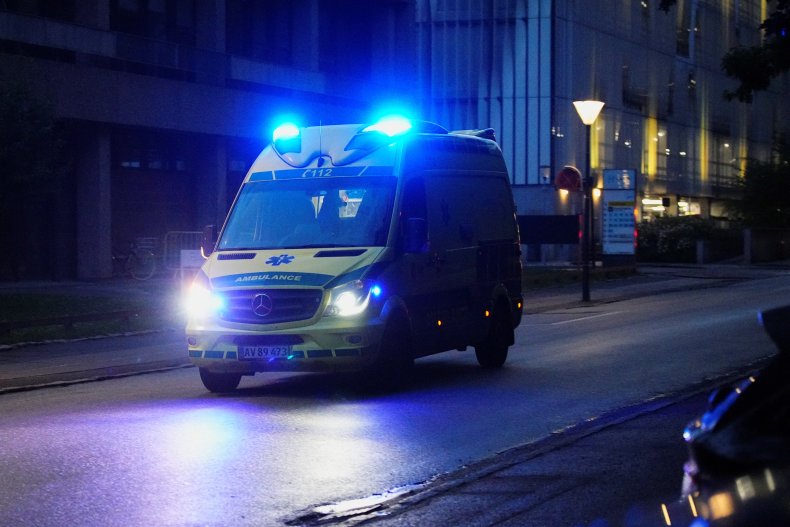 The man had posted chilling videos on social media on Saturday, the day before the attack, in which he posed with a handgun and rifle and pressed their muzzles against his head and into his mouth. He also uploaded several playlists to YouTube, with the titles "Killer Music" and "Last Thing to Listen To," writing a caption underneath reading: "Quetiapine does not work."
Quetiapine is a powerful anti-psychotic medication often used to treat mental health illnesses such as schizophrenia and bipolar disorder. It is marketed under various brand names.
The suspect had posted five videos online in total, according to Danish newspaper Ekstra Bladet, most of which were recent and showed him posing with his weapons. His YouTube account, which had just seven followers, has now been closed for breaching YouTube's community guidelines.
Police also released further details about his three victims on Monday, revealing the gunman had killed two Danish 17-year-olds, a girl and boy, and a 47-year-old Russian man. He injured two Danish women, aged 19 and 40, a 16-year-old Swedish girl and a 50-year-old Swedish man.
Police said it appeared the gunman had selected his targets at random. Newsweek has reached out to Copenhagen police for further information.
Eyewitnesses shared terrifying accounts of the horror that unfolded as they browsed the stores.
Rikke Levandovski told broadcaster TV2 that shoppers initially thought the commotion was caused by a shoplifter. She said: "People first thought it was a thief... Then I suddenly hear shots and threw myself behind the counter inside the store. He is just shooting into the crowd, not up in the ceiling or into the floor."
Another woman, who gave her name as Isabella, told public broadcaster DR: "My friend and I, suddenly we hear shots. I hear about ten shots and then run as fast as we can into a toilet. We squeeze into this tiny toilet where we are around 11 people." She described the heat as the group huddled together hiding, as they prayed the gunman would not enter the toilets looking for victims.
Prime Minister Mette Frederiksen spoke out after the atrocity at the weekend, saying: "Denmark was hit by a cruel attack on Sunday night. Several were killed. Even more wounded. Innocent families shopping or eating out. Children, adolescents and adults. Our beautiful, and usually so safe, capital was changed in a split second. I want to encourage the Danes to stand together and support each other in this difficult time."
British popstar Harry Styles had been due to host a concert at the Royal Arena in the city on Sunday night, as part of his Love On Tour shows.
Organizers announced the show had been canceled on the advice of the police, and the 28-year-old former One Direction star tweeted: "I'm heartbroken along with the people of Copenhagen. I adore this city. The people are so warm and full of love. I'm devastated for the victims, their families, and everyone hurting. I'm sorry we couldn't be together. Please look after each other. H."
The deadly shopping mall attack took place as Denmark celebrated hosting the first three stages of the Tour de France for the first time.
Update 7/4/22 7:05 a.m. ET: This article was updated throughout.