'Coping MAGA' Account That Mocks Mournful Trump Supporters Suspended by Twitter
"Coping MAGA," the Twitter account where people send memes mocking sorrow-filled Donald Trump supporters, has been suspended by Twitter.
The account existed as a sort of counter-programming to combat conservative accounts that for years have mocked their political opponents with images of "liberal tears," such as a woman on her knees screaming at the heavens during Trump's inauguration. While "liberal tears" memes clearly took aim at Hillary Clinton voters, as well as Barack Obama and progressive leaders, "Coping" focused on the disbelief and anger felt by the MAGA crowd this election cycle.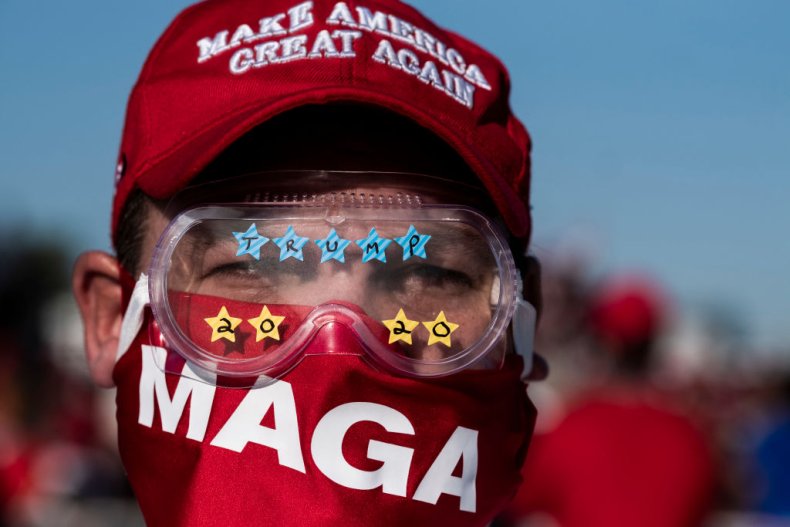 In recent days, the account has been flooded with images, videos and GIFs of conservatives "coping" with Trump's loss. Often wearing MAGA merchandise or draped in American flags, these mourners can be seen on the ground with hands protectively shielding their heads from the torment of the news or shuffling around sadly at protests.
There have been many images depicting "copium," an imaginary drug that right-wingers are huffing or injecting to numb themselves from the election results. Rudy Giuliani complaining about the media outside of Four Seasons Total Landscaping is also frequently referenced, as is 4chan, the site where many hate groups and QAnons conspiracists gather together.
Similar sites to the original Coping MAGA account have quickly sprung up, such as this one with the handle CopingMAGAs:
Another account even owns up to not being the original, the creator saying it exists to fill the void until the original returns.
Only a few days after the (original) Coping MAGA account was started, it had quickly gained 10,000 followers. Before it was suspended, the account had amassed over 60,000 followers. But lefties shouldn't worry: If they still need a fix of MAGA Coping, they can search YouTube for "cope compilation," to bring up results from users collecting the crushed reactions of conservatives struggling with the election results.
One such YouTube compilation is below. (Others can be found that run upwards of half an hour.)
According to various tweets and a running thread on Reddit, the Coping MAGA account, as well as the personal Twitter accounts of its creators, were suspended after an organized effort by 4chan users. The tweets and Reddit thread both say 4chan conservatives were flagging Coping MAGA for hate speech.