The Minneapolis police union produced a T-shirt supporting President Donald Trump days after police administrators banned officers in the city from wearing their uniforms to support political candidates.
The head of the Police Officers Federation of Minneapolis, Lieutenant Bob Kroll, posted an image of the "Cops for Trump" T-shirt on his personal Facebook page over the weekend, the Star Tribune reported. It features an American flag in the shape of Minnesota with three law enforcement badges alongside it.
Kroll wrote that the shirts would be available for purchase at the union's headquarters on Monday and will later be sold online.
The city's police chief, Medaria Arradondo, announced last week that off-duty officers cannot appear in uniform during political rallies or in advertisements. He said the new policy had been under consideration for months.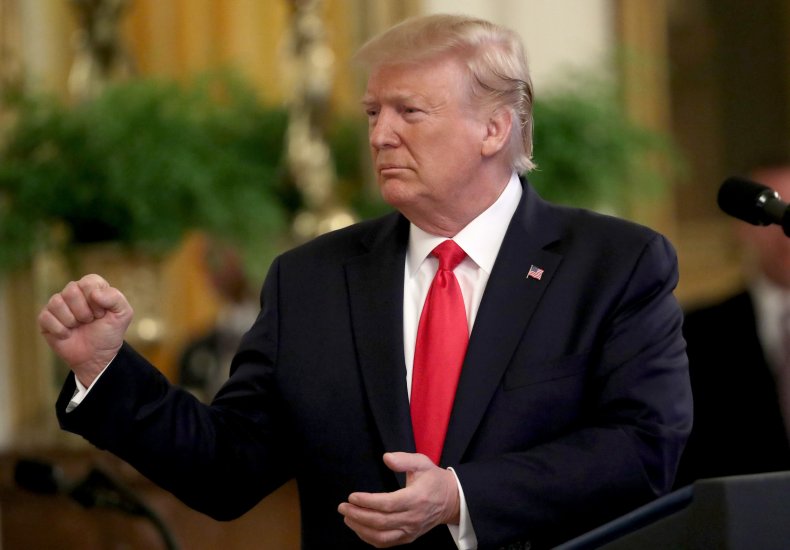 "I want to be sure when the public sees us, they don't believe we are showing favor to any certain political candidate," he said, according to CBS Minnesota.
But Kroll has raised questions about the timing of the ban. He said he learned of it in late September, shortly after Trump announced that he would be holding a rally in the city.
"My members are outraged. A lot of them want to be there; they want to be in the backdrop, have an opportunity to meet him. He's shown that he's a very pro-law enforcement president," he told Fox News on September 29.
"We're going to be there in full force, in T-shirts, letting people know that off-duty officers do have support for our president," Kroll added.
Minneapolis Mayor Jacob Frey has supported the new policy. "Politics and the work of the Minneapolis Police Department are separate," he said, according to Minnesota CBS affiliate WCCO 4. "They are individuals within our department, certainly have a First Amendment right to support whichever party or whatever individual they choose."
Trump's appearance at Target Center will be the president's first campaign visit to Minneapolis but his fourth to the state in the past year and a half.
While he lost Minnesota in 2016 to Democratic candidate Hillary Clinton by 2 percent, Trump has said he can win the state in 2020.
Last weekend, he tweeted a video of his visit to the state in 2018. Since then, he has been involved in an ongoing Twitter spat with Minnesota Representative Ilhan Omar.
Minnesota GOP Chairwoman Jennifer Carnahan said there would be a big turnout for the event on Thursday. "There have been nearly 100,000 people that have signed up online for tickets. Our office has been flooded with hundreds and thousands of calls all week," WCCO 4 reported.