Cops Bust Crooks Selling Thousands of Dollars in Fake Queen Elizabeth II Gold Coins
Police in Germany say they busted scammers suspected of selling fake Canadian "Maple Leaf" gold coins with the face of Queen Elizabeth II on them.
The alleged fraudsters are said to have conned buyers out of 80,000 euros ($85,910).
Cologne police headquarters in the western German state of North Rhine-Westphalia and the public prosecutor's office said in a joint statement Monday: "After months of investigative work, Cologne investigators arrested three men (30, 31, 51) in Cologne-Ossendorf on Thursday afternoon (June 2) and seized 19 fake gold coins and several 100 euros in cash."
Police have not revealed what the coins were made of.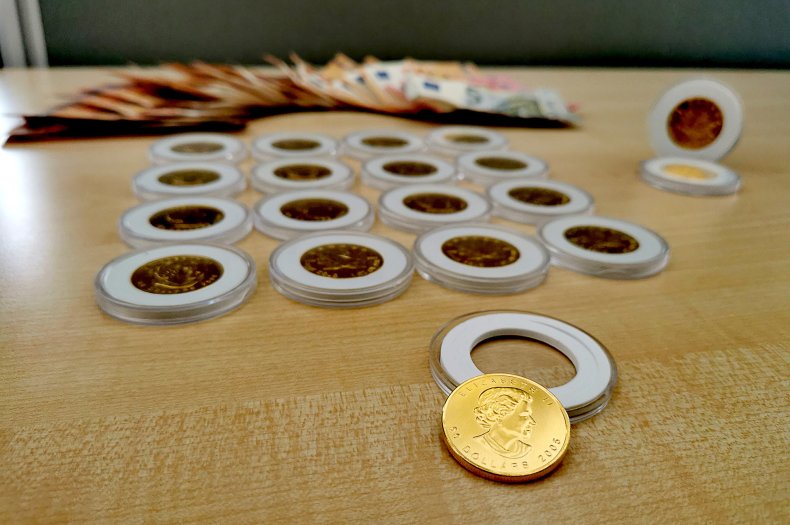 The authorities added: "The suspects are accused of having sold 'gold coins', which are still official means of payment in Canada, several times since the beginning of the year via an Internet portal and having cheated buyers out of around 80,000 euros ($85,825)."
The head of the investigation, Chief Inspector Dustin Hochkeppel, said: "We suspect there may be other victims who may not even know they have counterfeit gold coins in their vault.
"Anyone who has bought Canadian 'Maple Leaf' gold coins through unconventional channels, particularly through private classifieds, in recent months, should take steps to have their authenticity checked immediately. If forgery features are identified, you are asked to contact the police."
Officials said the prime suspect is a 31-year-old from the city of Solingen, also in North Rhine-Westphalia. He was already known to police over suspected cases of fraud. The suspect has not been named due to strict local privacy laws.
He and his 30-year-old suspected accomplice - also unnamed but from Dortmund - are set to appear before a judge, according to the police.
The police added: "The 51-year-old alleged accomplice is also from Solingen and was released after consultation with the public prosecutor."
The German police said that people who believe that they may be victims of the fraud should contact them.
They said: "Other victims are asked to contact the investigators at Criminal Police Office 34 by telephone on 0221 229-0 or by email at poststelle.koeln@polizei.nrw.de"
Gold has seen its overall value increase considerably over the last five years, going from approximately $1,200 per ounce in October 2018 to approximately $1,850 in May this year.
The Canadian Gold Maple Leaf is a gold coin produced by the Royal Canadian Mint and issued every year by the Canadian government.
The coins bear the face of Queen Elizabeth II on one side and a maple leaf on the other.
The Gold Maple Leaf is valid legal tender in Canada and has a face value of 50 Canadian dollars ($39.77).
Its market value, however, varies depending on the price of gold.
At the time of writing, a 1-ounce Maple Leaf Gold Coin was currently worth between $1,850 and $2,000.
This story was provided to Newsweek by Zenger News.