Cops Busted This House For Guns and Found Dozens of Dangerous Snakes Instead
These police officers were shocked to find more than the deadly weapons they expected at this raid. Poland's news site The First News reported on Thursday that when police went searching for illegal weapons in an apartment, they stumbled upon 11 snakes.
Officers arrived at a residence at Lecha estate in Poznań's Rataje, and found the slithering creatures, most of which were pythons and anacondas. One snake was found in a drawer, while others were being held in smaller containers.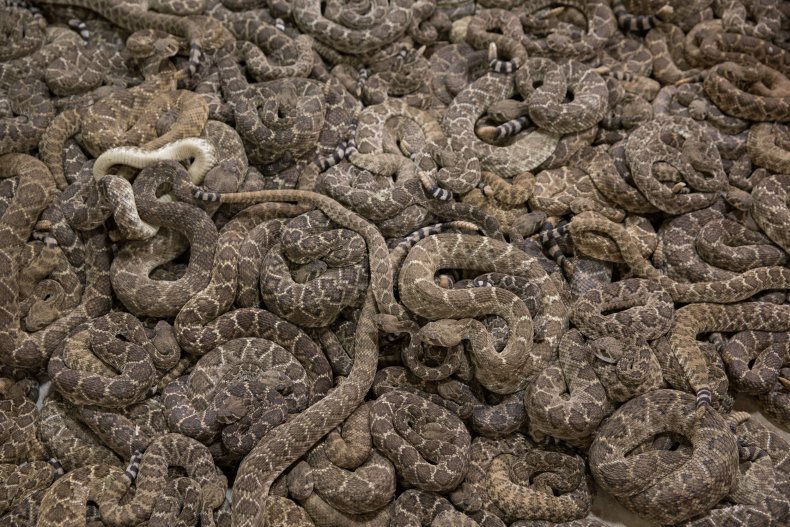 Police spokesman Andrzej Borowiak said, as per The First News: "It was pre-planned. Officers were to detain a man who lived there and search the apartment for weapons, ammunition, and explosives. The operation was carried out, but the policemen found something else."
They arrested the man at the apartment and took away his weapons and ammunition. The officers then alerted experts at the Poznań zoo about their serpentine discovery.
"Today we are helping again," the translated caption read on Zoo Poznań's Facebook page, "this time the Poznań police. We have secured powerful snakes, pythons and anaconda, in one of the neighborhood apartments."
"Always on the bright side of the force, always helping exotic and wild animals in need."
Zoo spokeswoman Małgorzata Chodyła revealed via The First News that "Some specimens were really big - the largest python, probably a dark skin albino, was over 5 meters long and weighed 30 kg." Snakes that are over two meters long and weigh several kilograms are considered dangerous, the zoo spokeswoman revealed.
However, there were more creatures than initially were numbered. Exotic frogs, snails and a desert dragon were found in the very small apartment as well.
Ponzan TPV reported that the apartment was so tiny that three of the large snakes were placed in the same terrarium. "This proves that they had to be pulled out for the time of feeding, because if we want to feed a snake, and you have to remember that they are predators, everyone must be separately," Chodyła noted, via Ponzan TVP. "If there are several snakes in one terrarium, they will kill each other for their prey."
The largest snake found was so massive that it took six people to remove it from the terrarium and into the transport bag and box.
The snakes are currently in quarantine at the zoo, where their health is being monitored and whether or not they will be a good fit with the other animals shall be determined.