Cops Caught on Video Grabbing 15-Year-Old Bicyclist by Neck, Throwing Him to Ground
New Jersey police officers were recently captured on camera grabbing a 15-year-old bicyclist by his neck and throwing him to the ground.
The video, which has been posted on social media, shows two officers police officers pulling the minor from his bicycle and pinning him to the ground. In the video, the minor can be heard yelling at the officers to get off of him and to let him go.
According to a press release sent to Newsweek via email by the Ridgewood Police Department, the incident occurred on Sunday, July 26, after a large group of bicyclists were in the road, "obstructing traffic and causing safety hazards to passing motorists and to themselves."
"Patrol unites made attempts to stop the group with the use of police lights and sirens, as well as verbal commands over the public address system," the press release states, but adds that the group was able to elude the officers and travel down South Broad Street.
As the group of bicyclists continued to ride away from police officers, they traveled to a closed roadway "on East Ridgewood Avenue where the "Welcome back Ridgewood" event was being held in the Central Business District."
According to the press release, patrol officers were then able to stop the group and tried to talk to them about bicycle safety and their conduct as a whole.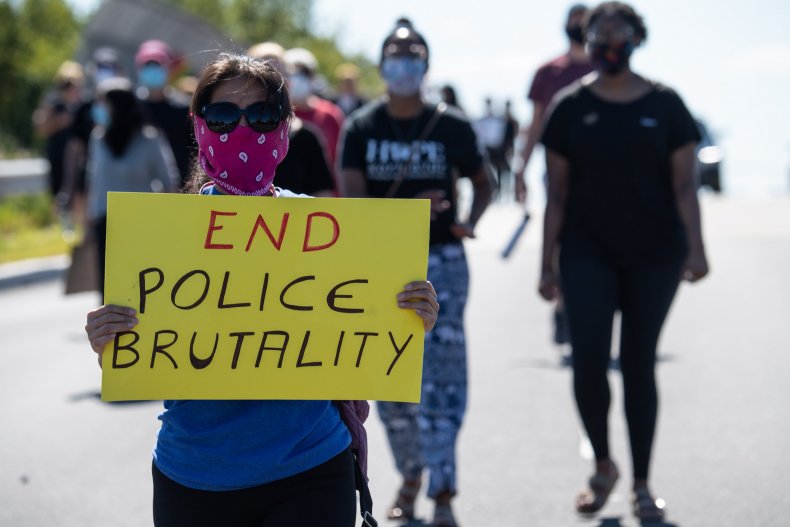 "One bicyclist disregarded the safety of others and began to pass the Officer as the Officer was speaking with the group. After some conversation, the Officer advised the bicyclist that he was going to be issued a summons by the Officer," the press release states. "At that time, the bicyclist attempted to flee and began to pull his bicycle away from the Officer. The Officer on scene then attempted to take custody of the bicyclist and the bicyclist continued to actively resist the officers."
The press release then goes on to state that the boy in the video was a "15-year-old juvenile from Sloatsburg, N.Y." After the arrest, the boy was taken to police headquarters where his parents were contacted, and he was issued four summonses for motor vehicle violations.
After the video gained traction across social media, the Ridgewood for Black Liberation organization issued a statement to Twitter, stating that officers "used excessive and unacceptable use of force against a latinx minor."
While speaking to NorthJersey.com, Emily Rizzo, an organizer for Ridgewood for Black Liberation suggested that they will urge the department to fire the officers involved.
"These grown men beat a child in front of a group of children riding bicycles, traumatizing each and every one," Rizzo told NorthJersey.com.
"This is why we call for defunding the police and funding the community instead," she added. "Because clearly, these Ridgewood officers can't be trusted to so much as respond to youth bike riding on a Sunday without escalating to violence."