Cops Fired 40 Shots During Scalise Baseball Shooting, Only 3 Hit Gunman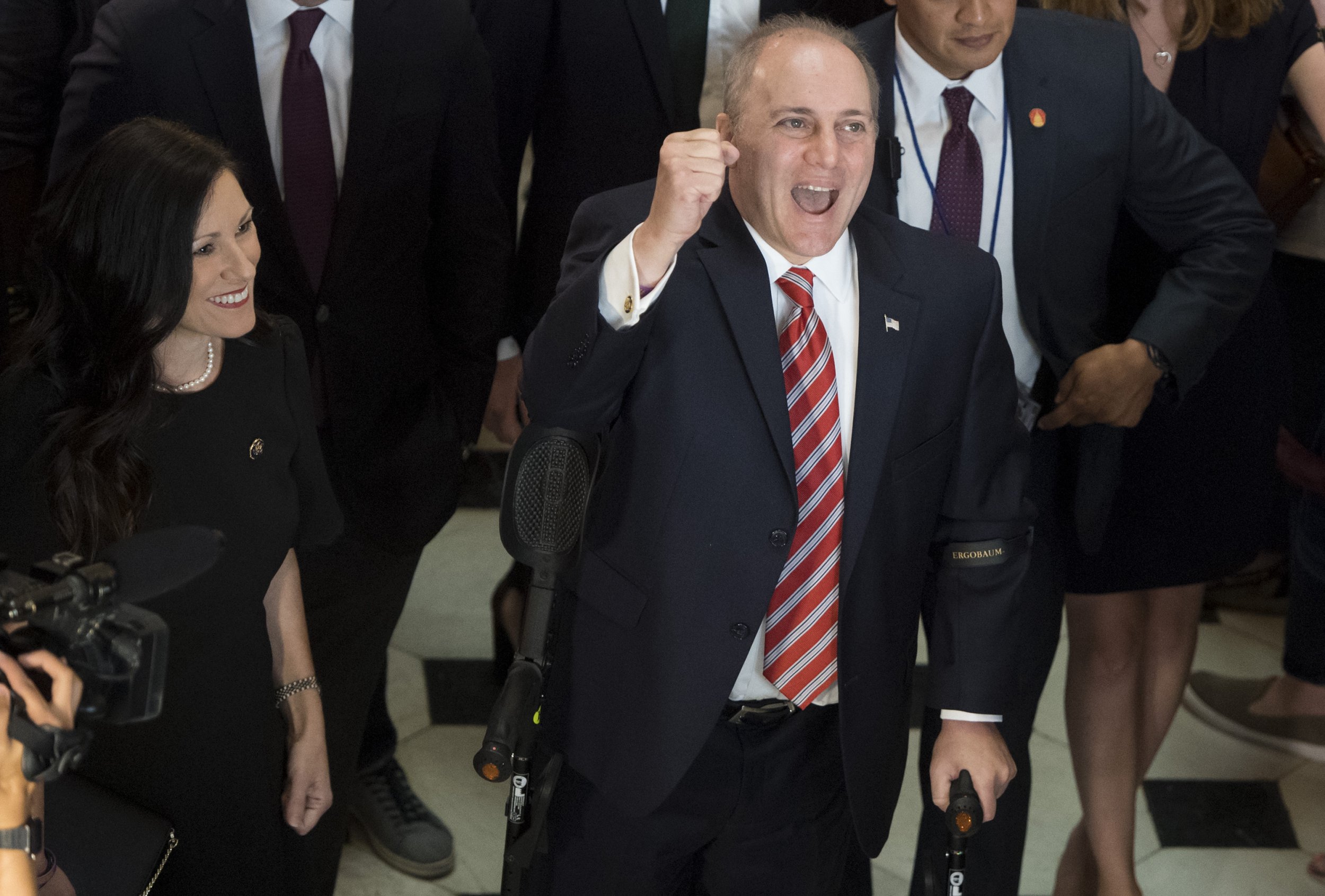 For six minutes gunfire rang out across a baseball field in Alexandria, Virginia.
The cloud of bullets pierced cars and buildings—but didn't hit many people.
Officers fired at least 40 times at gunman James Hodgkinson, 66. They hit him three times. That's a 7.5 percent accuracy rating.
An extensive 41-page report released Friday by the city of Alexandria's Office of the Commonwealth's Attorney details the harrowing scene on the field that transformed a Republican team's baseball practice into a war zone on June 14.
The use-of-force report outlines when the first shots started to when officers killed the gunman. It also provides more details on Hodgkinson, his motive and his planning for the attack, which left five injured, including an officer and House Majority Whip Steve Scalise.
Two U.S. Capital Police Agents, Crystal Griner and David Bailey, whose job it was that morning to protect members of Congress, fired their weapons a combined total of 33 times. They struck the gunman one time, according to the report.
Two Alexandria Police Department officers, Kevin Jobe and Alexander Jensen, opened fire. Jobe fired four times. None of his bullets hit the suspect. Jensen shot three times, two of his bullets hit Hodgkinson, the report states.
The report says police forensics were unable to specify which agent fired which shot because the officers were firing from the same gun and used the same type of ammunition.
It's unclear why the bullets couldn't be properly traced or why Capital Police Agents fired so many shots and were unable to hit Hodgkinson. Capital Police would not comment, citing an active internal investigation into the shooting.
But, officers have been widely praised for their response to the shooting, including multiple times in the report. The report praised their actions, which says saved lives. Griner was shot in the ankle trying to save Scalise, who is still recovering but returned to Congress last month.
The officers were honored by President Donald Trump and Vice President Mike Pence and given the Medal of Valor. Trump called them "American heroes," according to the Chicago Tribune.
While the report's aim was to see whether officers were justified in shooting the gunman, Alexandria Commonwealth's Attorney Bryan L. Porter noted in the probe that it was so obvious the officers needed to use deadly force against the Hodgkinson that "one might question why my office even conducted this review."
The officers were cleared. Porter said they saved lives.
Hodgkinson fired at least 70 shots during the attack, 62 of which came from his assault rifle and 8 coming from a 9mm handgun, the report stated.
The report also gives a better look at Hodgkinson, who had a wife and children and was going through a tough time. He was out of work and in the midst of financial problems. He was very political and used his Facebook page to boast about Democrats and his support of Bernie Sanders, the report said.
Hodgkinson's family told police he had been making statements about how he would "not be around much longer," the report states. He'd abruptly left his home in Illinois in March to travel to Washington D.C. to "protest" and "talk about taxes," the report states.
He lived in his car for three months in the Alexandria area and bought a membership at the YMCA—not so he could work out but so he could use the facility's showers, according to the report. He rented a storage facility where he kept his firearms.
Police found a video of the baseball field on the Hodgkinson's phone and many others, including a member of the Republican baseball team, say they saw him at the field numerous times, including the day before the shooting.
Cops Fired 40 Shots During Scalise Baseball Shooting, Only 3 Hit Gunman | U.S.