At a forensics academy in Tennessee, future cops are learning how to find human remains underground through "witching."
Arpad Vass, a forensic anthropologist and instructor at the National Forensic Academy in Oak Ridge, has been training students in this practice, according to a report by Mother Jones and The Marshall Project. "Witching," also known as "dowsing" or "divining," involves holding two bent pieces of metal or twigs and walking in a straight line until the rods cross in the direction of an object being sought underground—in this case, a dead body.
Professor William Whittaker, an archeologist and expert on ground-penetrating radar at the University of Iowa, told Newsweek that his research on witching for human remains found no evidence to support the practice. Believers have applied it to seeking many items other than dead bodies below the earth, including groundwater, buried treasure, oil, gold and gems.
"Since dowsing is used to find whatever the believer wants to find, this should be a clue that it really finds nothing," Whittaker said. "It is wishful thinking to believe that it can magically find whatever the dowser is seeking."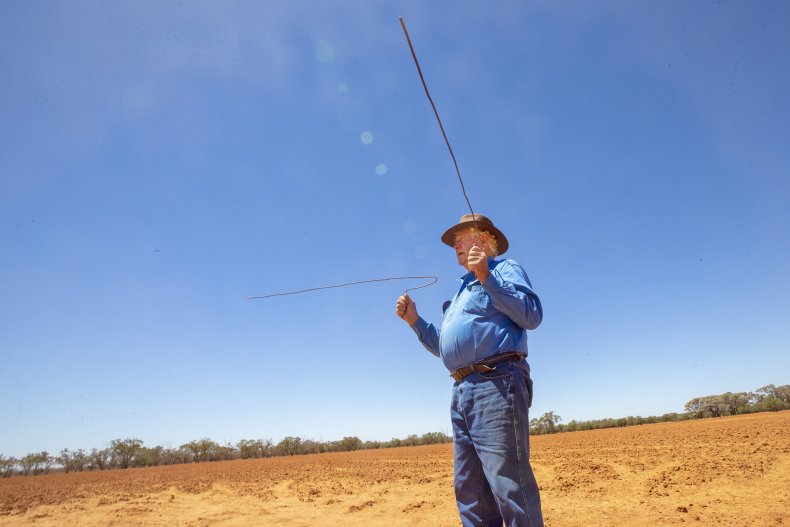 Vass told The Marshall Project that his metal rods could detect "piezoelectricity," a charge in certain materials such as crystals, and can sense human bones because the skeletal remains can produce the same charge. Vass also claimed that it is necessary to have rods with the "right voltage" and to walk with a specific cadence.
But Whittaker said that the crossing of rods where a human is buried can most likely be attributed to "the ideomotor effect." Witching rods are very loose and swing easily, he explained, so when a person approaches an area where they consciously or unconsciously suspect a burial, they naturally slow down or bend forward slightly, triggering the rods to cross.
The National Forensic Academy is a 10-week intensive program for students training to join law enforcement and crime scene investigation. Along with Vass's course, they are taught to analyze bloodstain patterns, process fingerprints, and manage bombs and booby traps at a crime scene, according to the program's website.
In recent years, forensic methods including blood-spatter pattern and hair analysis have been thrown into question as cases built on those analyses were overturned through DNA evidence.
The misapplication of forensic science was a factor in 52 percent of cases worked on by the Innocence Project, an organization dedicated to exonerating wrongfully convicted individuals through DNA testing, according to the group's website. The National Registry of Exonerations has reported that false or misleading forensic evidence contributed to 24 percent of wrongful convictions nationally.
Newsweek reached out to the National Forensic Academy for comment.