Cops, Medics Called on Mob After Cheesecake Factory Offers Free Slices
The Cheesecake Factory's free slices promotion honoring their 40th anniversary descended into chaos today in Arlington County, Virginia.
The promotion — which promised to giveaway 40,000 slices of cheesecake to customers ordering through food delivery service DoorDash — kicked off at around 11 a.m. EST. However, most of the locations sold out of the promotional product just hours later, prompting frustration from those who missed out.
Several locations experienced backlash and disorganization throughout the day, such as battling of delivery drivers and angry social media rants. But it was in the Arlington County branch that a hectic scene broke out, requiring the assistance of police and medics.
According to ARLnow.com, authorities were called out twice to the vicinity of 2900 Clarendon Blvd where the Cheesecake Factory is located. The initial call was for a large crowd that had congregated outside the location, and the other, at 1 p.m. local time, to a reported fight taking place inside the building.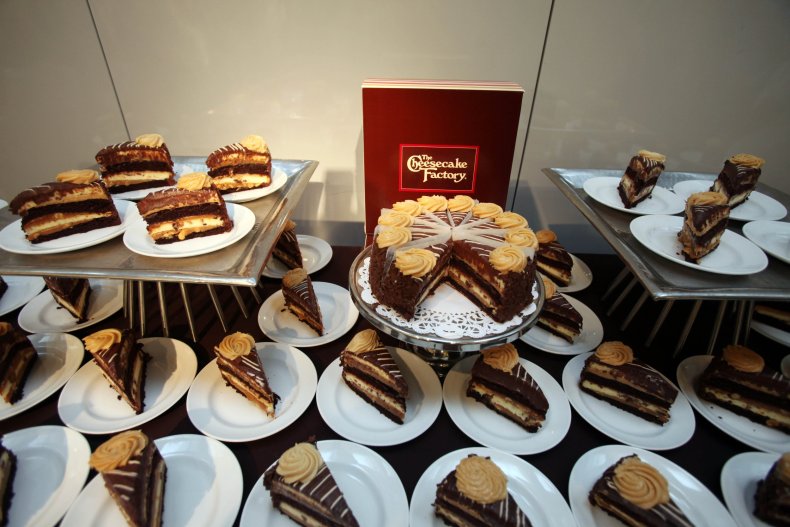 Arlington County Police Department spokesperson, Ashley Savage, told ARLnow.com that the situation was "a little hectic" and their aim was to "calm the situation down."
Savage explained that there was double parking near the store and rowdy crowds of delivery drivers attempting to pick up orders inside the store. One man, who tussled with authorities, was arrested at the scene after he refused police orders to evacuate the vicinity, authorities said.
Following his arrest, the man requested to be transported to a hospital for medical care after discovering possible injuries on his body.
Several social media users documented the chaos.
"Lots of police activity at the Clarendon cheesecake factory. Possibly tied to free cheesecake day. One ambulance, fire chief vehicle, and a dozen cruisers," a local posted on Twitter.