Cops Say Portland Protesters Threw 'Dangerous Objects,' Including Eggs, Potatoes and Water Bottles
Portland police officers on Tuesday said that protesters threw "dangerous objects" at them during a rally Monday night, which marked the 74th consecutive night of protests in the city.
According to a press release from the Portland Police Bureau, the dangerous objects that protesters threw included eggs, water bottles, golf balls, rocks, potatoes, and a ball bearing.
"Some individuals in the crowd began shining bright strobe lights in the officers' and troopers' eyes, causing them pain. Officers had to move vehicles into position to light up the crowd and make it more difficult to target officers with lights," the bureau wrote in their press release, adding that eggs and water bottles were thrown at them.
"Reports came in of other attacks on officers. One officer was struck in the face by a ball bearing," the release states. "The officer's face shield protected him from what would have likely been a very serious injury. Another officer had an arm injury (hyperextended elbow) during a scuffle and she was treated and released from a hospital. Officers had golf balls (photo), rocks, and potatoes launched at them."
The protests on Monday night began at around 8 p.m. local time as "a group began gathering at Alberta Park." As the group of protesters grew in size, they began marching towards the Portland Police North Precinct. The press release noted that as there have been multiple attempts by protesters to "storm this building and burn it down with people in it." Portland police officers were accompanied by Oregon State Police Troopers to protect the building.
Police then issued a warning to the group of protesters over a loudspeaker and social media, encouraging them not to participate in criminal behavior.
The release states that at 11:06 p.m. local time, the police declared an unlawful assembly and told protesters to leave the area, as criminal activity continued to escalate. According to the release, the protesters were warned that if they failed to leave the area, they could face arrest, citation, or crowd control agents "including, but not limited to, tear gas and/or impact weapons."
After the police declared the unlawful assembly, they began to physically move the crowd "but some individuals interfered with officers and were arrested."
As police continued to try and physically move the crowd, protesters threw more objects at the officers, resulting in additional arrests.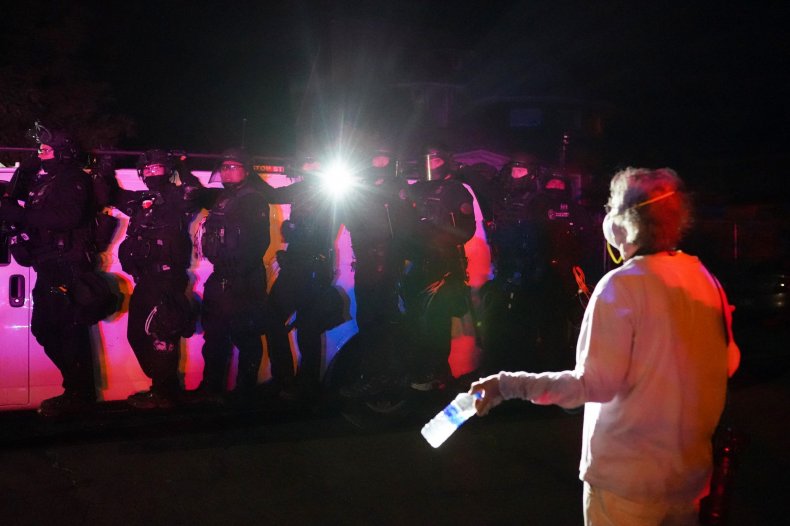 According to the release, there were a total of nine arrests made during the protest on Monday night, with charges including, interfering with a peace officer, assaulting a public safety officer, disorderly conduct, assault and resisting arrest. Two of those arrested were from California and Minneapolis, Minnesota.
Protests against racism and police brutality, sparked by the death of George Floyd while custody of officers from the Minneapolis Police Department, have continued in Portland and in other areas across the U.S.
Newsweek reached out to the Portland Police Bureau for comment but did not receive a response in time for publication.