Cops Seen on Bodycam Video Punching Man During Traffic Stop for 'Littering'
A group of police officers getting slammed on social media now face a potential lawsuit after bodycam footage allegedly showed them assaulting passengers of a car pulled over for "littering."
According to a report from WOOD-TV, Michigan attorney Tyrone Bynum is taking legal action against Grand Rapids police for "racially profiling" two Black men and one Latino man during a traffic stop in late March.
"You don't have to listen to me, look at the video," Bynum told Michigan Live.
Bodycam footage posted on social media shows multiple officers approach a Chevrolet sedan. Cops initially ask one of the passengers to step out of the car after he allegedly tossed trash out of the window. He was taken to one of the multiple on-scene squad cars to be searched.
"What the hell did we do [to get] all this?" he asks with his hands cuffed behind his back. "Littering," one officer responds. Police later claimed they saw the passenger of the vehicle throw something out the window prior to the encounter.
The driver, identified by Bynum as Diabate Hood, engages in a terse back-and-forth with officers asking that he step out of the vehicle. While cops frisk his passenger, who had exited the vehicle, Hood can be heard asking why he needs to leave his car if he'd already given police his license.
At one point, he seems to try to flee via the passenger side door, but officers on both sides of the car stop him.
The footage then shows him pinned to the ground by several surrounding cops. One punches Hood in the face several times as Hood screams and tries to cover his face.
"I didn't do nothing! ... What the f**k? I can't breathe!" he yells. At one point he is seen trying to shield his right eye from the assailant.
Officers later arrested all three men on felony charges, saying that four firearms were found in the vehicle, only one of which is seen in the video when taken from the clothing of one passenger. They also say Hood had one firearm on him while two more were hidden in the car.
"You're lucky you're not dead," an officer tells the man they took the gun from.
Bynum took great issue with that utterance. "For that to be a statement made in the heat of the moment, that was an honest statement and an honest belief of an officer that believed that was a possibility," Bynum told WOOD-TV. "I mean actually stated, he actually said, 'You're lucky.'"
According to Michigan Live, Bynum claimed that his client tried to run in a moment of panic, and asserted that the police force he was met with was "excessive."
Grand Rapids Police Chief Eric Payne defended his officers in a statement on Wednesday. "This is the police work that I expect from my personnel," he said. "I have made the enforcement of violent crime and the recovery of illegal firearms one of the department's top priorities."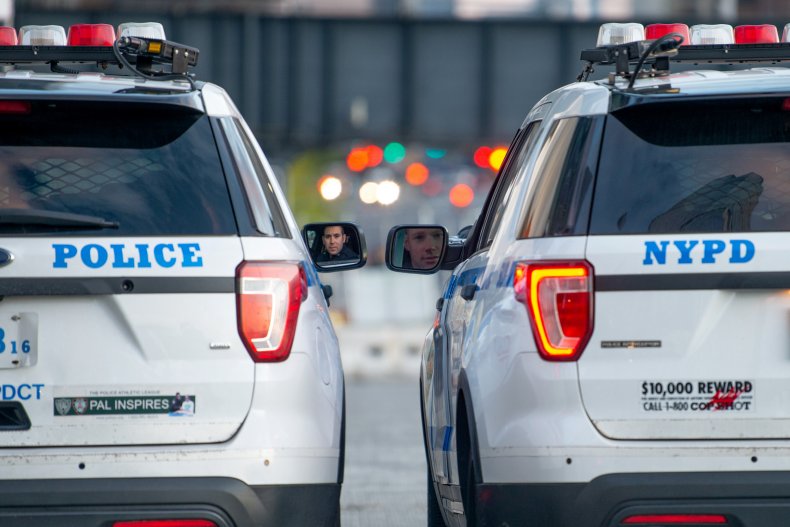 Bynum and police officials have not released the names or charges of the two passengers, but Michigan Live reported that Hood was charged with attempting to disarm a police officer, carrying a concealed weapon and resisting arrest.
"What I saw in the video was another George Floyd," Bynum told WOOD-TV. "My point is why are we to this point anyway? This is a felony-type stop. Why are we asking these guys to get out of the vehicle? Why are we handcuffing them?"
The outlet noted that Grand Rapids officials said the traffic stop was made in correlation with Operation: Safe Neighborhoods, a response to an uptick in local crime.
"As with all Use of Force incidents, the encounter was reviewed by supervisors and members of the department's Training Unit. To date there have been no Internal Affairs complaints filed in this incident," Payne added in his statement.
Bynum explained that he took this case to see that "this kind of stuff ends," according to Michigan Live.
The arrest is the latest in a series caught on bodycam footage across America. Just yesterday, following outcry regarding the death of 16-year-old Ma'Khia Bryant, police released video of the incident to the public.