Multiple Deaths Reported in Colorado at King Soopers Grocery Store After Shooter Opens Fire
Authorities have confirmed that 10 people have died from the shooting at King Soopers supermarket in Boulder, Colorado, on Monday. Boulder Police Chief Maris Herold, who was among the law enforcement authorities on the scene Monday at the store, confirmed the amount of deceased on Monday night.
The incident began in the afternoon after police initially notified the public about an "active shooter" situation and instructed people to keep away from the grocery store's vicinity.
A graphic video shared to Twitter appeared to show at least two people injured in the supermarket's parking lot. Preliminary reports indicated that multiple people were hurt during the shooting. A later update indicates that multiple people have died from the incident.
Note: This story has been updated throughout the evening.
In a video acquired by ABC News, Boulder police officers can be heard instructing the shooter to "surrender" and discard any weapons before approaching law enforcement. The news outlet posted the clip on social media about an hour after reports of the incident first surfaced.
"The entire building is surrounded," an officer says in ABC News' video, while footage shows police cars parked outside of the King Soopers.
"You need to surrender," the officer continues. "Come out with your hands up, unarmed. This is the Boulder Police Department."
Police have reportedly arrested one suspected shooter so far, according to information from Boulder's local police scanner.
Update 6:39 p.m. ET: Reports that indicated one suspect was taken into custody are unconfirmed, and authorities had released few details publicly as law enforcement officers from additional agencies, such as Colorado's SWAT team, arrived to support Boulder police. The police department provided an update on Twitter about two hours after it originally notified civilians of an active shooter situation at the King Soopers, describing the scene as "very active" alongside a photo of officers and several ambulance vehicles gathered outside of the supermarket.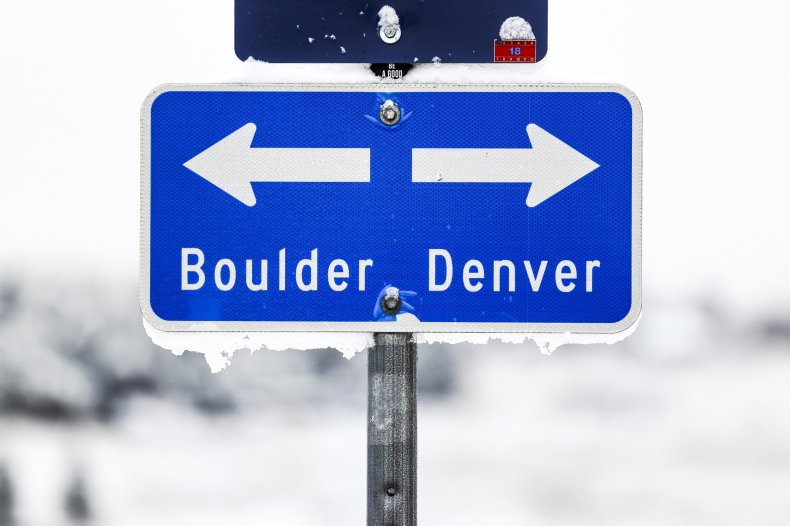 "Please avoid the area of Table Mesa & Broadway! This is still a very active scene. Do NOT broadcast on social media any tactical information you might see," the Boulder Police Department tweeted, noting that it will continue provide updates via its social media feed as they occur.
The police department's latest messages came as numerous unverified reports of injuries, casualties and missing persons surfaced on social media. Among them were messages suggesting as many as seven people were killed during the shooting, as well as images of officers arresting an adult white male who some social media users identified as a suspect.
Colorado Governor Jared Polis issued a statement responding to news of the supermarket shooting a few minutes before Boulder Police released its most recent update.
"Like my fellow Coloradans, I am closely watching unfolding events at King Soopers in Boulder. My prayers are will our fellow Coloradans in this time of sadness and grief as we learn more about the extent of the tragedy," Polis wrote on Twitter.
Update 7:24 p.m. ET: Boulder Police issued an advisory asking residents in the area of 17th and Grove Streets, located about three miles from the site of the shooting, to shelter in place. The department said officers were responding to a separate report of an "armed, dangerous individual," and had not yet determined whether there was a connection to the King Soopers incident earlier. Police are scheduled to hold a press conference beginning at 5:45 p.m. local time.
Polis released a full statement while law enforcement, including personnel from the FBI's Denver branch and Boulder County Sheriff's Department, continued to pursue a coordinated investigation into the grocery store shooting.
"My heart is breaking as we watch this unspeakable event unfold in our Boulder community," the governor's statement read. "We are making every public safety resource available to assist the Boulder County Sheriff's Department as they work to secure the store. I'm incredibly grateful to the brave men and women who have responded to the scene to help the victims of this senseless tragedy."
"This is very much an active situation and we continue to monitor very closely," the statement continued. "We ask for your patience as law enforcement works tirelessly to secure the site. Right now, the biggest priority is to let local law enforcement and the City of Boulder do their work to ensure the safety of those involved."
Update 8:26 p.m. ET: The public continued to await formal updates as law enforcement postponed a scheduled press conference by just under an hour. Meanwhile, the University of Colorado at Boulder, situated only a few blocks from the King Soopers, cancelled all evening classes and unverified reports suggested that a police officer was one of the individuals killed during the afternoon shooting. Video footage showed an ongoing police presence outside of the Boulder supermarket, although earlier recordings indicated that at least a large portion of those inside had been safely evacuated.
Update 9:33 p.m. ET: Law enforcement lifted the shelter in place order for residents of the area surrounding 17th and Grove Streets prior to appearing at an evening news briefing, where Boulder Police Department Commander Kerry Yamaguchi and Boulder County District Attorney Michael Dougherty delivered brief remarks about the collaborative investigation between local, state and federal partners. Officers determined that the supermarket shooting and incident at 17th and Gove were unrelated, Yamaguchi said during the briefing.
Neither official could provide detailed information about the afternoon's events, as both stressed that further inquiry was necessary in order to relay a clear narrative regarding the shooting, its perpetrator and victims. Yamaguchi confirmed that officers took one suspect into custody earlier on Monday, although he declined to comment on whether the individual arrested was the adult white male seen in video clips and images on social media hours before. The man in those clips and images appeared shirtless with a bloodied leg during the arrest.
The suspect was transferred to a hospital for treatment of injuries, according to Yamaguchi. Police had yet to file charges against the individual early Monday evening.
Authorities confirmed multiple lives were lost during the shooting. No other injuries were reported, outside of those sustained by the arrested suspect. Dougherty told reporters that officials were still working to notify the families of those who passed away when the press conference took place. Officials continued to uncover new information while processing the scene, which they said prevented the release of a ma more thorough update.
The Boulder Police Department is expected to provide another update later on Monday night. Dionne Waugh, a spokesperson for the police department, said the investigation is extensive and will likely take "some time," during which the crime scene will remain closed to the public.
Police are asking any witnesses with information about the shooting to contact the department at 303-441-3333. Officials have established a reunification center for families still looking for loved ones at the nearby university's events arena.
Newsweek contacted the Boulder Police Department for comment but did not receive a reply in time for publication.
This is a developing story and will be updated as more information becomes available.