Corbyn Easily Wins Re-election, Calls for Labour Unity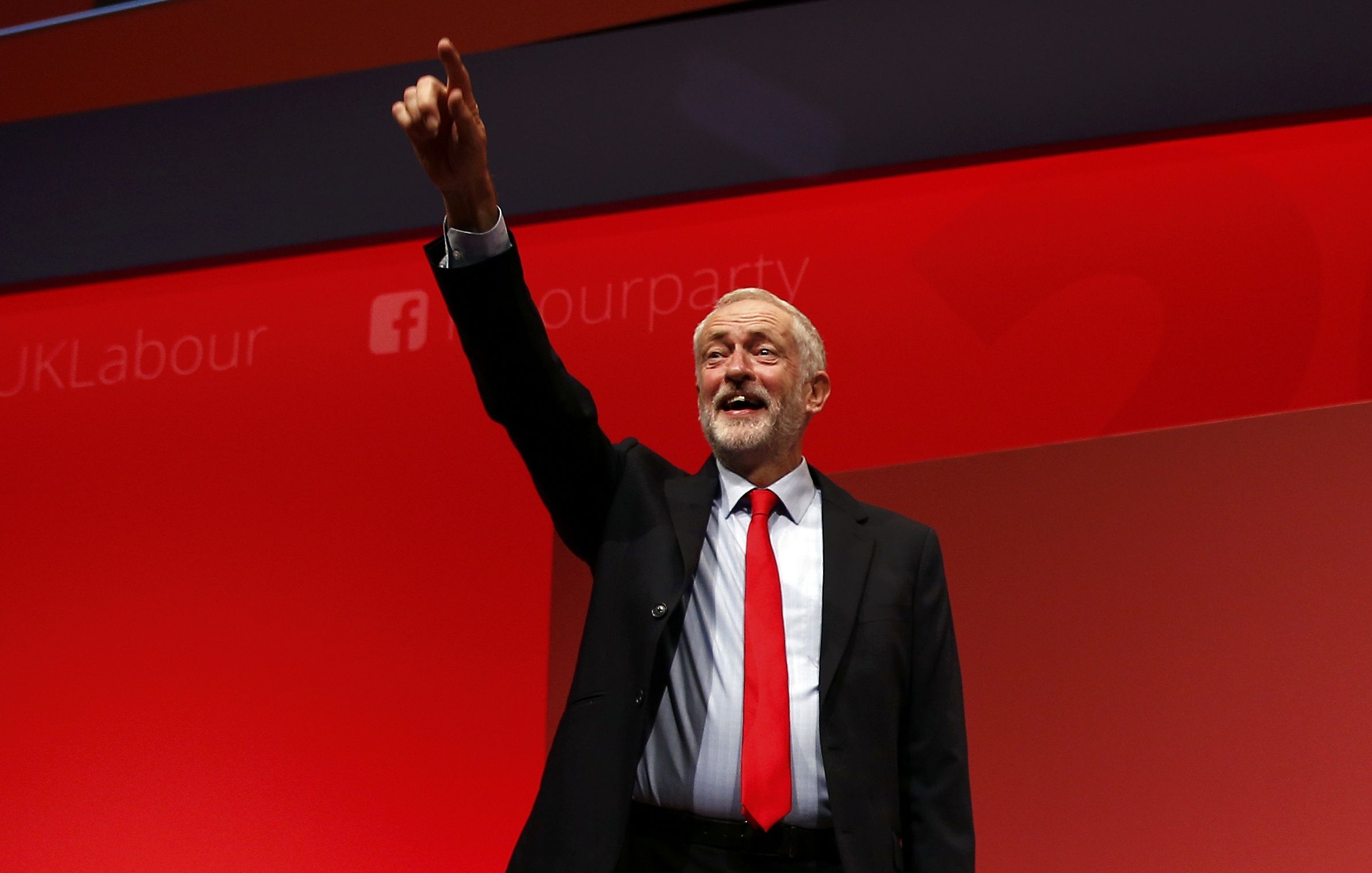 Jeremy Corbyn was re-elected leader of Britain's opposition Labour Party on Saturday, ending a "coup" attempt by more moderate lawmakers who say his left-wing agenda can never deliver victory at the polls.
The veteran campaigner's triumph, by 313,209 to 193,229 votes, cements his authority over the divided party and will fuel his drive to turn Labour further left—a move many of his colleagues say will see them out of power and allow the ruling Conservatives free rein to set Britain's divorce from the EU.
Welcoming the result, which hands him more votes than when he first won the leadership last year, Corbyn called on lawmakers and members at the party's annual conference in the northwestern city of Liverpool to come together to fight the Conservatives and bring "real change" to Britain.
"Elections are passionate and often partisan affairs, things are sometimes said in the heat of the debate...which we sometimes later come to regret. But always remember in our party we have much more in common than that which divides us," he said to roars from the crowd of mainly his supporters.
"Let's wipe that slate clean and get on with the work we have got to do as a party together," he said, moving to ease fears that his re-election will widen the divide between the Labour Party's left and right wings and that he may trigger moves to force centrist lawmakers from the party.
Corbyn on the issues:
BREXIT
Corbyn, who critics have accused of being a lackluster campaigner for Britain's EU membership during this year's referendum campaign, has rejected calls for a second referendum and said the vote to leave must be respected.
He has said Labour will be pressing for Britain to have full access to the EU's single market, but without requirements to liberalize and privatize public services. It will also call for protections for social, employment and environmental rights to be maintained in the Brexit deal. Corbyn has said falling back on World Trade Organization terms with the EU could risk significant job losses and would be damaging to Britain's public finances.
ECONOMY
Corbyn opposes the Conservative government's spending cuts and has pledged to create a National Investment Bank and network of regional investment banks to invest 500 billion pounds ($653.50 billion) over 10 years into infrastructure and high-tech industries.
Under his leadership, Labour has set out a "fiscal credibility rule," which would require it to balance day-to-day spending with money raised through taxes, only allowing borrowing for investment.
He believes in government intervention to support supply chains and new industries, and has pledged to renationalize Britain's railways. He has also said he will hold a review on the idea of introducing a universal basic income. Corbyn wants to strengthen employment and trade union rights, and has called for measures to allow workers to take ownership of companies when there is a change of ownership or a threat of closure.
DEFENCE
A long-time pacifist, Corbyn favors scrapping Britain's nuclear weapons. He defied official Labour Party policy and put himself at odds with many of his lawmakers by opposing renewing the Scottish-based nuclear-armed Trident submarines at a parliamentary vote in July.
Corbyn, who has said he will create a minister for peace and a minister for disarmament if he were in government, would also like to see Britain pull out of the NATO military alliance.
A vocal opponent of the 2003 Iraq war, Corbyn last year voted against Britain joining the U.S.-led coalition conducting airstrikes against Islamic State in Syria.
FOREIGN
Corbyn has previously criticized the United States for putting pressure on Britain to boost its military expenditure and has said the long-term impact of U.S. foreign policy will be to divide the world.
The Labour leader has said he regrets describing members of the Palestinian group Hamas and Lebanon's Hezbollah as friends. Hamas and the military wing of Hezbollah are both officially designated as terrorist organizations by Britain.
He has a history of political sympathy for Gerry Adams, the leader of Sinn Fein, the former political wing of the Irish Republican Army which ran a 30-year armed campaign against British rule in Northern Ireland.