'Jez We Can!' Pro-Corbyn Rally Denounces Labour Leadership Coup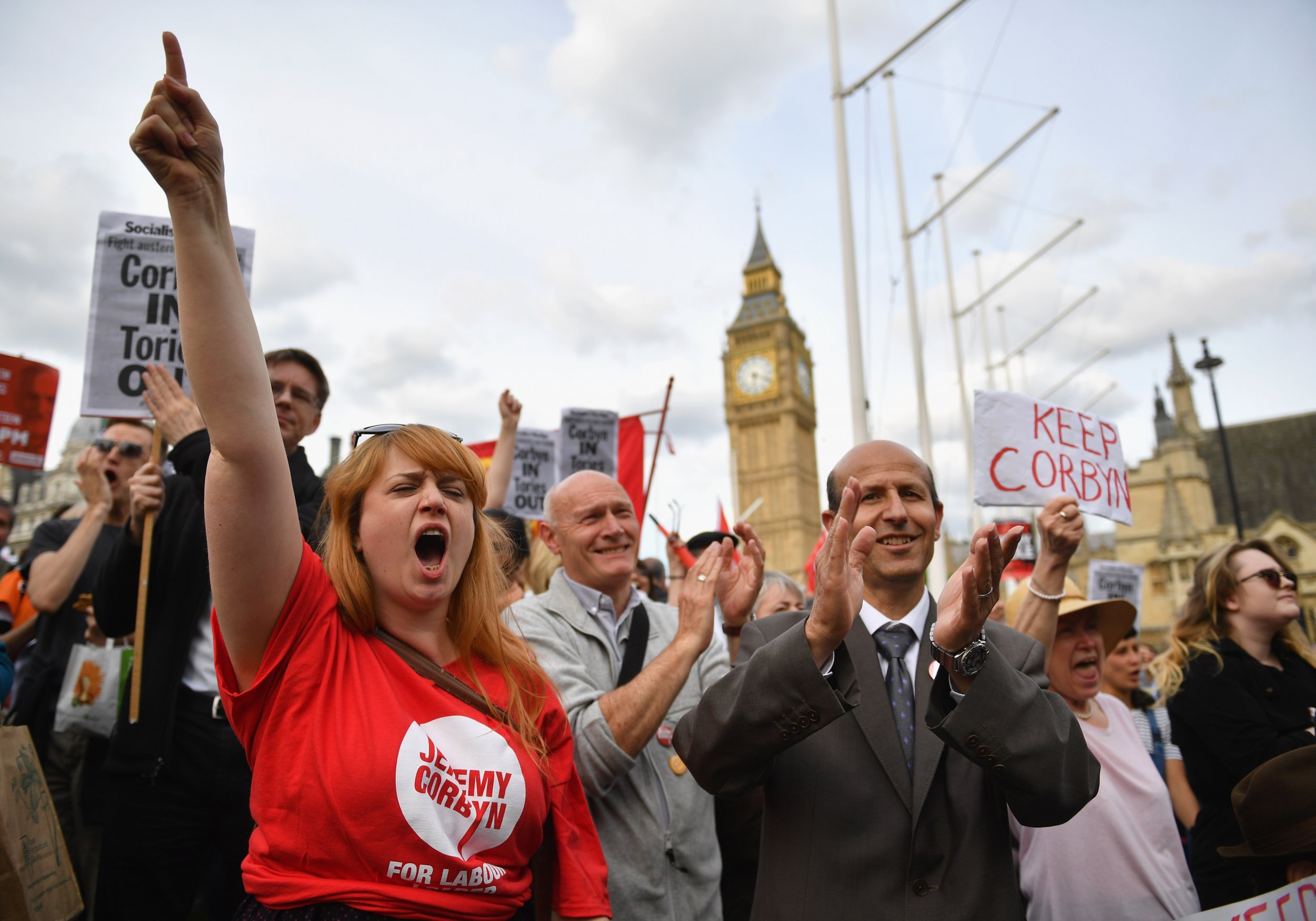 As Members of Parliament in Britain's opposition Labour party resolved to hold a no-confidence vote on the leadership of their left-wing leader Jeremy Corbyn on Monday night, thousands of protesters outside Parliament bellowed their support for his administration, denouncing the "traitorous MPs" in the party attempting to unseat him.
The rally, which came four days after the United Kingdom voted in a referendum to leave the European Union, attracted upward of 4,000 demonstrators organizers said. It saw combative pro-Corbyn speeches bellowed from a PA system on top of a fire engine outside the Palace of Westminster in London, and included an appearance by the leader himself, while supporters waved placards reading "Our party our say," "Hands off our Corbyn" and "Tories out, Corbyn in."
"We will not allow the democracy of our movement to be subverted by a handful of MPs who refuse to accept Jeremy's mandate," John McDonnell, Labour's shadow chancellor and Corbyn's right hand ally, told the gathered crowd to jeers and shouts.
Over the past two days, more than 30 MPs in Corbyn's shadow ministerial team have resigned from their roles, including Chris Bryant, shadow leader of the House of Commons, and Heidi Alexander, shadow health secretary. Former shadow ministers have urged Corbyn to step down from his position, claiming he did not campaign hard enough for the unsuccessful "Remain" campaign in the EU referendum. In Monday night's parliamentary Labour party meeting, MPs resolved they will hold a secret ballot on a motion of no confidence in Corbyn on Tuesday.
But Corbyn has insisted that he will not stand down, preferring to fight a leadership election which he is confident he will win, citing his strong support among the party's grassroots membership and the vast mandate he won in his landslide leadership victory last summer.
"Many of you backed Jeremy Corbyn 12 months ago. If this contest comes about, and it looks like it will, we fought to get this party back on track, and we ain't giving it back," said Dave Ward, general secretary of the Communication Workers' Union.
Matt Wrack, general secretary of the Fire Brigades Union, on Monday night led a motion of confidence in Corbyn's leadership, inviting the crowd to raise their hands if they support him, and declaring it passed unanimously.
Other speakers had harsh words for Corbyn's challengers in parliament.
"There's shouting going on in the parliamentary Labour party meeting," said Richard Burgon, himself a shadow Cabinet minister appointed as shadow justice minister.
"So if they ever lecture you about bullying people for their political beliefs, I tell you, there's people in there tonight behaving like bullies too. I think it's not right, I think they're showing a lack of respect," he said, to boos and chants of "shame on them!"
"To all Labour MPs touring the TV studios with hankies in hands, crying into those hankies, I say this: consider this, at this crucial moment, what do you want to be remembered as?" Burgon added. "Do you want to be remembered as a fighter for socialism, as a fighter for our class? Or do you want to be remembered as somebody, one of some, who ended up trying to destroy all that we have built?"
"Comrades, let us remind these traitorous MPs they are not the Labour Party… we are all privileged spokespersons of the people who elected us," said Ronnie Draper, General Secretary of the Bakers' Union.
At one point the crowd began to chant "deselect," a reference to the process of deselection, by which MPs can be expelled from their position by members of their local party. Momentum, the pro-Corbyn pressure group that organized the rally, has previously said it will not campaign for the deselection of MPs hostile to Corbyn's leadership.
James Schneider, an organizer for Momentum, spoke to Newsweek at the rally. "Of course there are going to be Labour party members in their CLPs, the grassroots of the party, seething with anger about what has gone on, and they will engage with their MPs in all manner of ways, but no-one's got a job for life," he said. "But that's not Momentum's role, we're building a movement."
The rally ended with a Corbyn speaking to the crowd after he ascended the fire engine platform to deafening cheers and chants of "Jez we can!"
"Don't let the media divide us, don't let these people who wish us ill divide us," he said. "Stay together, strong and united for the kind of world that we want to live in.