Core Home Fitness Puts a Smart, New Twist on Adjustable Dumbbells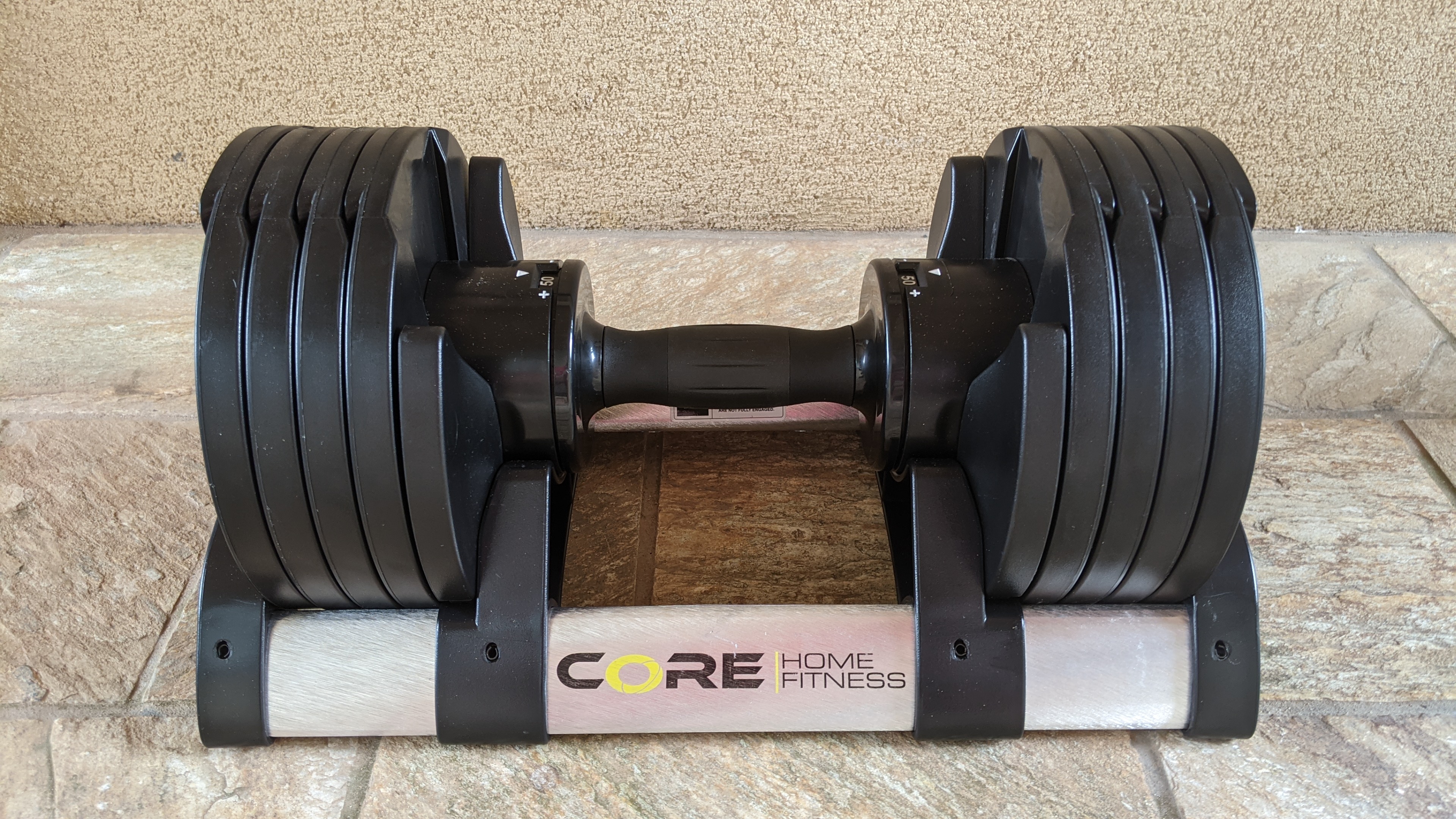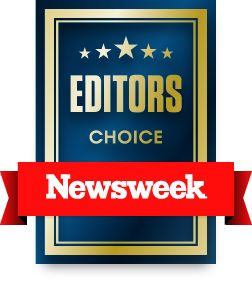 Although I used to be really into playing a wide variety of sports and getting my exercise that way, I confess that I never really fell into a consistent gym routine throughout the years. Facing midlife during a pandemic, I (like millions of others) have been reconsidering my health and wellness. In addition to exploring various all-in-one cardio machines, I thought it would be a good idea to pick up (figuratively and literally) some weights.
After doing my due diligence, I arrived at Core Home Fitness. They kindly sent me their well-regarded adjustable dumbbells, which quickly go from 5 to 50 pounds. And while in other contexts, the phrase "ingenious dumbbells" might seem oxymoronic, here I found it to be quite fitting.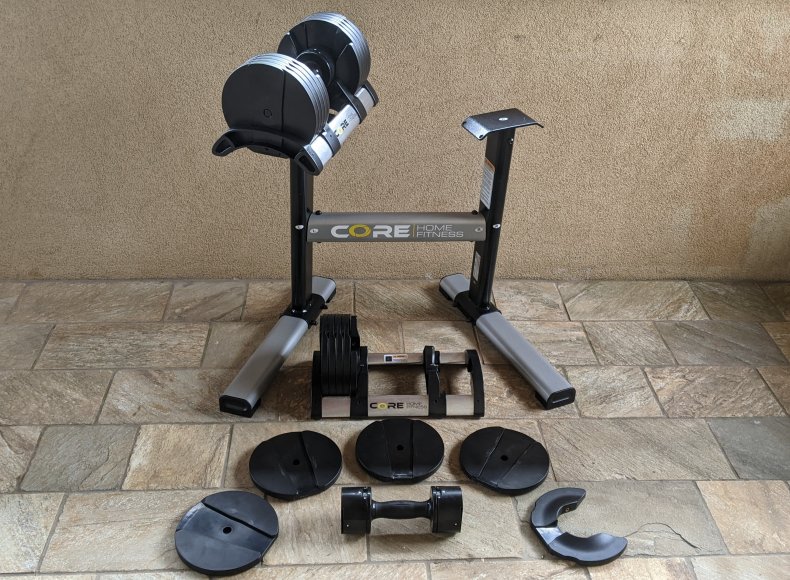 One Heavy Box
The box the set arrived in was fairly compact; but at roughly 100 pounds, it was certainly a formidable lift. Once brought to the area where I'd be setting up this exercise station, I removed the contents to find:
Two 5-pound dumbbells
Sixteen 5-pound weights
Four 2.5-pound weights
Two cradles (preassembled)
The quick installation process involved merely seating each U-shaped 2.5-pound weight in its place in the cradle, followed by an interlocked group of four 5-pound weights four times (once for each side of each dumbbell), and then the dumbbells themselves. It was pretty intuitive, taking no more than a few minutes from opening the box to ready to use.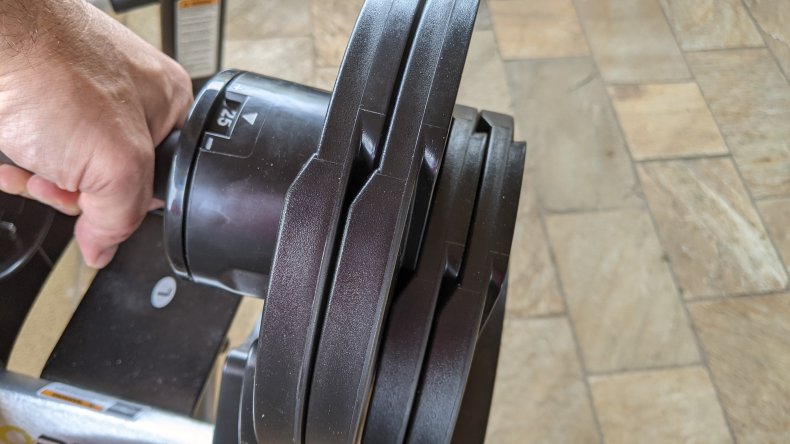 Making the Twist
Other systems require you to turn a knob on the end of the dumbbell, a two-handed process; or to move a gauge along the top of the weights; or (with digital systems) to press a button on the cradle and then wait several seconds for it to automatically affix the right weights to match your selection. Compared with old-fashioned adjustable weight sets—where you'd manually slide individual plates onto a short dumbbell and twist a key to lock them in place (theoretically)—any of these new-fangled systems sounds like a major improvement. But the fact that the Core Home Fitness version accomplishes the same thing with a simple twist of the wrist blows away every other system.
The mechanism works thanks to notches in the bottom of the dumbbells that click onto their counterparts on the cradle. In other words, the cradle isn't just a convenient way to hold the weights but an integral part of the adjustability's functionality. And again, that simplicity—twisting in the direction of the plus sign to add more weight and toward the minus for less—is what uniquely allows you to reach for the dumbbell and adjust it on the fly, so to speak.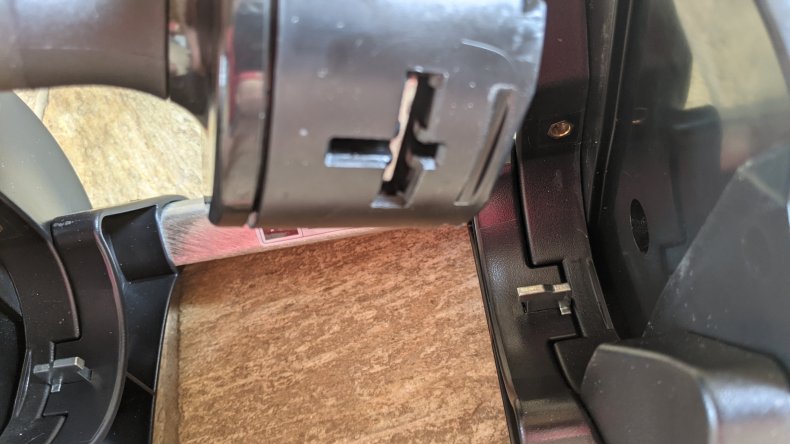 How They Perform
The weight selection process worked flawlessly. For any total weight ending in a 5 (15, 25, 35 and 45 pounds), it took a little finesse to smoothly sandwich the dumbbell between the remaining 2.5-pound and 5-pound weights left in the cradle. But with a little practice, this wasn't a big deal. I found it more important to be conscious of ensuring the direction of the dumbbells, so that the plus and minus symbols were facing the way I wanted. That way, I could just walk up, grab both grips and without looking closely twist a certain number of clicks to get the weight I wanted to begin that day's routine.
Aside from their adjustability, they performed well just as dumbbells. No complaints at all. I like their curved, textured grip—especially as opposed to the flat steel ones of old. The dumbbells felt great in my hands, whether doing traditional bicep curls or tricep extensions, when I was lying down and holding the dumbbell vertically on the underside of the top weights with both hands while pressing the assembly above my head. (With old-school dumbbells, I'd be a little nervous that the bottom plates could come loose and crush my face.) When in motion, each dumbbell felt like one cohesive unit versus rattling around like the handful of pieces they were comprised of. In short, the dumbbells were solid.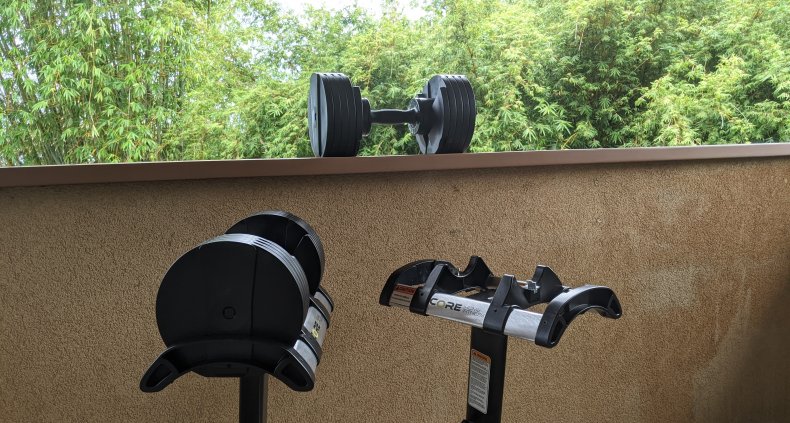 The Optional Stand
In my youth, I might have forgone the stand. Perhaps that seems silly. But I discovered I do like the ability to just walk up and not have to bend over to grab the dumbbells. Admittedly, it's a bit of a luxury, not totally necessary. But it's also a little more visually appealing. It makes me feel as though I have a slightly more serious home gym. So if you happen to have the space, I do recommend it. I like how it adds stature to the cradles included in the set. I just wish they gave more of a price break (even a $25 discount) for buying the two together as a bundle.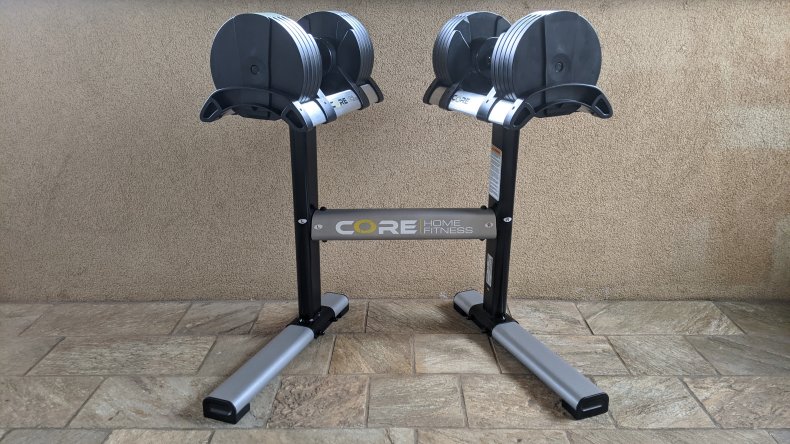 Should You Buy Core Home Fitness Adjustable Dumbbells?
If you're looking to save space and money with adjustable dumbbells, these are the ones to grab. They're the simplest, quickest and easiest to use. They're also handsome, less complicated and techie looking—not to mention less expensive—than other popular brands in this space. In fact, the only detractor that comes to mind is that you'll finally have no excuses for avoiding the curls, presses and extensions that will give you the ripped arms and toned torso you've been envisioning.
Buy at Core Home Fitness for $349.99.
Newsweek may earn a commission from links on this page, but we only recommend products we back. We participate in various affiliate marketing programs, which means we may get paid commissions on editorially chosen products purchased through our links to retailer sites.