Actor Corey Feldman's documentary exposing alleged sexual predators in Hollywood, (My) Truth: The Rape of Two Coreys, suffered multiple technical problems during its Monday streaming premiere.
Feldman (The Goonies, Gremlins) starred alongside actor Corey Haim—who died in 2010 at age 38—in the 1987 vampire movie The Lost Boys. The two became the among highest paid teen actors of the 1980s and became known as "The Two Coreys." Feldman has since repeatedly alleged that he and Haim were the victims of sexual abuse by prominent figures in Hollywood.
On Monday, Feldman, 48, premiered his documentary about the abuse he alleges they experienced, including three men he has previously accused of sexual abuse, actor Jon Grissom (who appeared alongside Feldman and Haim in the movies License to Drive and Dream a Little Dream), former talent manager Marty Weiss and Alphy Hoffman, the owner of a defunct L.A. nightclub for underage actors called Alphy's Soda Pop Club. Both Grissom and Weiss have previously denied the allegations.
In (My) Truth: The Rape of Two Coreys, Feldman also named actor Charlie Sheen. Feldman alleges that, before his death, Haim described being raped by Sheen on the set of the 1986 David Seltzer movie Lucas.
"He went into great detail," Feldman said in the interview. "He told me 'Charlie bent me over in between two trailers and put Crisco oil on my butt and raped me in broad daylight. Anybody could have walked by. Anybody could have seen it.'"
Several other people, including Feldman's ex-wife Susannah Sprague, corroborated hearing the accusation from Haim before his death. Sheen denied the allegations via representatives.
But while Feldman's documentary highlighting both new and extant accusations of sexual abuse screened for its audience at the Directors Guild Theater in Los Angeles (after delays), the accompanying livestream failed to work for users who had paid $20 for access to the streaming premiere.
By Tuesday morning, Feldman was still seeking answers from the staff of the streaming service used for the documentary. "The site stopped selling tix, and I am waiting 4 their staff 2 wake up on the East Coast," Feldman tweeted in all-caps. "I will update all of u as soon as I know if the film will stream 2day! The whole thing is sabotage of the highest order!"
Feldman made additional accusations of sabotage against his documentary by, retweeting an account speculating that the streaming delay was due to a "denial of service attack on the servers."
"I giv u my personal guarantee that everyone will get 2 c the film!" Feldman tweeted. "Even if I havta burn DVDs & send them 2 each of u!"
As of publication, the website for Feldman's documentary remains active, but the "Buy Now" link leads to a 403 error. The login page for those who have already purchased access to the streaming documentary promises further updates:
"We truly appreciate your support and patience! We are committed to providing access for all those who have paid to watch the film as soon as possible. We will also send an email with more information. We apologize for the inconvenience and look forward to providing updates as they become available. Thank you."
The message replaced an earlier update, which blamed the technical difficulties on hackers.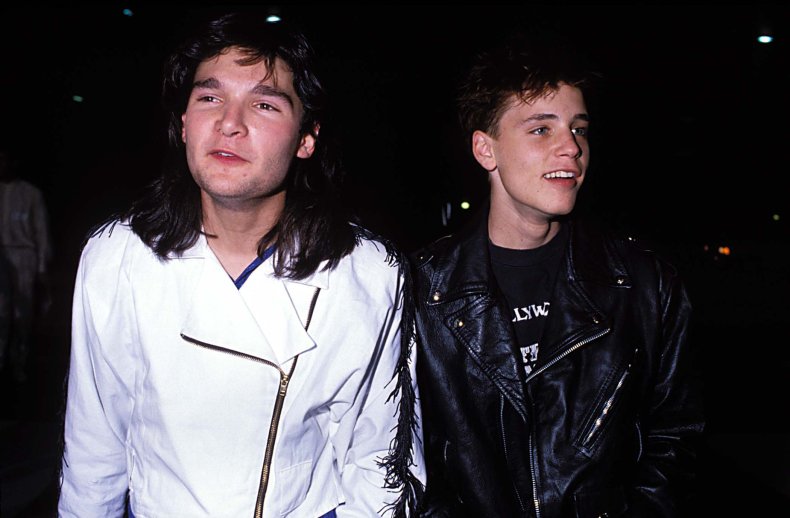 (My) Truth: The Rape of Two Coreys builds on accusations Feldman has made in public, beginning with a 2011 ABC interview and in a 2013 memoir. While newly named by Feldman, Sheen has faced previous accusations of abusing Haim, which the actor has denied, suing the National Enquirer after their publication of the allegations.
"In my nearly 35 years as a celebrated entertainer, I have been nothing shy of a forthright, noble and valiant courier of the truth," Sheen told TMZ in 2017. "These radically groundless and unfounded allegations end now. I now take a passionate stand against those who wish to even entertain the sick and twisted lies against me. GAME OVER."
Feldman has described pedophilia as "Hollywood's biggest problem," telling The Guardian in January that "nobody wants to go after the bad guys."