Corey Lewandowski Warns Donald Trump His White House Is Infected by Deep-State 'Swamp Creatures'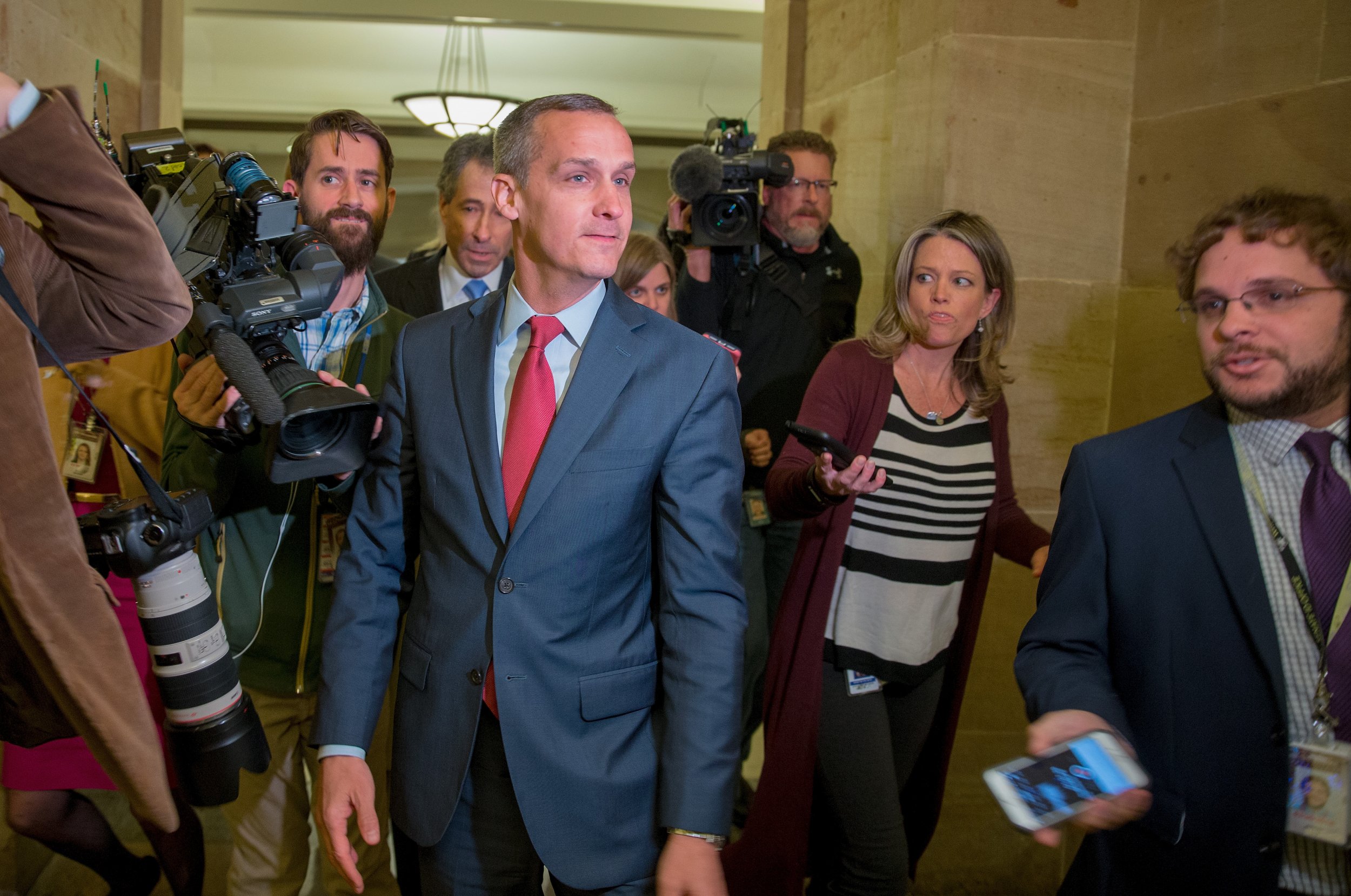 It's been two and a half years since President Donald Trump fired Corey Lewandowski, his former campaign manager. Lewandowski, who coined the guiding, and winning, principle of the president's campaign—"Let Trump be Trump"—had committed the cardinal sin of the Trump universe: He became the story.
A violent encounter with a reporter that led to a misdemeanor battery charge (which was eventually dropped) and a talent for replayable sound bites meant that Lewandowski was at risk of overshadowing the man he was hired to support. And so, just one month before Trump was crowned the Republican presidential nominee and six months before he was elected to the top office, Lewandowski was booted.
Despite this, Lewandowski still likes to mimic his former boss. His mannerisms and speech patterns are eerily similar to Trump's. He pronounces China with a hard "I" and a hard "N," and he mispronounces Kamala Harris's name constantly.
Unlike his former boss, however, Lewandowski has found that his scandals aren't so easily forgiven.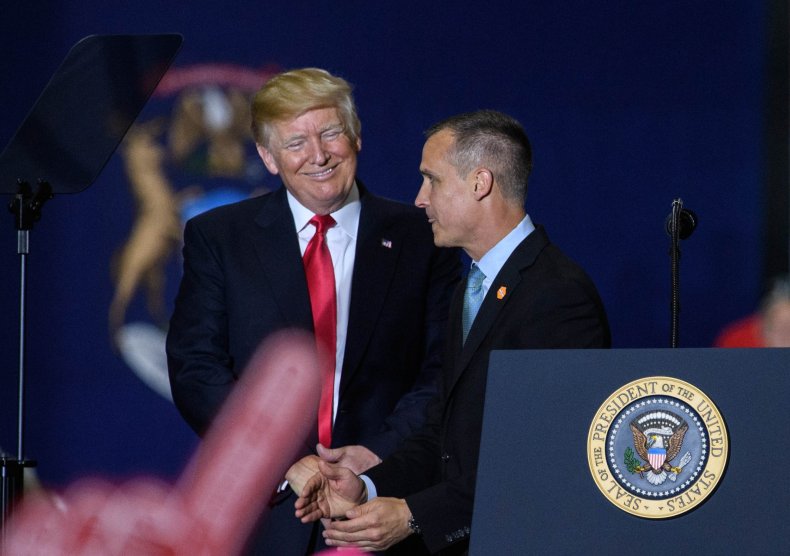 In August, he was interviewed by a disguised Sasha Baron Cohen about white nationalists who sparked deadly riots in Charlottesville, Virginia, last year. "You don't have to agree with people. You have to respect them, and you can't be attacking them," he said of the neo-Nazis. In June he mocked a story about an undocumented child with Down syndrome who had been separated at the border from her family. "Womp, womp," he said.
These faux-pas have made Lewandowski a controversial figure, and a potential presidential liability.
But while he's no longer on the official payroll, he still appears to play an outsized role in the Trump administration. Lewandowski was glued to Trump's side on Air Force One this fall as the president held a number of rallies ahead of the midterm elections. He speaks with the president on the phone regularly. He's employed by Vice President Mike Pence's Great America PAC and exchanges texts with Pence's staff.
"I'm very close to the president; I talk to him on a regular basis," Lewandowski told me at a midtown Manhattan hotel bar in early November. Fresh off the campaign trail, Lewandowski was in town for a few days of media appearances. "I also get to talk to the vice president on a regular basis."
Lewandowski has joined a growing number of retired or fired White House operators who remain loyal to the president, keeping company with Anthony Scaramucci, Hope Hicks, Sean Spicer, Sebastian Gorka, Carl Icahn and Michael Flynn. Many in this group of former advisers still speak and consult with the president, but none work in any official White House capacity.
"If you think for one second I want to go work in that building, you have no idea who I am," said Lewandowski. "I've had that opportunity for two years to go in that building. Why would I want to go there?"
Lewandowski has transitioned from staffer to another coveted role: friend of the president (FOTP).
"I don't have to be in the office 20 hours a day—I don't need that," he said. "My relationships are better by not being in the building every day. I can avoid 99 percent of the controversial issues; I can weigh in, if asked, on the issues that are important to me; and I can give my unvarnished and direct opinion because I don't have to worry about being fired."
In an administration that's been mired by legal drama, being an FOTP, away from the drama of the White House, has another huge perk. "I don't want a ticket to go see Bob Mueller, OK?" he said. "I'm not looking for one. I don't need that, and I don't know who else would." He said he still remembered Clinton staffers spending millions they didn't have on lawyers after being subpoenaed to testify in front of the House. He doesn't want to do that.
Lewandowski has, however, been called to testify twice before the House Intelligence Committee looking into Russian interference in the 2016 election. In a heated exchange, he reportedly refused to answer questions about what happened after he left the president's campaign.
"I had to repeat on multiple occasions that there was no collusion, cooperation or coordination because the Democrats couldn't understand my plain English way of speaking," he told CNN of his testimony. He also admitted to cursing at the lawmakers, but only, he said, after Democrats cursed at him. While on the campaign, Lewandowski reportedly received information from foreign policy adviser George Papadopoulos about his communications with the Kremlin.
Still, Lewandowski devotes most of his days to supporting the president and his agenda. "I know that my relationship with the president has never wavered," he said. "I would do anything within the confines of the law to help the president be successful."
It was that devotion, he said, that inspired him to write his latest book, Trump's Enemies: How the Deep State Is Undermining the Presidency.
"The deep state is the individuals who come into an administration with the sole purpose of preventing the president from being successful," he said. "I think there are individuals who believe that they have a better idea than what the president's idea is, and they're using their power and influence to prevent him from implementing his agenda."
He pointed to Gary Cohn, Trump's former top economic adviser, as an exemplary deep-stater. "He didn't want the president to withdraw us from a trade deal with South Korea, so he literally took the piece of paper off of the president's desk which he was going to sign," Lewandowski said.
Cohn clashed with the Trump over tariffs and resigned from the White House in March. "I've always been worried that trade can have a derailing effect on the U.S. economy," Cohn told the Washington Examiner this summer. "If you start putting tariffs on products that consumers buy, they're going to buy less products."
Another deep-stater? Former staff secretary Rob Porter. "He said: 'I would not tell the president things because I didn't want him to do things.' That is the deep state," Lewandowski said. "These people are usurping the will of the American people and should summarily be fired."
Lewandowski is thought to have been actively involved in Porter's exit from the White House.
After Jennifer Willoughby, one of Porter's ex-wives, wrote a blog post about Porter physically abusing her, Porter called her and asked her to take it down. "He implied that there was a former staffer from the White House who was unhappy with him and was out to get him and take him down and somehow had gotten wind of my blog post," Willoughby told The New Yorker. She said she believed that person was Lewandowski (though he never officially worked in the White House). Porter resigned in February.
Those Trump detractors, explained Lewandowski, understand that the president is reshaping the Republican Party in a way that hasn't been seen since Ronald Reagan took office. Republican thinking has entered a new paradigm, and that paradigm is based solely on Trump's messaging. "The previous message was 'free trade for everybody, who cares what it costs us?' Donald Trump said 'no more of that.'"
Lewandowski said he witnessed staffers ignore the president's wishes on a number of occasions. "I think there are still people in the White House who push their own agenda and try to undermine the president every day," he said. "My biggest fear is that the president doesn't rid himself of those individuals and they bring in more swamp creatures—people who didn't support him in the campaign and who don't care about his success."
But while Lewandowski speaks out against "the swamp" and "deep-state" officials who have made a career in government, he has also spent his entire career deeply entrenched in Republican politics and campaigns.
After college, he worked as an aide for Republican Massachusetts Congressman Peter Torkildsen and then for Ohio Republican Bob Ney, who was hit with federal corruption charges for allegedly accepting bribe money on behalf of Native American casinos.
Lewandowski did time with the Republican National Committee and U.S. Senator Robert C. Smith, as well as the Koch brothers political-advocacy group, Americans for Prosperity, before joining the Trump campaign in 2015.
He is a man of contradictions. Lewandowski has been entrenched in Republican politics for 30 years and worked closely with the free-trade-advocating Koch brothers, but he seems to believe that Trump has forever changed the way D.C. operates.
And it isn't just Republicans, he said. Trump's pervasive messaging extends to the Democratic Party as well. If the left wants to win in 2020, they're going to have to run a relative outsider.
"If I were a Democratic operative, I would pick a person who matches up best to Trump. whose core competency aligns with what his core competency is," said Lewandowski.
What is that competency?
"He's the richest man ever to serve as president of the United States."
That's why Lewandowski believes former New York City mayor and Bloomberg LP founder Michael Bloomberg would pose a formidable challenge to Trump in 2020.
"If you said to me, 'I've got a progressive candidate who has 100 percent name ID, who has a television station named after him, that's an American success story and has been the mayor of the largest city in the country,' and you said he's a candidate? I'd say 'that's a great candidate,'" said Lewandowski. Bloomberg has indicated that he will decide on a run by early 2019.
It's unclear, however, if Lewandowski truly believes that Bloomberg could win a general election or if this is the candidate he wants the president to go up against.
Trump has already launched his name-calling campaign against his possible opponent. "I'd love to run against Little Michael," the president told the New York Post of Bloomberg, who is 5'8". "I would love to run against him. He's been fighting me hard. He spent $100 million against me—that didn't work. He spent a lot of money last night against [Mississippi Senator] Cindy Hyde-Smith. That didn't work out so well."
The tactic is a classic Trump move that has "Lewandowski" written all over it.