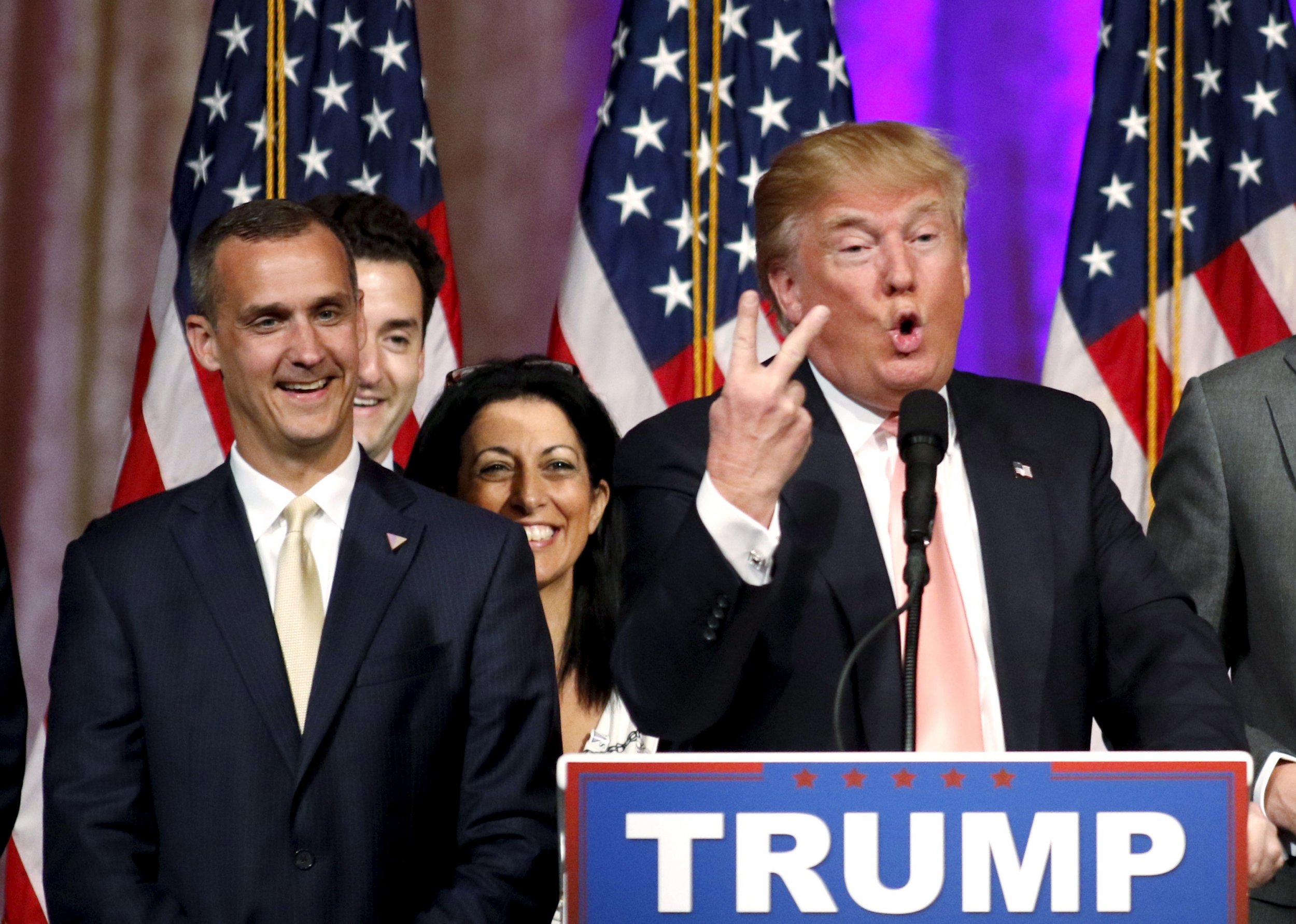 Even as departures go, this one was particularly icy: "The Donald J. Trump Campaign for President, which has set a historic record in the Republican primary having received almost 14 million votes, has today announced that Corey Lewandowski will no longer be working with the campaign," Trump spokeswoman Hope Hicks said in a statement on Monday.
Ouch. There were none of the usual bromides about the dearly departed "spending more time with his family" or pursuing other interests. If that wasn't bad enough, news reports said Lewandowski was escorted from Trump Tower by security. The questions now are what the end of Lewandowski's reign means for the Trump campaign, and what it says about the mogul in particular.
One thing people are asking about is why this took so long. There's been clamoring for Lewandowski's head for a long time, particularly after a nasty run-in with a young reporter in March. But Trump has shown a surprising amount of loyalty and sentimentality. After all, the star of The Apprentice is known for his dramatic trademark line "You're fired." By all accounts, Trump stood by Lewandowski when others had tired of his temper and his fights with other advisers, including Hicks, the communications director, and Paul Manafort, the veteran Republican operative who was brought in earlier this spring to help transform the campaign from a tightly run operation out of Trump Tower into something resembling a national campaign. Trump resisted calls to dismiss Lewandowski, showing a kind of loyalty that doesn't befit the mogul. He only let Lewandowski go after his oldest children—Donald Jr., Eric and Ivanka, who all work with him—weighed in. Of all the problems that might plague Trump should he ever become president—such as his penchant for authoritarianism, his bigoted comments and his ignorance of world affairs—being reluctant to fire personnel would seem to have been pretty far down the list. And yet according to news reports, it seemed to take a veritable intervention from family and aides for Lewandowski to be shown the door.
The other issue raised by Lewandowski's departure is whether the Trump campaign can now morph into a broader-based effort to defeat Hillary Clinton. For now, the campaign is minuscule for a national effort, maybe 30 people or so based mostly in New York, compared with the more than 800 on the Clinton campaign payroll, and that's excluding the network of super PACs and other organizations backing the soon-to-be Democratic nominee, as well as a small army of consultants and contractors. Last week, large numbers of Clinton staffers began transferring to the Democratic National Committee in part to reduce the financial burden on the campaign and pave the way for the national fight.
Trump has clung to the idea that he can be elected president with a minimum of bureaucracy. He's got some reason for the opinion—he did win the Republican primary with a small staff and very little spent on advertisements. But a national campaign will surely require more. The questions of where to allocate resources for ads, get-out-the-vote efforts and candidate appearances are a much bigger deal when 50 states are voting on the same day, rather than a predictable rollout of primaries. In February, you didn't have to be a genius to know that you should campaign in New Hampshire and Iowa. Come fall, you need a sophisticated operation to tell you whether it's, say, time to pull out of Pennsylvania and put your resources into Michigan, or vice versa.
Lewandowski was an early hire, and he embraced and reinforced Trump's vision of a lightly staffed campaign. Trump has now brought himself to break with the 42-year-old New Hampshirite and embrace a more expansive campaign. But the question of how much to expand his team is going to be a continuing source of tension.
Earlier this spring, the New York Post ran a story about Lewandowski and the well-liked Hicks fighting on a New York street corner. With Lewandowski ousted, things are likely to run more smoothly, and such conflagrations will be fewer. But the larger questions of whether Trump will turn his campaign into one resembling other presidential runs or continue to do it his unique way—well, those remain, no matter who gets shown the door.