Corey Lewandowski Launches 'Potential Senate Run' on Twitter During Break from Congressional Testimony
Corey Lewandowski, President Donald Trump's former 2016 campaign manager, used a brief recess during his testimony before the House Judiciary Committee Tuesday to announce the launch of a new website to support a "potential Senate run."
"New website just launched to help a potential senate run. Sign up now!" Lewandowski wrote during a roughly 10-minute break, along with a link to his website. Just hours earlier, a New Hampshire-based super PAC named Stand With Corey was formed after filing paperwork with the Federal Elections Commission.
Thus far, the website only has a home page, which depicts an edited image of a smiling Trump standing behind Lewandowski, accompanied with an August 15 quote from the president saying Lewandowski would make a "fantastic" senator.
The former Trump campaign chief has been mulling over a Senate run in New Hampshire for some time. His Twitter bio, in part, describes himself as a "Potential US Senate candidate in NH."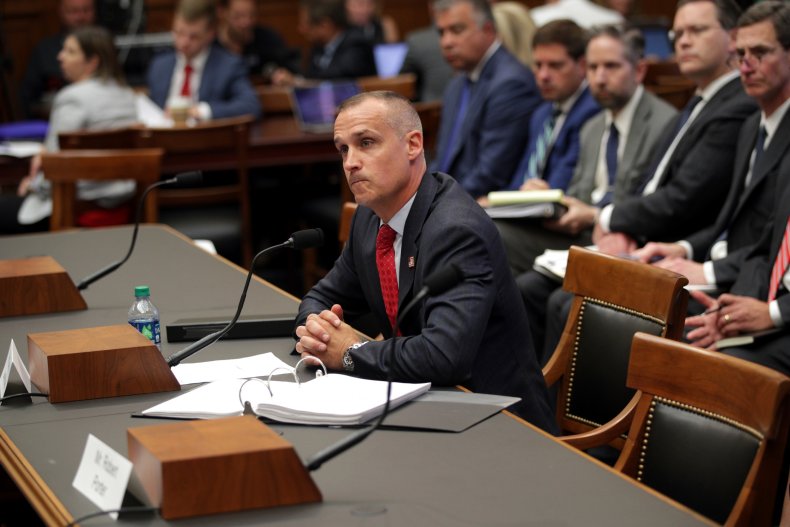 Following the tweet, Lewandowski was scolded by Rep. Hakeem Jeffries (D-N.Y.), a Judiciary member and chair of the Democratic Caucus.
"This is not a Republican primary campaign. You are not on the campaign trail — yet," Jeffries said. "This is the House Judiciary Committee. Act like you know the difference."
Rep. Pramila Jayapal (D-WA) also scolded Lewandowski during the hearing, alluding to his newly-announced campaign. "You are not yet in the Senate," Jayapal said during a brief back-and-forth exchange with Lewandowski. "You are a witness before the Judiciary Committee. Please act like it. This is my time."
The announcement of the website came during House Democrats' first official "impeachment hearing," as Democrats on the Judiciary Committee have called them, into whether articles of impeachment should be filed against Trump. The proceeding quickly flew off the rails with dramatic back-and-forth arguments between members from opposing parties.
Throughout his testimony, Lewandowski vehemently defended his former boss, despite the Mueller report stating Trump directed him in 2017 to deliver a message to then-Attorney General Jeff Sessions to have former special counsel Robert Mueller limit the scope of the Russia probe to exclude the Trump campaign.
The move is clear evidence of obstruction of justice, Democrats alleged, something they said the White House continued to do when they directed Lewandowski not to answer any questions regarding information not already revealed in the Mueller Report or conversations he had with Trump or other senior officials. The directive was handed down despite Lewandowski never being employed by the White House or administration.
"I don't think the president asked me to do anything illegal," Lewandowski said more than once to Democratic lawmakers' questions, confirming information in the Mueller Report that Trump asked him to direct Sessions to curtail the investigation.