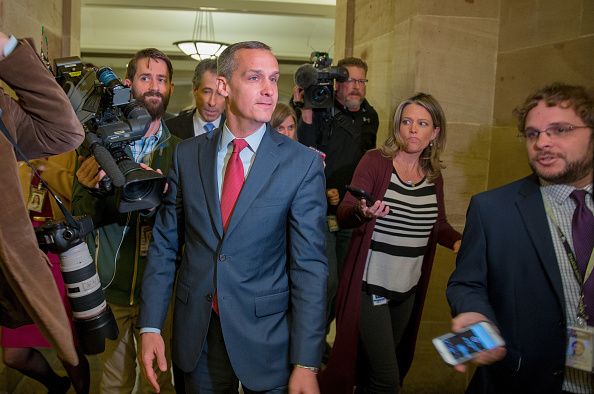 Former Trump campaign manager Corey Lewandowski has been accused of traveling to Serbia to seek a lobbying contract with the country's President Aleksandar Vucic and offering to set up phone calls between the Serbian leader and President Donald Trump.
The accusations were made by Vuk Jeremic, a Serbian politician who served as the country's Minister of Foreign Affairs from 2007 until 2012 and Serbia's representative to the United Nations from 2012 to 2013. In an interview with the Serbian television station N1 broadcast on Tuesday, Jeremic called attention to what he called "controversial lobbyists" in Serbia and accused the country's President of failing to respect diplomatic norms.
On Wednesday, Lewandowski traveled to Serbia's capital Belgrade to attend an event organized by the East-West Institute.
"He came to Serbia to arrange a [deal]," Jeremic told N1, adding that Lewandowski had offered to set up a phone call between Vucic and Trump for a price. Taking to Twitter on Tuesday, Jeremic also asked Vucic, Serbia's Prime Minister Ana Brnabic and Serbia's current Minister of Foreign Affairs Ivica Dacic whether they met with Mike Rubino and Jason Osborne, two former Trump campaign operatives who are now representatives of the lobbying firm Turnberry— and who Jeremic noted are "friends of the controversial businessman Corey Lewandowski."
"If you did meet with them, what kind of engagement did you discuss, by whom and for what price," the now opposition leader asked. Jeremic also tweeted at Lewandowski asking how he rated Rubino and Osborne's chances of signing up high-profile clients in Serbia, and he posted a photograph of Lewandowski and former Trump campaign operative George Gigicos meeting with a group of elite business leaders in Belgrade's Privrednika Club.
"During an informal conversation, members of the [Privrednika] Club discussed with their guests the possibility of cooperation and talked about the current economic environment in the USA, as well as the current business environment in our country," a description on the club's website reads.
A story in a Serbian tabloid published on Thursday claimed that an analyst named Obrad Kesic had organized Lewandowski's trip to Serbia. Kesic did not respond to a request for comment.
Vucic and Lewandowski both denied meeting each other during Lewandowski's visit to the country, according to reports. Lewandowski did not return Newsweek's requests for comment.
During Wednesday's event in Belgrade, however, he urged Serbian leaders to visit Washington. "Any country that wants to have stronger and better relations with the US has a unique opportunity to do that now, during President Trump's administration, because he looks at the future and builds new relations," Lewandowski said. "Your presence in Washington is a key to the improvement of mutual relations. I hope you will use this opportunity," he added.
This is not the first time that people have accused Lewandowski of using his connection to Trump to look for business. He reportedly launched the lobbying firm Avenue Strategies in late 2016, but quit the company after being accused of selling access to Trump. He has not been a registered lobbyist since 2011, but Politico reported last year that Lewandowski had bragged about receiving offers to represent foreign governments in Washington.