What Is the Deep State? Lewandowski Rails Against Comey and Washington by Citing a Conspiracy Theory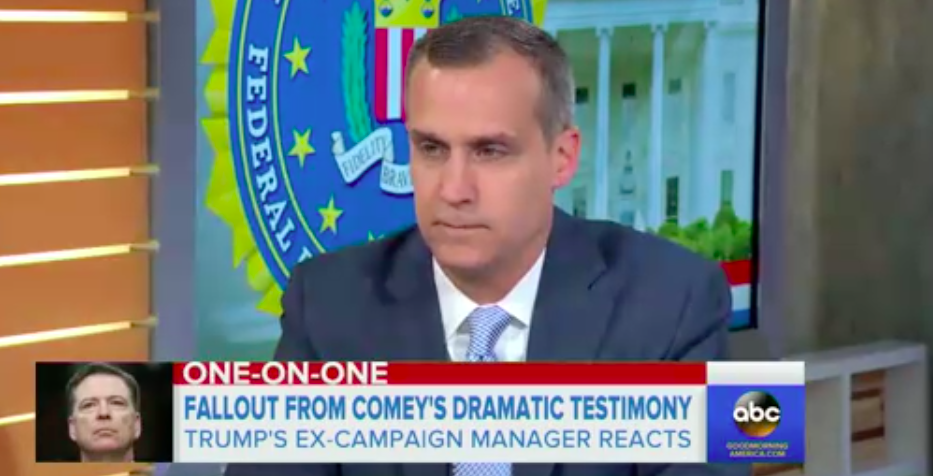 The deep state, whatever it is, is back. The beloved conspiratorial trope of the right wing reared its head again Friday morning, when former Trump campaign manager Corey Lewandowski appeared on ABC's Good Morning America to discuss fired FBI Director James B. Comey's testimony to the Senate Intelligence Committee.
Lewandowski has been a consistently vociferous, abrasive defender of the man who fired him last June, whether on the campaign trail, where he assaulted a Breitbart News reporter, or on CNN, where as a commentator he frequently shouted down those with whom he disagreed. Friday's appearance on ABC was no different.
Speaking to host George Stephanopoulos, Lewandowski called Comey "the deep state in Washington" who should be "potentially prosecuted for leaking."
Lewandowski appeared to be confused about the sequence of events, and about the law. Comey did hand over his memoranda of private meetings with Trump to Daniel Richman, a Columbia Law School professor, with instruction to give them to the press. But by that time, Comey was a private citizen, having been fired from the FBI by Trump. Comey did not leak any classified information. Ten legal scholars polled by Vox found that what Comey did was fully legal. Explained Jed Shugerman of Fordham Law:
A leak is not any conversation. It specifically means the release of secret or classified information... None of this material was classified, as Comey carefully and clearly explained... Comey is a private citizen, and he has no duty to conceal nonclassified conversation now. He also was sharing the information with a private citizen.
Charges that a "deep state" exists and Comey belongs to it betray a sophomoric understanding of the federal government, not to mention a stunningly naive one. The term means "a network of civilian and military officials who control or undermine democratically elected governments," as Max Fisher of The New York Times has explained. No such network exists, formally or otherwise.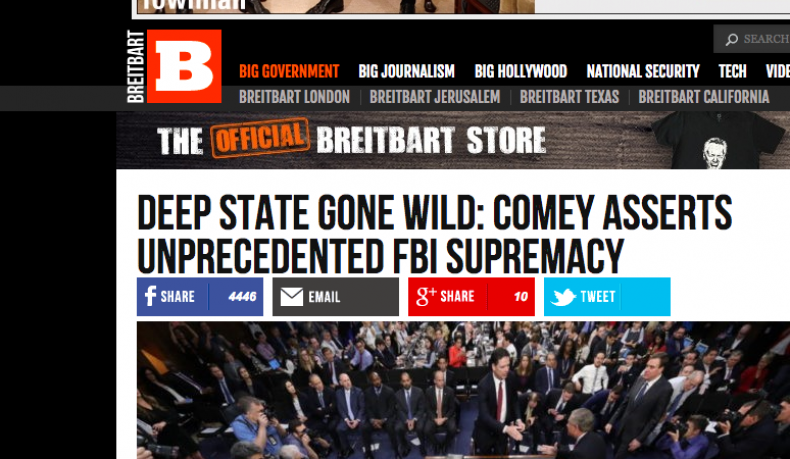 As Politico has noted, however, "even if it is fiction, it is a profoundly useful one for the White House. As Trump takes a wrecking ball to the federal bureaucracy—what Steve Bannon has called 'the administrative state'—an illusory enemy like the Deep State is exactly what is needed to justify the destruction. Repetitive allusions to sinister officials and administrators will expand and energize the constituency for a radical downsizing and weakening of government agencies, especially among Republicans."
On ABC, Lewandowski said it was "highly unlikely" that Trump himself was under investigation, echoing a tweet the president sent this morning. Again, Lewandowski appears to be confused. Trump was not the target of an FBI investigation into Russian electoral meddling, though his associates were. However, Comey testified that he is "sure" Trump is being investigated for obstruction of justice by Robert S. Mueller III, the special counsel now overseeing the Russia investigation.
Earlier this year, Lewandowski started a consulting firm that, according to Politico, was "offering to secure face time with the president for foreign politicians." That may be the closest thing we have to a deep state, not to mention a corrupt one.