GOP Senate Candidate Consultant Demands Black 'Leaders' Force NFL Players to Stand for National Anthem
Republican U.S. Senate candidate Corey Stewart's hired media and advertising head railed against the NAACP as the "more violent" version of the KKK and demanded black leaders tell NFL players they must stand during the National Anthem.
Corey Stewart's GOP Senate campaign paid more than $113,000 to Rick Shaftan's Atlantic Media & Research company for media consulting and radio advertising, according to Federal Election Commission records first obtained by the Richmond Times-Dispatch. Shaftan's company has previously produced a wide range of right-wing candidate ads, but it's his personal social media posts that have brought even more controversy to an election already in the national spotlight. Shaftan has particularly targeted African-American Democrats and last year made several comments about the Confederate Flag and black NFL players.
FEC documents show Stewart paid more than $230,000 total to Shaftan for work that also included his unsuccessful GOP gubernatorial campaign last year.

Stewart will face Democratic incumbent and former Hillary Clinton VP running mate Tim Kaine as Kaine seeks a second term in the upcoming November election. Stewart defeated Republicans Nick Freitas and E.W. Jackson in the June primary. And while both Republicans and Democrats have condemned his posts on race, the past chairman of the Virginia GOP responded by saying liberals are making racist accusations "because they don't have an agenda."
"If black 'leaders' want better race relations, which of course they don't, they could start by telling football players to stand for the National Anthem, instead of sitting on the bench eating a banana," Shaftan posted to Facebook in August 2017. "Black people didn't have a problem with the #RebelXFlag or Confederate Statues until wealthy white people told them they did. #SlipperySlope," he tweeted in September 2017.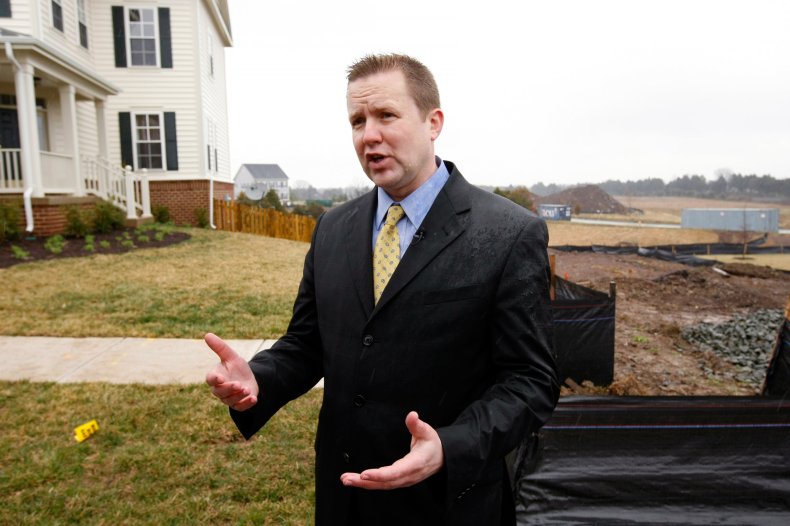 Media consulting head Shaftan, whose profile lists him living in "The American Sector of America," described his role on Twitter as, "We do polling and media for conservatives with the guts to win. Views Posted Here Are My Own. No tolerance for paranoid #IQTest failures. #OBX." He's done campaign work in the past for former state senator and attorney general Ken Cuccinelli as well as Dick Black, who is currently a GOP state senator.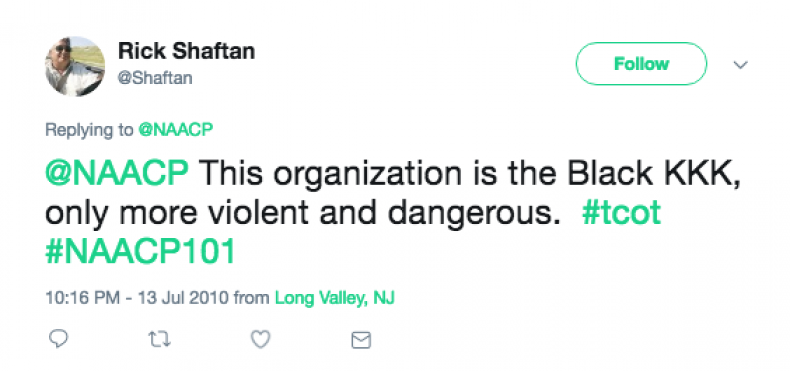 The YouTube page for Rick Shaftan shows ads for several local Republican candidates in past elections, including former East Rutherford Councilman Joel Brizzi and Anthony Rottino, the GOP's endorsed freeholder. In another video titled, "Peanuts," Shaftan blamed "urban school districts" for raising rural property taxes. And another New Jersey–based ad targets Democratic U.S. Senator Corey Booker as a liberal who he claimed to have doubled unemployment and violent crime, while touting the campaign of his failed challenger, "Jersey Conservative" candidate Steve Lonegan.
Shaftan's other inflammatory racial posts include a January 2017 tweet around the Martin Luther King holiday in which he said, "We honor Dr. King's memory by naming the worst most drug infested street in every town after him #ItIsWhatItIs." A 2014 Shaftan tweet reads, "After #Ferguson, only a fool would start, finance or insure a business in a black neighborhood." But perhaps his most egregious social media commentary was his 2010 tweet that the NAACP organization was "the black KKK, only more violent and dangerous."
But John Whitbeck, who left his GOP Virginia chairman post last month, told the Richmond Times-Dispatch, "Republicans are facing the most important election in a long time. The Democrats' only message against us right now is we're racists, because they don't have any agenda and they don't have any message," he said. "If you make despicable tweets like that, all you're doing is feeding the narrative that the Democrats are trying to use against us."