Cori Bush, Ayanna Pressley Sleep on Capitol Steps as Millions Face Eviction as Moratorium Ends
Congresswomen Cori Bush, Ayanna Pressley and Ilhan Omar slept outside the U.S. Capitol Friday night as millions of Americans face eviction when the federal moratorium expires Saturday night.
Bush, a Democrat from Missouri, told CNN Reporter Daniella Diaz that she knows what it feels like to "wonder if I'm going to get that eviction notice."
"Your whole life turns upside down," she said. "That's what's going to happen to seven million people over the course of the next few weeks. We're talking about children that are getting ready to go back to school, we're talking about our elders."
She also pointed out the United States is still in the thick of the COVID-19 pandemic.
"We're in the middle of a deadly global pandemic with a Delta variant that is so much more contagious than the other one that we've been fighting," she said.
Bush told journalist Chuck Modi that the night went better than many nights for people experiencing homelessness because it did not get cold and so many other people were around.
"When I was unhoused, I felt unsafe. I was very unsafe. My children were unsafe," she said.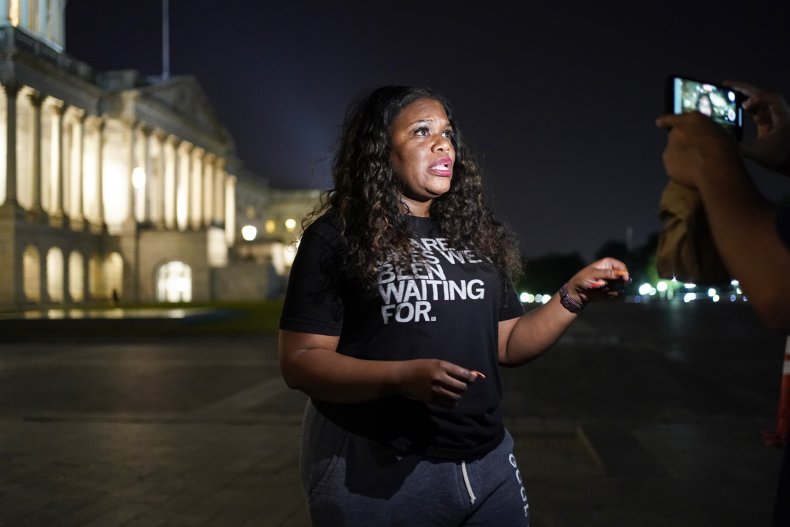 Bush believes it's necessary to continue spreading awareness about the end of the moratorium.
"We're not just going to let this go quietly when the lives of actual people, that we are supposed to represent...actually are at risk by this policy decision," she said.
She described the fact that there are people experiencing homelessness as a "moral failure" of our society.
Bush was joined by two other progressive colleagues, Representatives Ilhan Omar of Minnesota and Ayanna Pressley of Massachusetts, Bush tweeted. Newsweek reached out to Pressley and Omar's offices but had not heard back Saturday afternoon.
The progressive congresswomen have called out other House members for adjourning for recess without extending the moratorium. Omar called it an "abdication of responsibility."
"I canceled my flight home and stayed in DC hoping my colleagues would do the same, but we had to adjourn since some rushed to their summer vacations," she said in a tweet.
Pressley said on Twitter that eviction is "a policy choice, and a violent one at that."
"The indifference by many is heartbreaking but we find joy in the strength of our movement," she wrote.
In a statement to Newsweek, Bush urged House leadership to call members back into session to pass the extension and said the Senate should also take up a bill to extend the moratorium while it is in session.
"I'm calling on President Biden and the CDC to use their authority and extend it immediately. My point is some way, somehow, we must find a way to protect people from violent evictions. This is a public health crisis and we must exhaust every option to save lives," Bush said.