Cori Bush and Jamaal Bowman Call for a Public Power System to Save Money and the Environment
Democratic Reps. Cori Bush from Missouri and Jamaal Bowman from New York introduced a resolution to Congress on Thursday, calling for a publically governed power system that would be more environmentally friendly and more accessible to low-wealth communities.
Currently, the large majority of the United States is powered by privately-owned energy companies that rely mostly on fossil fuels to power their networks. Democrats Bush and Bowman urged Congress to move away from this "problematic structure of investor-owned utilities" because it prioritizes shareholder profits over the environment and all communities' access to electricity, which they say should be thought of as a basic "human right."
"Our country must transform its power system to be just, equitable, anti-racist, and climate- and disaster-resilient," said Congresswoman Cori Bush in a press release. "For too many families in St. Louis and across the country, the high cost of energy means having to choose between keeping the heat on in the winter or buying groceries.
"We need a transformation to our energy system that not only reflects our climate reality," said Congressman Jamaal Bowman in the press release on Thursday. "We need an energy system that is of, by, and for the people — not corporations seeking the largest possible profit. As long as energy is treated as a commodity, not a right, poor people, workers, and communities of color will suffer."
In the full version of the Public Utilities Resolution, the text calls for Congress to fund a transition away from private energy and fossil fuels, toward public and coop providers who will incorporate more renewable and alternative sources of power at affordable rates.
Existing federal power authorities would need to become renewable and accountable public agencies. The resolution suggests setting aggressive "targets" or "decarbonization goals" for investor-owned utility companies, as well as a process for switching non-compliant companies over to public ownership.
A large part of the resolution seemed to be the idea of promoting "energy democracy." The resolution suggests doing this, in part, by enacting "a universal ban on disconnections of electricity for nonpayment," and enforcing "progressive residential electricity rate regulations, including a cap on energy burdens and
energy debt for low-wealth households."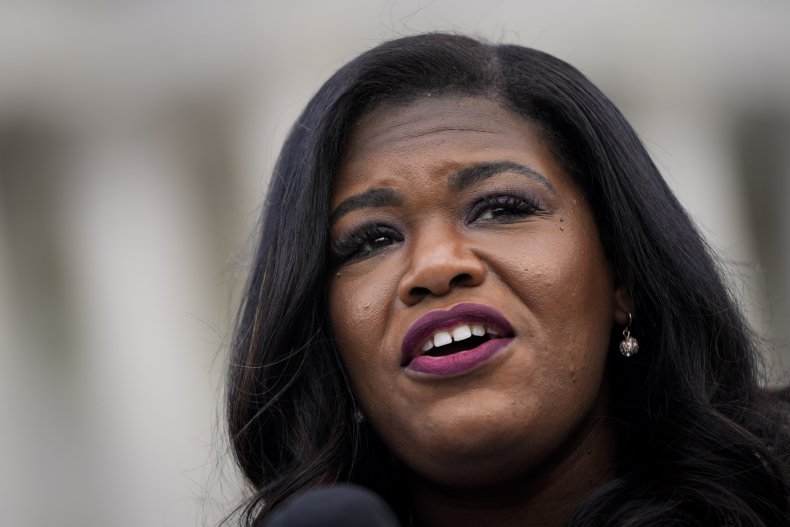 The resolution would also establish a system of federal guidelines and incentives that would hold utility organizations accountable to the new system.
"The utilities crisis in Texas in February was not an isolated incident," said a one-page summary of the resolution released by Bush and Bowman. "Our energy systems repeatedly exacerbate disasters we know are worsening and take lives in the process of prioritizing shareholder profits over people's needs."
The resolution was co-sponsored by Rep. Rashida Tlaib (MI-13), Rep. Marie Newman (IL-03), Rep. Alexandria Ocasio-Cortez (NY-14), Rep. Mondaire Jones (NY-17), Rep. Ayanna Pressley (MA-07), Rep. Ilhan Omar (MN-05), and Rep. Raul Grijalva (AZ-03).
Newsweek reached to House Leader Nancy Pelosi for comment.