Cori Bush Says Race, Gender of Brittney Griner Is Why Detention Is Ignored
WNBA star Brittney Griner has been in Russian custody since February 17 and may be held for an additional two months, but she has a defender in Washington who wants the case to get more attention.
Congresswoman Cori Bush took to Twitter Wednesday in defense of the two-time Olympic champion as she remains detained in Moscow during heightened tensions between Russia and the U.S. over the war on Ukraine.
Griner, a seven-time all-star center for the Phoenix Mercury basketball team, was detained at a Moscow airport after, Russian authorities allege, she was carrying cannabis vape cartridges in her luggage. Bush argues that if Griner wasn't a Black woman, she would be receiving more media coverage and action from the U.S. government to ensure her safety.
"We cannot ignore the fact that if Brittney Griner wasn't a Black woman, it would be plastered across the news that she is being held as a political prisoner in Russia," Bush tweeted Wednesday.
Many people agreed with Bush saying that the media repeatedly underreports on Black women in the U.S. The hashtag #FreeBrittney began trending on Twitter.
Former U.S. Secretary of State Hillary Clinton joined the social media flood of friends, family and officials calling for Griner's release with a "Free Brittney" tweet Wednesday.
However, ESPN investigative reporter T.J. Quinn has an interesting opinion on why Griner's face isn't plastered on news sites. On the "ESPN Daily" podcast, Quinn claims people close to Griner don't want her situation to be politicized in fear of her safety.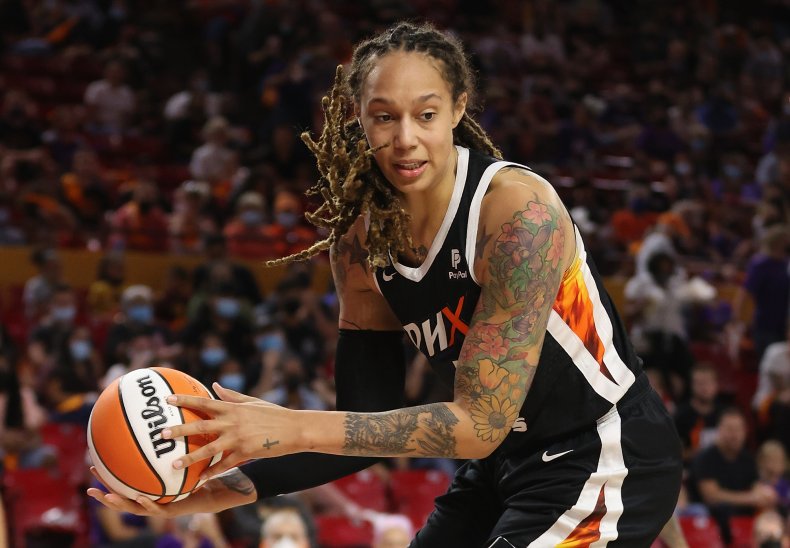 "If it becomes political, then her life is in the hands of one man, Vladimir Putin," Quinn said. "If he decided, 'I want to make an example of her because she is this powerful cultural symbol; she is a 6' 9", black, gay, American woman,'" it would be a safety concern, particularly because Russia isn't very progressive when it comes to gender and sexuality.
Quinn argues that people around Griner and the U.S. government know that if they make a big deal of her detention, Russia could potentially use her as leverage toward Putin's motives.
"I've talked to people around Brittney Griner and they would love to have that conversation about the inequities between men's and women's sports in this country; they just don't want to have it right now," Quinn said. "Because as valid as that might be, it's a distraction and a potential danger to her situation."
Quinn says although people are using the #FreeBrittney hashtag, it could be counterintuitive to efforts in bringing her home quickly and safely.
Newsweek reached out to Bush's office and ESPN for further comment.