Alleged 'Pimp' Who Forced Women Into Prostitution, Including Missing Pennsylvania Teenager, Charged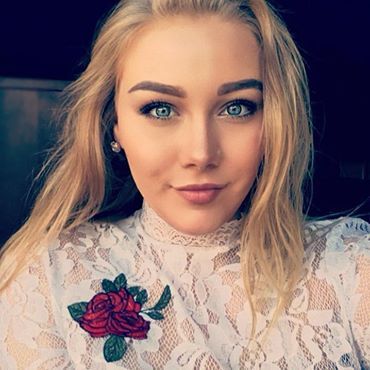 She's still missing, but her purported pimp won't be able to hurt her anymore.
Corinna Slusser was only 19 when she somehow slipped into a netherworld of prostitution and may have found herself commandeered by an aspiring rapper named Ishi Woney.
The 23-year-old New York City man was busted in New Jersey this week for a raft of federal charges, including trafficking women across state lines as well as using fraud, force and coercion to lord over Slusser and another woman who would be peddled for $200 an hour, according to a criminal complaint filed on Thursday in Manhattan's federal court.
If convicted, Woney could be imprisoned for life.
"As alleged, Ishi Woney engaged in a vile form of exploitation, using force and other coercion to compel young women to engage in paid sex for his enrichment," U.S. Attorney Geoffrey Berman said of the FBI and NYPD investigation.
Woney was the brains and tireless engine behind a hustle to purchase online sex ads and shop at least two women's wares—one of them Slusser (referred to in the court papers as "Victim-2"—and shuttle them around to various hotel rooms in the tri-state area that often charged by the hour.
Up until a year ago, Corinna Slusser was soaring. The Bloomsberg, Pennylvania, woman would post sweet nothings about missing her pals or shopping with her mom, and posed with girlfriends for some sun time at the beach.
And then the 19-year-old uploaded one last pic of herself—almost unrecognizable in a baseball cap and standing in the middle of some nameless Bronx, New York, street—ripping a hit from a drag. on September 10, 2017.
"cyphin mid day mid road is always good for the soul," she captioned the image.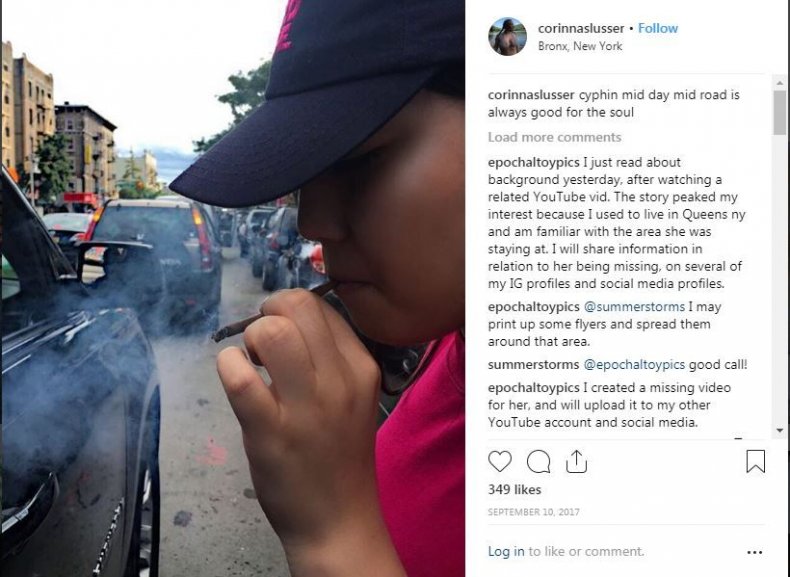 More than a week would pass, and Slusser would be with Woney one last time.
On September 20, 2017, Woney, according to the complaint, "was present with [Slusser] at a hotel in Queens, New York," and the room was "reserved and paid for" by "another male." It was also where Slusser was planning to spend the night.
Since then, the missing woman has remained in the wind, causing her mother to spend too many nights hoping that she might someday be reunited with her "beautiful girl."
"I wish I could be where she is, that's where I want to be," reads one Facebook post written by Sabina Tuorto back in August.
The mother wished she could take the pain away from her child, and take her place in whatever misery she was currently in.
"She is my reason to breathe," said Tuorto. "I inhale and exhale trying to keep the faith as I wish for her to be found safely and alive."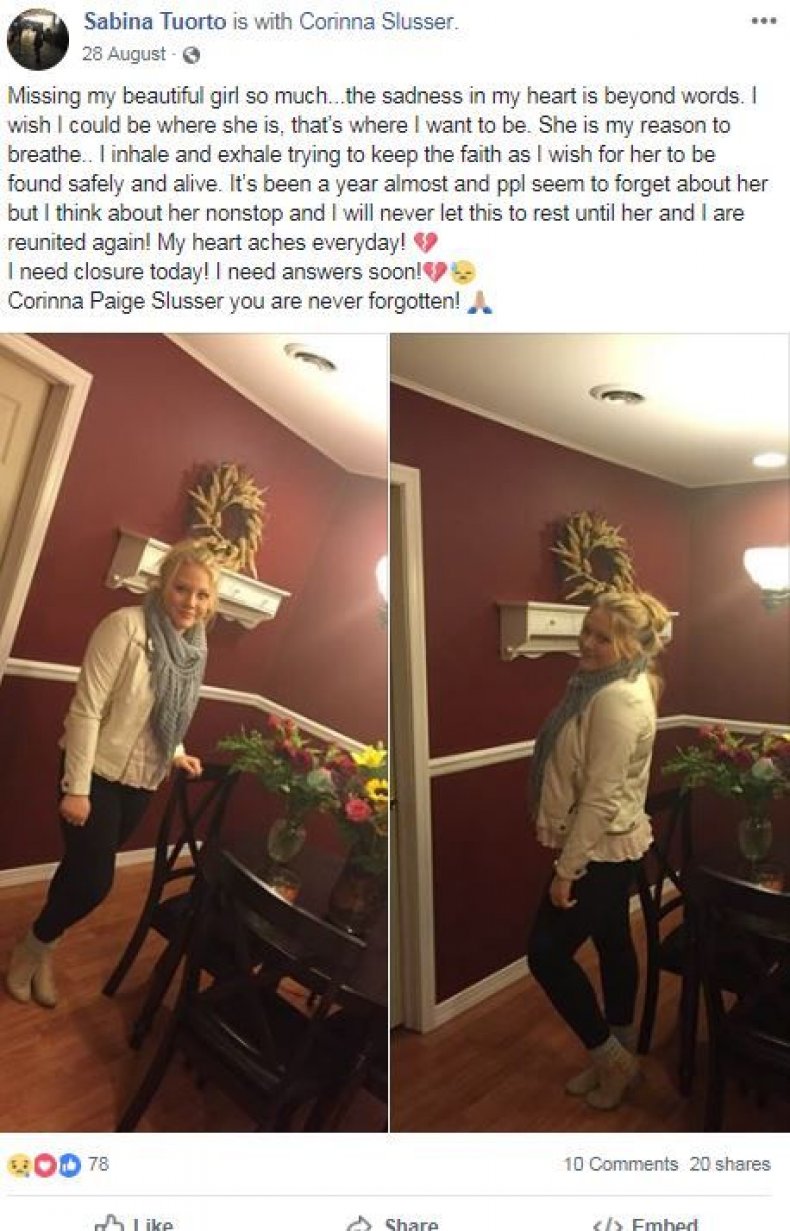 The mother vowed to "never let this to rest until her and I are reunited again!"
On October 6, Tuorto reminded her daughter she was still loved with another birthday wish in absentia.
"Happy Birthday Corinna!! ??????I love you very much and I miss you very much!????????????"

Slusser managed to come in contact with Woney, who, based on a social media account, fancied himself an aspiring rapper.
They met sometime in early September 2017, while Slusser was occupying a Bronx hotel with a rep as a hub for "substantial sex trafficking activity," the complaint stated.
In that month, the two exchanged some 806 texts, with the last phone number believed to be associated with Slusser and communicated over social media. Woney, the document notes, proudly posted an image of himself with Slusser and another unidentified woman (referred to in the court document as "Victim-1") posing in a hotel room.
At all hours Woney allegedly hawked both women online by "posting on a classifieds website" in Connecticut, New Jersey and New York, according to the complaint.
"Two girl special nunu enterprises," ran one classified ad on September 3, 2017, that Woney allegedly paid for.
The ad's lascivious language was clearly aiming to draw in potential johns to the Bronx.
"Always ready for fun! Please Be RESPECTFUL & Discreet the TOTAL package SKILLS That will make you melt," it continued, and was splashed with pictures of both Slusser and Victim-1.
That same night, Victim-1 exchanged banter with Woney, whom she referred to as "Daddy."
"Daddy," she allegedly wrote, according to the complaint. "I'm at the holiday," possibly suggesting a Holiday Inn hotel room.
The complaint confirmed that the woman was being paid $90 for a half-hour date, and that "daddy" is a favored referrent "by victims of sex trafficking in reference to their pimps."
The trio didn't last.
In fact, the complaint notes that Woney appeared to quit Slusser because the other woman he was allegedly running as his prostitute "was jealous of Woney's relationship with [Slusser]."
Sometime around November, an undercover with the NYPD reached out to Victim-1 by texting her, "looking to spend some time."
The woman claimed to be in the Bronx. But when the undercover attempted to meet at a hotel there, she was already over the Hudson River at a hotel in East Orange, New Jersey, the complaint stated.
"I went to nj hun," Victim-1 wrote the undercover.
A pair of NYPD officers, on the hunt to track down Slusser, found her alleged jealous rival holed up at a hotel with Woney, and, the complaint detailed, "interviewed them in connection with the disappearance of [Slusser]."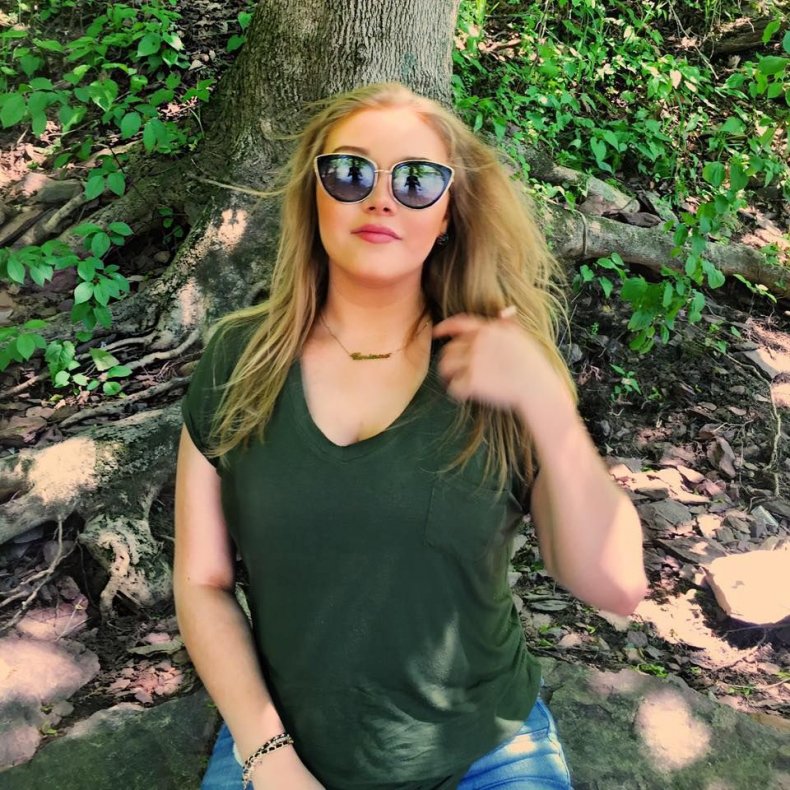 While it's unclear what Woney or his alleged prostitute told the cops, evidence for prostitution across state lines was piling up. "Victim-1 traveled between New York and New Jersey at Woney's behest to do so," read the complaint.
As the walls were closing in on Woney, he allegedly had trouble controlling his temper.
On Feb. 26, Woney was busted at a Jersey City, New Jersey, hotel room for allegedly punching Victim-1 in the face and stealing her stuff. The victimized woman had a swollen lip and scratches on her face when cops arrived. But according to a footnote in the complaint, the woman "refused to be photographed or to press charges against Woney…"
Sprung, Woney allegedly reached out to pals to air his grievances. "Shortie [Victim-1] blew and called the cops on me [because] i had another hoe," read one social media message. "I beat her im her pimp and i force her to trap."
In April, Victim-1 rang Woney and pleaded with him to return her belongings. "Can I have my stuff back? That's all I have. Why are you doing this?"
During the month of October, Woney was allegedly still pimping.
He was posting classified ads "for commercial sex acts featuring Victim-1" and possibly shooting for a more refined clientele with one that asked for "generous gentleman to fulfill my needs," the complaint suggested.
On October 11, the NYPD moved in on Woney.
His alleged prostitute was working in a so-called "ss" (abbreviated to mean "a short stay" or a half-hour commercial sex act) before a scheduled "hour date," the complaint noted.
An NYPD undercover agreed to pay $200 "to engage in sexual intercourse for an hour" at around 11:15 p.m. inside Room 110 at an undisclosed hotel.
Woney allegedly critiqued his lone employee.
"Yo be on point," he allegedly told Victim-1 in a text. "You don't give dates the right room."
NYPD officers arrested Victim-1 and were present when Woney attempted to make a "video call" with her. Once in custody, Victim-1 confirmed that Woney was her pimp.