Cornel West and the Black War Over Obama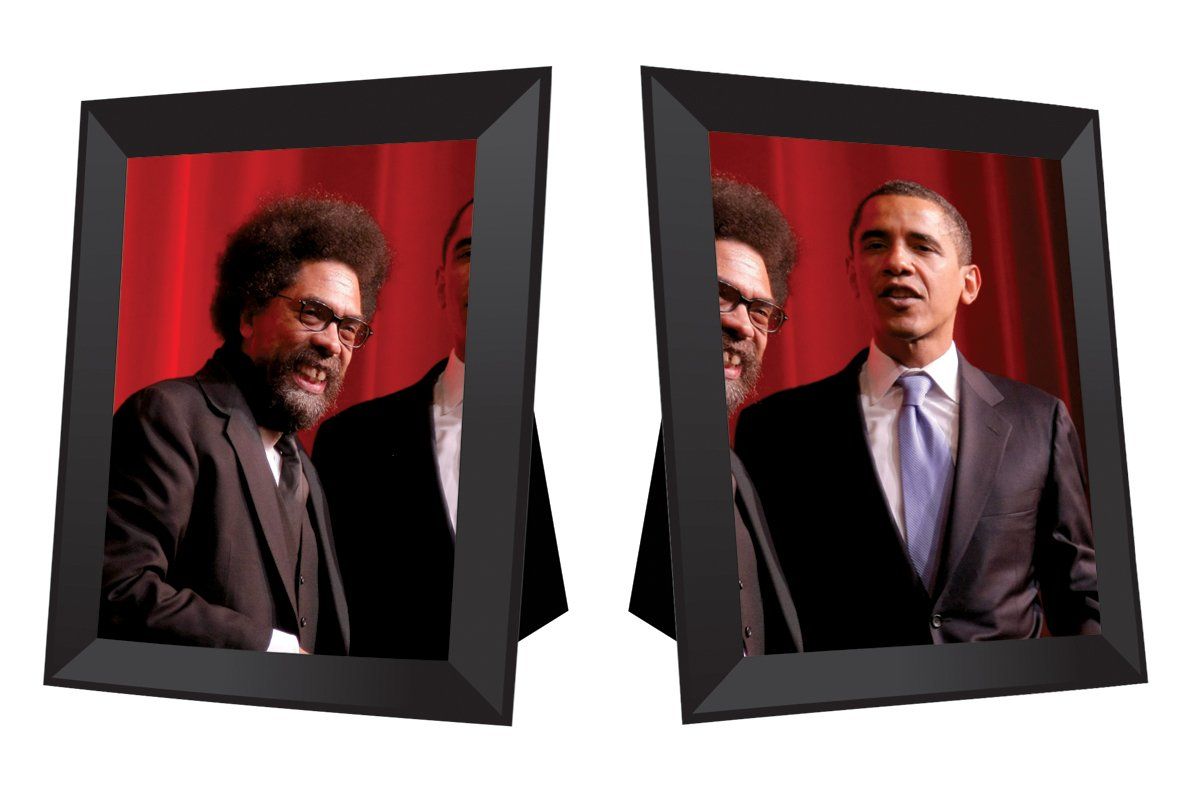 How did Cornel West become the administration's No. 1 gadfly? The noted African-American scholar and radio host may have helped Barack Obama into the White House, but he has spent the better part of the president's term taking shots at him, calling him a "black mascot of Wall Street oligarchs," among other names. "These last few weeks have only proven my point about Brother Obama," West says in his signature "one love" voice as he talks about the debt-reduction debacle on Capitol Hill. "He simply caved in again."
Never mind the slings and arrows of Tea Partiers. The most politically problematic criticism of Obama these days is coming from his base. And there's no question that there is a deep reservoir of frustration, confusion, and even rage among many in the African-American community for West to tap into. With unemployment hovering near 17 percent for African-Americans (the national average rate is 9 percent) and 11 percent of black homeowners facing imminent foreclosure, African-Americans have ample reason for anxiety about the coming budget cuts that Obama reluctantly signed into law this month. The Congressional Black Caucus chairman called the recent debt deal "a sugar-coated satan sandwich" that will do little to help communities already struggling.
West and his longtime friend, radio host Tavis Smiley, have taken their criticism of Obama to the streets, launching a two-week, 15-city "poverty tour," aimed at forcing the powers that be to once again focus on the "least among us" and getting the president to "wake up." Their efforts are increasingly stoking fears among some African-American leaders that West and Smiley could discourage black voters from turning out when the nation's first African-American president stands for reelection in 2012.
"The negative discussion Dr. West is having can only put more apathy in the hearts of African-Americans and could ultimately cause them to lose more faith in the entire political process," says the Rev. Otis Moss III, pastor of Obama's former church in Chicago. "Where will that leave us?"
Lately, Obama's supporters in the black community are fighting back. As West and Smiley pulled up aboard their "Call to Conscience" bus in Detroit in early August, a crowd of hecklers awaited them outside the Coleman A. Young Municipal Center. "We will not stand silent as Smiley and West criticize the man who brought us health-care reform, one of the greatest accomplishments for the poor in this country's history," says a spokesperson for Detroiters for Better Government.
The pushback is not just coming from community organizers. "The poor did horribly under every president before Obama, and yet there wasn't this level of outcry toward them by these men," says Michael Eric Dyson, professor of sociology at Georgetown. "That makes folks skeptical about the intent."
West insists he does not intend to suppress support for Obama's reelection. "If African-Americans choose to stay home this time and not go to the booth, it would be most regrettable -given the options," he says. "But that can't stop my message."
It's hard to say how much electoral impact the Princeton professor and the media personality might have. Obama retains overwhelming support among black voters. Still, the numbers have been slipping. He received a staggering 96 percent of the African-American vote in 2008. In a poll done by Black Entertainment Television in March, black approval of Obama had slid to 85 percent. According to a recent Washington Post/CBS poll, the number of African-Americans who believe Obama's actions have helped the economy has dropped from 77 percent in October to about half that this month.
That's not the kind of news the president's reelection team wants to hear heading into a campaign year.
Obama's team has reached out to West several times and invited him to meet with the president, a White House official says, adding that West has declined. For his part, West says he has received a call from White House senior adviser Valerie Jarrett, but did not get invited to meet with Obama. "A beer summit won't help our issues," West adds, recalling the now-famous meeting the president had with a white police officer and Harvard's Skip Gates following a tense confrontation between the two in 2009.
Gates stands by West, his longtime friend: "He is completely sincere in his concern for the poor. I may disagree, as brothers sometimes do, with the way the message is being handled, but I commend him for his work and his passion."
Popular talk-radio personality Tom Joyner recently joined the fray, writing an open letter to West suggesting that he and Smiley were motivated more by a desire for attention and book sales than a genuine concern for the plight of the poor. (The two co-host a Public Radio International daily radio show, and Smiley owns a book imprint that publishes most of West's written works. Smiley's most recent book, Fail Up, was released in May.)
The Rev. Al Sharpton has also voiced concerns that the pair's efforts may do more harm than good. "African--Americans are struggling with many issues, and serious discussions need to be had by all," Sharpton says. "But instead, West has resorted to personal attacks … All that does is distract the attention from where it needs to be. I've said that to Cornel and explained the damage being done."
West has openly admitted being angered by perceived slights from Obama after his election. He says he campaigned nonstop for Obama in 2007, hosting more than 60 events, yet he says he didn't receive inauguration tickets and lost all access to Obama once he was in office. Smiley fell out of favor with many African-Americans prior to the 2008 election, owing to his unrelenting criticism of Obama. Many think his distaste for the president influenced West's attitude.
Some of Obama's staunchest allies are confident a truce is near. Harvard law professor Charles Ogletree, who befriended both Barack and Michelle Obama in the 1990s, introduced the couple to West in early 2007. Ogletree sounds determined to resolve what he terms a "disappointing distraction" as soon as possible.
"This is not about two very brilliant men squashing a beef," says Ogletree of Obama and West. "This is about what's best for this country … The two men will meet before 2011 is over, and this won't be allowed to impact the 2012 reelection of Barack Obama. That's simply not an option."