Meet the New York Restaurant Owner Who Delivered Oranges to Hospital Workers During the Coronavirus Outbreak
Newsweek's "Heroes of the Pandemic" series features everyday heroes showing service, sacrifice or kindness in the time of COVID-19.
It would be an understatement to say that the coronavirus pandemic has impacted the United States. The virus has essentially caused everyday life in America as we knew it come to a screeching halt that includes shuttered businesses, social distancing and economic upheaval.
More than 10 million jobs have vanished over the course of two weeks, and more than 6.6 million Americans have filed for unemployment benefits within the last week. First responders, doctors and nurses are quickly running out of the supplies they need to effectively treat the sick and protect themselves from contracting the virus. In New York, where more than 2,300 people have died from the coronavirus, there are only six days' worth of ventilators left, New York Governor Andrew Cuomo said on Thursday.
So far there have been over 230,000 confirmed cases of COVID-19 in the United States, including 5,600 deaths, according to a Johns Hopkins University tracker.
And yet, in the midst of such unfortunate medical and economic chaos, there are still some people making an effort to not only flatten the curve but do some good while they're at it. Neighbors have gone out of their way to deliver groceries to the immune-compromised and elderly. Residents in major cities have dropped everything to applaud essential workers as they make their way to and from their jobs. And DJs have found innovative ways to keep the party going for the self-isolated and quarantined.
In New York City, the epicenter of the pandemic, restaurant owner Matthew Fermin found a way to put a smile on the faces of the brave, over-worked and exhausted medical workers by ensuring they got their daily dose of vitamin C.
"I saw this video of big refrigerators outside of hospitals, nurses were crying, everybody looked stressed and scared," Fermin, 29, told Newsweek. "A few days before I bought boxes of oranges for me and my family. I figured that the people that really need it and aren't thinking about getting [vitamin C] right now are nurses and doctors, and they're the ones in the hospital. If they get sick, or if they don't have energy, or if they don't feel well and aren't eating healthy and not taking breaks, then who's going to help the sick people? I figured I should deliver oranges so they'd get a little vitamin C."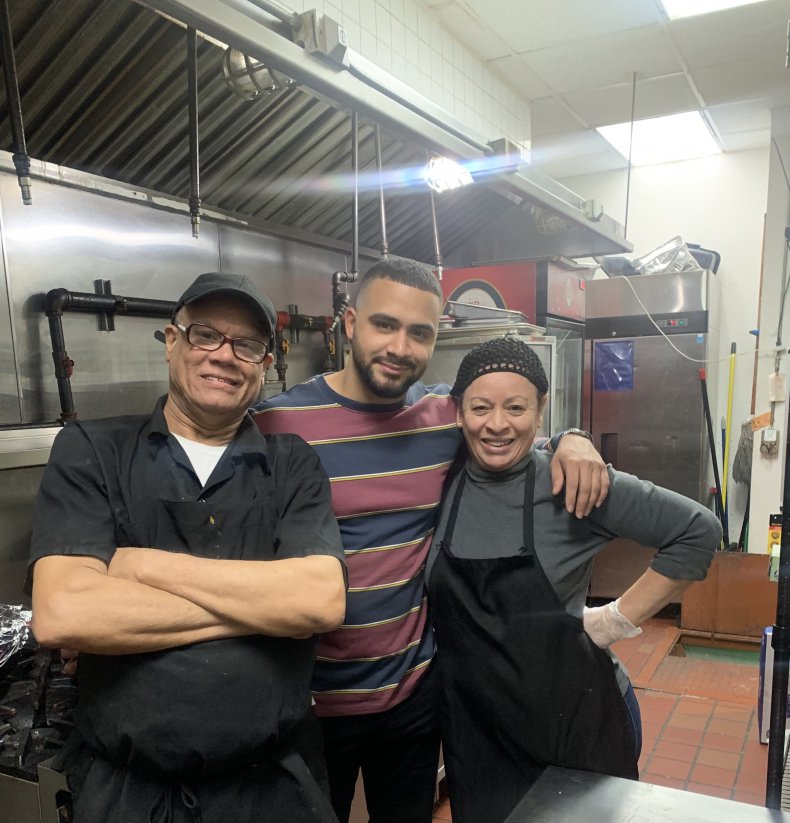 While oranges can't prevent or treat the virus, the nutritional benefits of vitamin C go a long way in boosting the immune system, and health experts have long praised the juicy citrus fruit as a source of energy. There have even been some studies that showed signs of vitamin C in oranges reducing the risks of respiratory diseases, lowering cholesterol, and improving heart health.
Fermin, who owns Santiago's Beer Garden in East Harlem, delivered boxes of oranges and strawberries to a number of hospitals, clinics and a police precinct in Manhattan and the Bronx just before New York was issued a shelter-in-place order in response to the coronavirus. With grocery store shelves wiped clean and medical workers providing round-the-clock care to infected patients, Fermin said it was the least he could do to help support the people who were putting their lives on the line daily.
"I don't really know what to do during times like these but I have a car. I have a plug where I get the boxes of oranges for a little over wholesale price," he said. "It's a healthy snack. Even if I helped one person eat better, or have more energy, feel better and be able to take care of sick people then I feel like I did my job."
Fermin's act of kindness came shortly after he decided to close the doors of his business, which has become a neighborhood staple for delicious Dominican food in the two years since it opened. Although the restaurant was operating amid the outbreak, the New York native said that he felt it was his duty to ensure that his workers--including a few chefs who are well over 50--were staying safe at home.
"I didn't want to be part of the reason why they got sick and died. I closed the restaurant because I care about them," he said.
While shuttering a business has undoubtedly caused owners and workers immense stress, Fermin is still optimistic about the future, especially if people are doing their part and helping out where they can-- whether that means staying at home to prevent further spread of the disease, volunteering or even handing out oranges.
"If everybody helps out and pitches in and plays their part, we'll get through this faster," Fermin said. "We have to have a sense of community. We have to feel like we're all in this together. We all have to help each other."
Know a hero you want to nominate to be featured in our series? Drop us a line at heroes@newsweek.com.